Cream-filled horns are a dessert delight from Italy, but these Lacy Lavender Cream Horns are a new twist to that classic favorite. The crisp and lacy cone-shaped cookies are outrageously delicious. Fill them with a sweet, fluffy lavender cream, and they scream summer.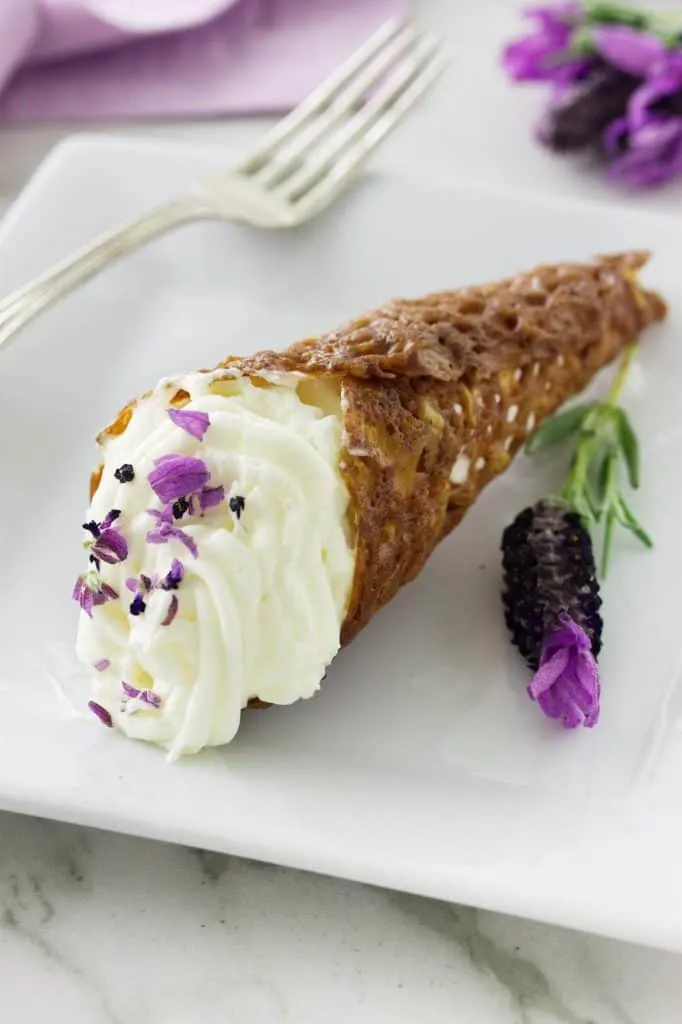 You will be surprised at how easy these classy Italian-style cream horns are to make. You do not even need to purchase those special metal cone-shaped molds to make the lacy horns.
How to Make the Lacy Horns:
The crisp, lacy horns are easy cookies to make. When the cookies bake they spread into delicate, lacy, thin cookies. They are wrapped around a mold while they are still hot.
You can purchase special cream horn molds or make them yourself like we did. We wrapped foil around a sugar ice cream cone and created an inexpensive cream horn mold. After wrapping the hot, pliable, lacy cookie around the mold, it takes just a few minutes for the cookie to cool into a crisp, delicate treat.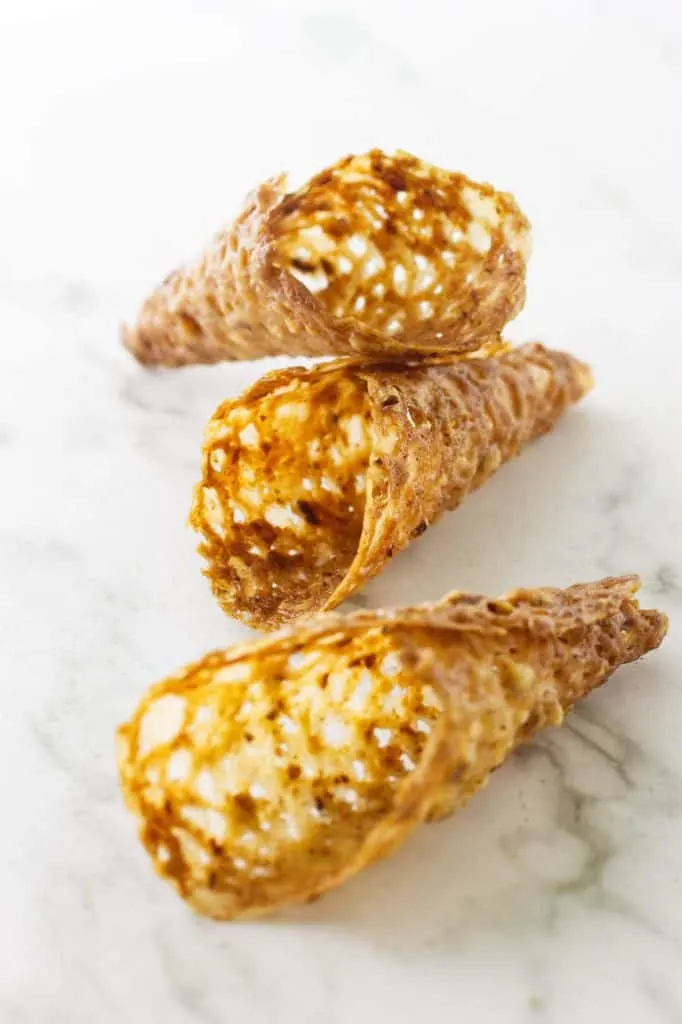 The cookie batter is prepared by heating a mixture of butter, sugar and corn syrup together and bringing it to a boil. Then, take it off the heat and stir in the flour, salt, vanilla, and chopped nuts, to form a batter.
We chose to use chopped toasted pecans, but other nut suggestions are:
Almonds
Pistachios
Hazelnuts
Walnuts
Macadamia
We found it was easier to bake only three cookies at a time as the cookies spread out quite a bit. Also, to wrap the cookies around the foil-covered cone requires a fast hand before they become too cool and crisp to wrap.
The Filling for our Lacy Lavender Cream Horns:
Our lavender shrub is blooming again, and it was the inspiration for the cream filling of these delicate lacy lavender cream horns. However, the light lavender flavor is from our store-bought culinary lavender oil.
The lavender oil is quite concentrated and potent. Consequently, it is easy to add too much. It should be added using the taste test method of just a couple drops at a time to achieve the desired taste. In our cream filling, there is a total of four scant drops of flavoring.
You can read more about cooking with lavender in our post of Lavender Cake with Lavender Cream Cheese Icing. Also, Purple Haze Lavender has an excellent guide to learn more about using this herb in your cooking.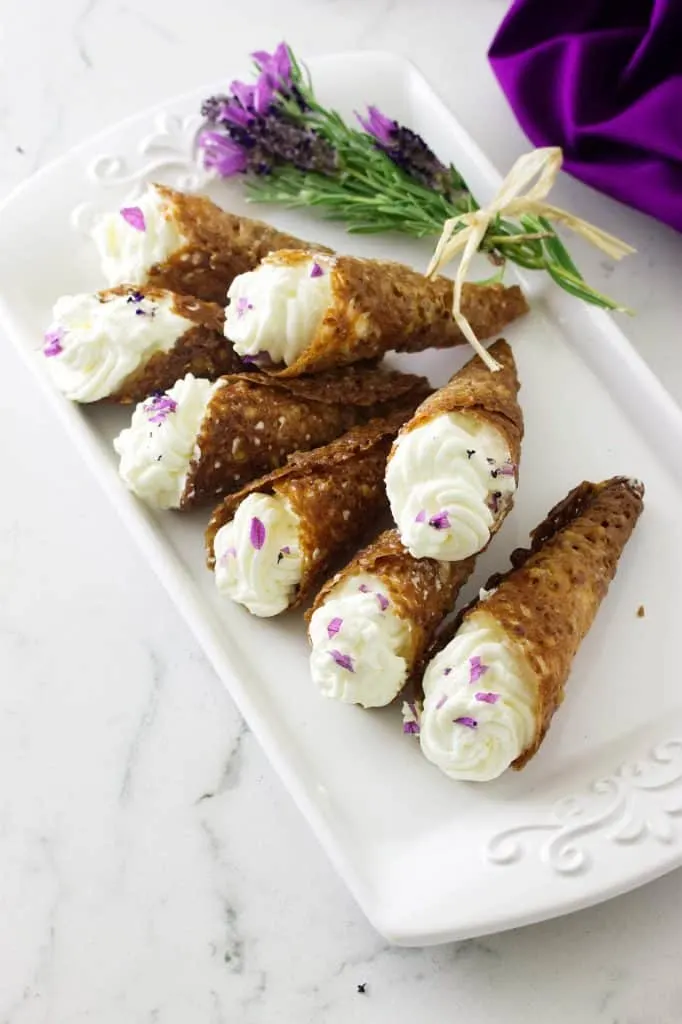 The filling is light, fluffy and easy to make. First, a mixture of mascarpone cheese, sugar, and heavy whipping cream is whipped into a fluffy filling. Finally, we flavored it with the lavender oil and piped into the lacy horns.
There are many options to flavor this fluffy cream filling. We have used rose water for a soft, delightful taste. Also, lemon curd whipped into the mascarpone and whipping cream gives a mousse-like consistency and is especially nice.
See our post on Lemon Raspberry Parfait for a nice lemony mousse recipe.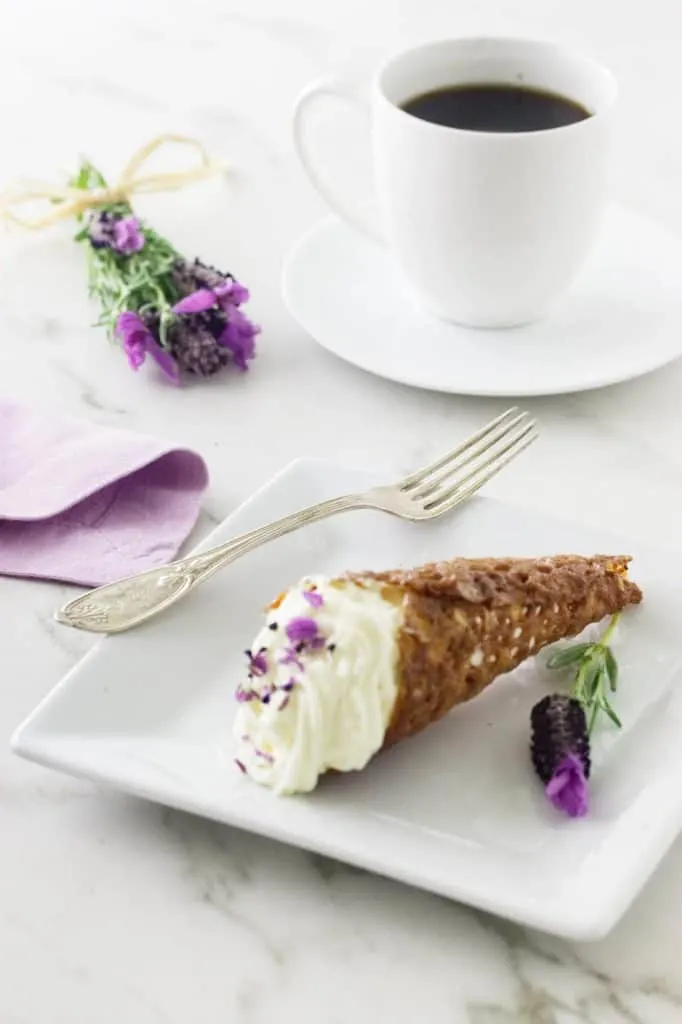 More Chilled or Frozen Desserts
About the assembling process of the Lacy Lavender Cream Horns:
You can make the filling in advance and store it in the refrigerator. If you fill the horns too far in advance, the cookies will lose their crispness from the moisture in the filling. Consequently, we recommend that you fill them about one hour before serving.
The lacy cone-shaped cookies will also store well for several days in a sealed container. They can also be frozen for three to six months.
Some other recipes you might like:
Horn recipe adapted from: Fine Cooking
Have you made these Lacy lavender cream horns? We would love to hear from you. Drop us a comment below.
Connect With Savor the Best:
Please follow us on our social media accounts
Facebook * Instagram * Pinterest * Youtube * Twitter
Did you make this recipe? We would love to hear from you. Drop us a comment below.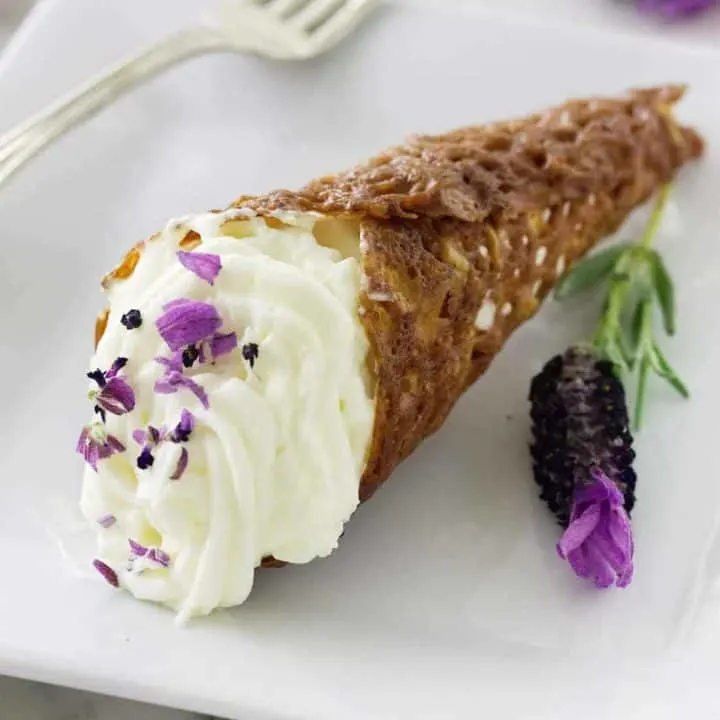 Lacy Lavender Cream Horns
Total Time:
1 hour
15 minutes
Crisp, lacy cookies are shaped into cones and filled with a fluffy lavender infused cream.
Ingredients
For the Lacy Horns:
6 sugar ice cream cones (or 6 horn molds)
4 tablespoons butter
1/3 cup sugar
2 tablespoons corn syrup
1/3 cup flour
1/8 teaspoon sea salt
1 teaspoon vanilla
1/2 cup finely chopped toasted pecans
For the Lavender Cream Filling
8 ounces mascarpone or cream cheese, room temperature
1/2 cup sugar
1 1/2 cups heavy Cream
3-4 drops culinary lavender oil
Instructions
For the Lacy Horns:
Set the oven temperature at 350°F and line a baking sheet with a Silpat mat or parchment paper. (See Note)
Wrap the ice cream cones in a square of aluminum foil, spray lightly with oil spray and set aside. (If your using horn molds then just spray the molds with oil).
Heat the butter, sugar, and corn syrup in a medium saucepan over low heat, stirring often, until the butter melts and the sugar dissolves. Increase the heat to medium high while stirring constantly. Bring the mixture just to a boil and remove the saucepan from the heat.
Stir in the flour, salt, vanilla, and chopped pecans. Let the batter sit and cool for 5 minutes as it will thicken up and be easier to scoop in equal portions.
We used a level scoop from the smallest ice cream/cookie scoop. The small cookie scoop made 12 cookies about 4-inches in diameter.
Drop the batter onto a sheet pan lined with a Silpat mat, or parchment paper and bake for 9-11 minutes, until evenly light brown. They will begin to spread and look lacy after baking for 5-6 minutes. Turn the bake sheet half-way during cooking for even baking.
Transfer the baking sheet to the countertop and allow the cookies to cool for a minute and firm up enough to handle.
Use a thin spatula to flip the cookie over, but keep it on the Silpat mat and place a foil-wrapped cone on the cookie. Lift the edge of the cookie and begin shaping it around the cone. (See Note)
Transfer the cone-covered horn to a cooling rack, or stand it up on a plate to cool before removing from the cone.
The horns will stay crisp and flavorful for a few days wrapped in waxed paper or plastic wrap at room temperature. They also freeze well in a tin or sturdy plastic container.
For the Lavender Cream:
In a mixing bowl, beat the mascarpone and sugar together until well blended and smooth. Add the cream and whip to soft peaks. Add 2 small drops of the lavender oil. Blend to incorporate, taste and add additional drops to achieve a light, 'barely-there lavender' flavor. Continue to whip the cream to stiff peaks.
Pipe or spoon the lavender cream into the lacy horns and garnish with fresh or dried lavender buds.
Notes
The silpat mat or silicon-type mat helps the batter spread thinner and become more lacy. Parchment paper will work but they may not be as lacy.
After mixing the batter it will be quite thin but thickens up as it cools, this is ok. Actually, we found it easier to maintain uniform sized cookies when it had cooled.
We also only baked 3 or 4 cookies at a time so they can all be shaped before becoming too crisp to shape.
Prevent burned fingers by using a paper towel to hold next to the hot cookie while shaping the cookie over the cone.
If the cookies become too cool and crisp to shape around the foil-covered cone, slide them back into the oven for 15-30 seconds to warm slightly as they will soften up and become more pliable. We found that three or four horns could be shaped at a time.
After the horns are filled they should be refrigerated and served within 2 hours as the filling will gradually soften the horn.
If they are not filled, the horns will stay crisp and flavorful for a few days wrapped in waxed paper or plastic wrap at room temperature. They also freeze well in a tin or sturdy plastic container.
Nutrition Information:
Yield:

12
Serving Size:

1
Amount Per Serving:
Calories:

404
Total Fat:

33g
Saturated Fat:

16g
Trans Fat:

1g
Unsaturated Fat:

14g
Cholesterol:

76mg
Sodium:

162mg
Carbohydrates:

27g
Fiber:

1g
Sugar:

23g
Protein:

3g
Nutrition information is a guideline only, is calculated automatically by third party software, and absolute accuracy is not guaranteed.