This recipe for Spelt agnolottis with mushrooms, pine nuts and goat cheese are very much like ravioli but shaped in a half-moon rather than a square. The thyme sauce is a rich creamy blend of wine, herbs and cheese that coats each bite of the fresh spelt pasta.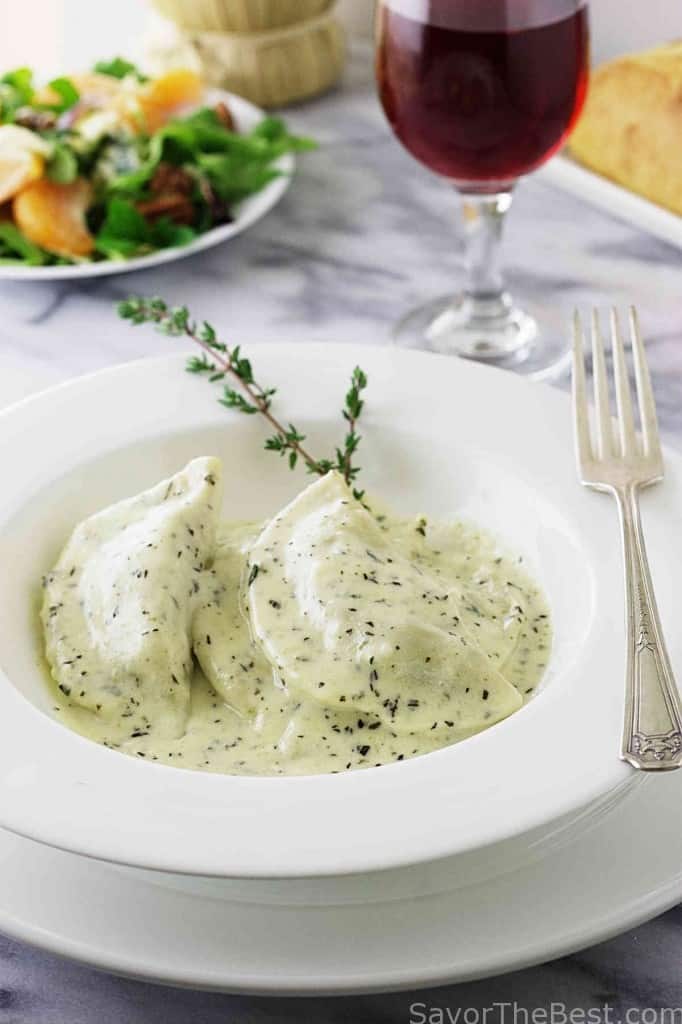 Spelt Agnolottis are similar to raviolis in that they are little pasta pillows filled with some sort of goodness and cooked like a dumpling in simmering water, rising to float on the surface when they are cooked.
Agnolottis originated in the Piedmont region of Italy and are named after the inventor of the shape. The filling can be anything from ground meat, vegetables, cheese or a combination of ingredients.
The sauces that accompany them are just as varied as the filling from a simple marinara sauce to a creamy, cheesy sauce to lightly coat each bite.
Here we have filled the spelt pasta with crimini mushrooms, thyme, pine nuts and goat cheese and a squeeze of lemon to enhance the flavors. The creamy sauce is made with a generous amount of fresh thyme, dry white wine and Parmesan cheese.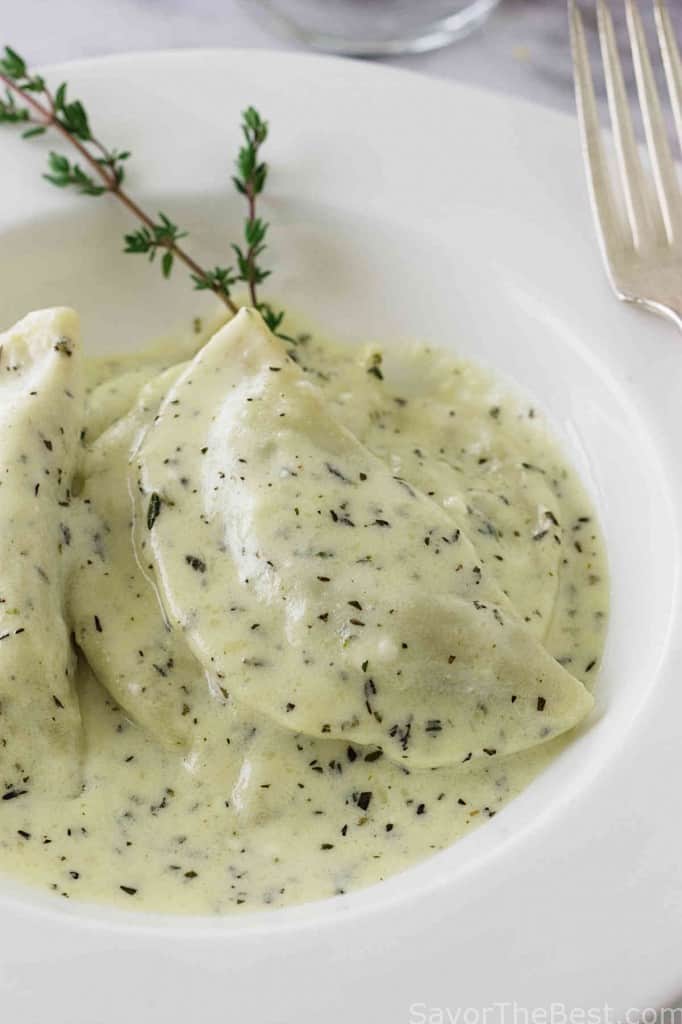 This pasta recipe of spelt agnolottis with mushroom, pine nuts and goat cheese was inspired from Sharon O'Connor's Menus and Music, A Villa in Tuscany. Any Italian kitchen would whip these agnolotti babies out in just a few minutes but this was my very first time to make homemade pasta and I am not as speedy.
I used the all-purpose light spelt flour to make the pasta dough. Spelt is an ancient variety of wheat that has remained unchanged since biblical days.
Spelt does contain gluten but the protein composition in spelt's gluten is much different than the gluten in modern wheat and many people find it easier to digest. It is not safe for people with celiac disease or those with serious gluten intolerances but there are some people with wheat sensitivities that have found they can comfortably eat spelt without digestive problems.
Spelt is also higher in nutrients than modern wheat and has more flavor with the taste being sweeter and more complex … maybe a bit nutty.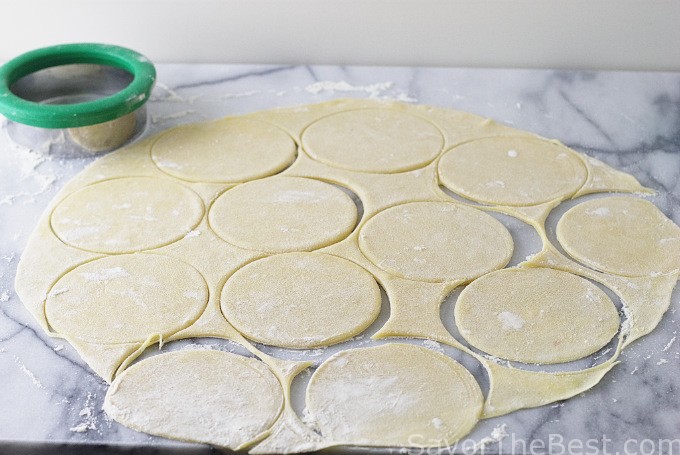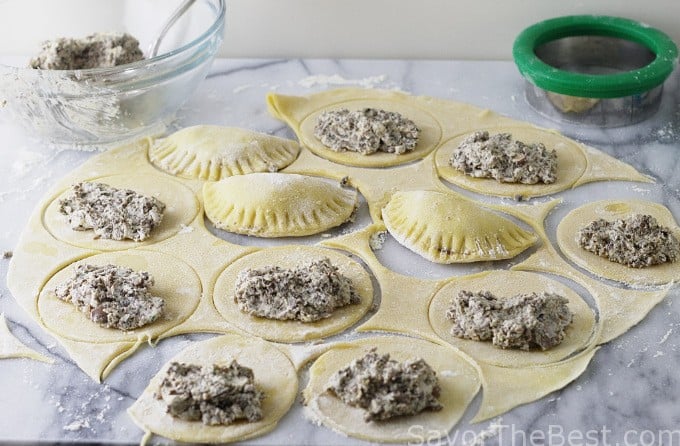 Spelt flour, both the light and the whole-grain varieties are coming back into 'vogue' and can be found in most bulk food displays in some grocery stores. Also, it is included in the line of products from Bob's Red Mill available in most grocery stores. And, of course, at Bob's Red Mill products which is available online.
I found that making pasta dough really isn't any more difficult than making a rolled pie crust.
It requires less moisture than modern wheat flour and in this recipe I have made the adjustment by increasing the spelt flour by a quarter of a cup. Also, the gluten in the spelt flour doesn't require as much kneading as modern wheat flour.
If you make this recipe and do not have light spelt flour it can be substituted with regular all-purpose wheat flour but decrease the flour by that quarter cup and knead the dough for a full six minutes.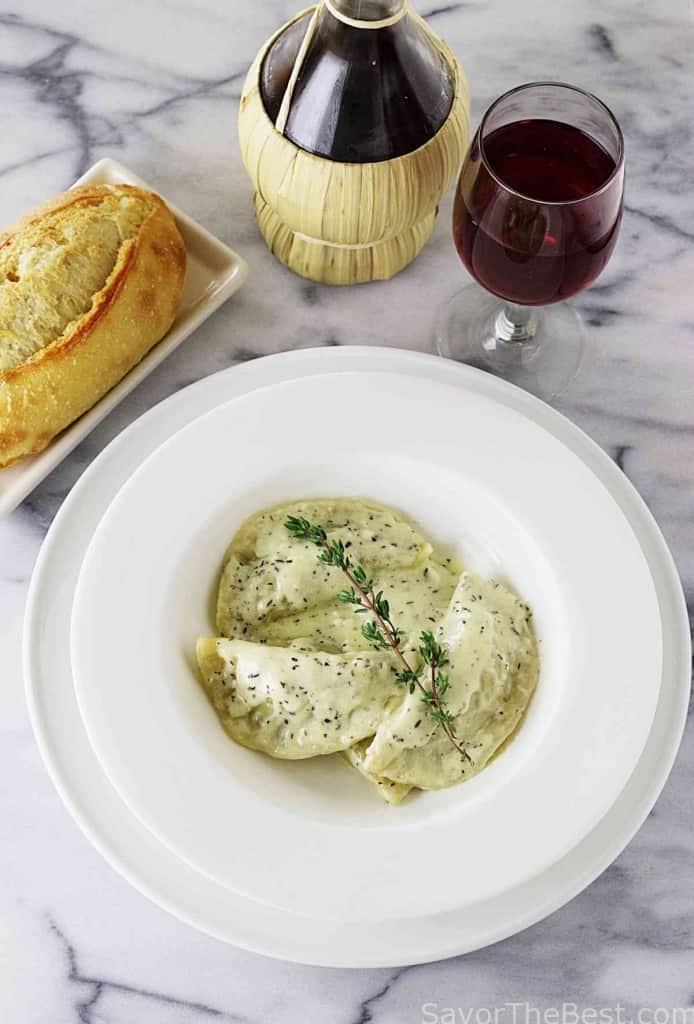 The fresh spelt pasta dough recipe has been adapted from my Italian cookbook, The Il Fornaio Pasta Book and is pretty simple with only flour, salt, oil and egg. Easy Peasy! 🙂
This recipe does take some time to prepare the pasta dough and is worth the effort but if you are not inclined to make your own, fresh pasta sheets may be available in your local delicatessen.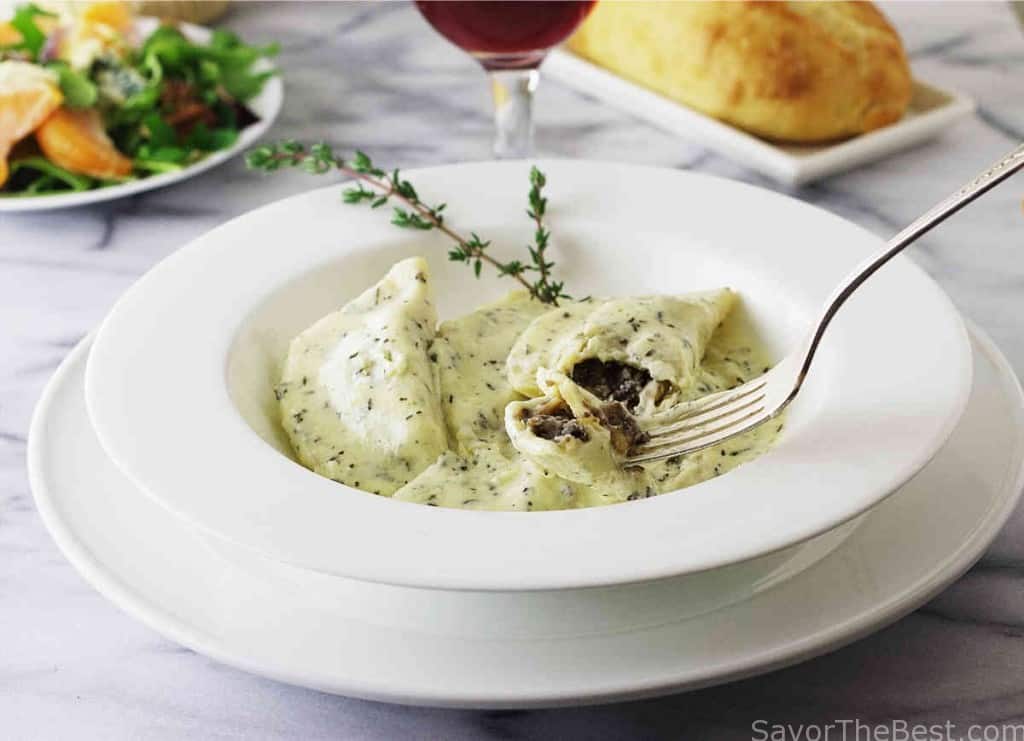 More pasta dishes to try:
CONNECT WITH SAVOR THE BEST!
Be sure to follow us on our social media accounts
Facebook * Instagram * Pinterest * Twitter * Youtube
Did you make this recipe? We would love to hear from you. Drop us a comment below.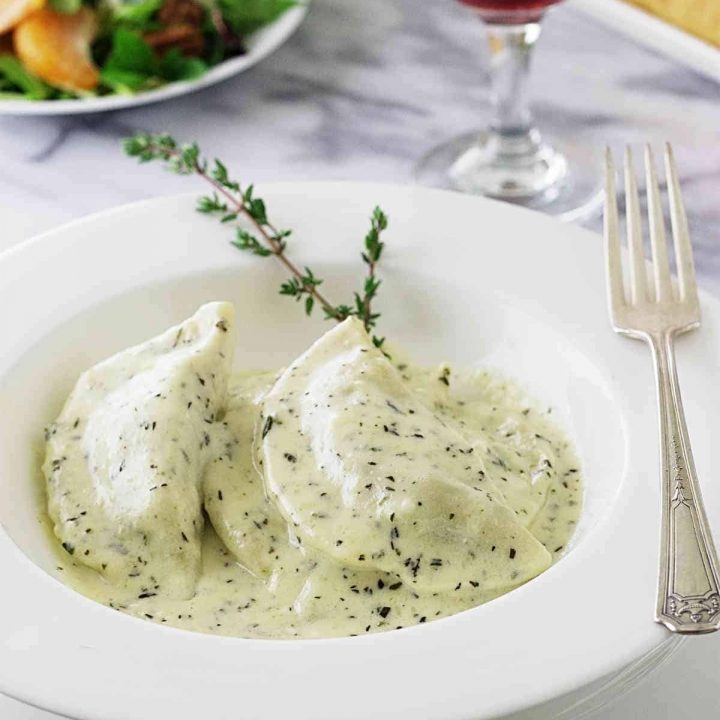 Spelt Agnolottis with Mushrooms, Pine Nuts and Goat Cheese
Yield: 6 servings
Prep Time: 2 hours
Active Time: 30 minutes
Total Time: 2 hours 30 minutes
We have filled these spelt agnolotti pasta pillows with crimini mushrooms, thyme, pine nuts and goat cheese. The creamy sauce is made with a generous amount of fresh thyme, dry white wine and Parmesan cheese.
Ingredients
For the Pasta:
1 1/2 cups white spelt flour, plus more for dusting while kneading
1/2 teaspoon salt
2 large eggs
1 teaspoon olive oil
For the Filling:
1 tablespoon olive oil
8-ounces crimini mushrooms, finely chopped
2 garlic cloves, grated or minced
2 tablespoons finely chopped fresh thyme
1/2 cup white wine
1/4 cup chopped toasted pine nuts
2 tablespoons fresh lemon juice
5 ounce log of goat cheese
For the Thyme Sauce:
2 tablespoons butter
1/3 cup finely chopped fresh thyme leaves
1 1/2 cups heavy cream or half-and-half
1/4 cup white wine
1/2 cup freshly grated Parmesan cheese
Thyme sprigs for garnish
Instructions
For the Pasta:
Add the flour and salt to a large shallow bowl whisking together, push into a mound and make a well in the center of the mound. Add the eggs and olive oil to the well and mix with a fork, incorporating more of the spelt flour in an ever-increasing wider path until the flour is completely mixed.
Transfer to a lightly-dusted pastry board and knead with your hands. Mash and knead for 2-3 minutes, until all the flour has been absorbed and the dough is soft and no longer sticky. Shape into a ball and wrap in plastic wrap, allow to rest for 30 minutes.
For the pasta filling:
While the pasta dough is resting:
In a large skillet, heat the olive oil over medium heat and cook the mushrooms, garlic, and minced thyme for 3 minutes. Add the wine and cook for 5 minutes, allowing for the alcohol to burn off and the liquid to partially evaporate and become almost dry. Remove from heat and let cool.
In a large bowl, add the cooled mushroom mixture, the pine nuts, lemon juice and the softened goat cheese and mix together. Refrigerate to firm up while making the sauce and rolling the dough.
For the Thyme Sauce:
In a medium-size saucepan, melt the butter over medium heat and stir in the thyme until the butter begins to brown. Add the cream and white wine, bring to a boil, reduce to low and simmer for 8-10 minutes, reducing in volume slightly. Stir in the parmesan, simmer for an additional 3 minutes, cover and set aside.
To assemble:
Roll the rested pasta dough into a large thin circle. Using a 4-inch round cutter, cut out rounds from the rolled pasta dough. Add 1 or 2 teaspoons of filling to the center of each round, leaving a 1/2-inch border. Dip your fingers into a glass of water and lightly moisten the edges of each circle. Fold over one half of the dough to form a half-moon, then press to seal with your fingers.
Using the tines of a fork, crimp the edges to seal completely. Transfer the filled pasta to a lightly floured plate.
In a large pot, bring 3 or 4 quarts of water to a rolling boil. Add salt generously. Working in batches, drop the agnolottis into the water and cook for 4 to 6 minutes. They will float to the top when they are cooked, remove with a slotted spoon to a plate and continue until all the agnolottis are cooked.
Gently drain any water in the plate and transfer the agnolottis to the pan with the thyme sauce. Stir gently until thoroughly coated with the sauce.
To serve: Add 1 or 2 tablespoons of the sauce to a pasta dish and place 4 or 5 agnolottis on the sauce, garnish with a sprig of fresh thyme.
Nutrition Information:
Yield: 6
Serving Size: 1
Amount Per Serving:
Calories: 504
Total Fat: 42g
Saturated Fat: 22g
Trans Fat: 1g
Unsaturated Fat: 16g
Cholesterol: 158mg
Sodium: 513mg
Carbohydrates: 16g
Fiber: 2g
Sugar: 3g
Protein: 14g
Nutrition information is a guideline only, is calculated automatically by third party software, and absolute accuracy is not guaranteed.