A clam chowder without cream? Yes, please! Our savory Manhattan Clam Chowder has a brothy tomato base, lots of clams, veggies and seasonings. This is an easy chowder made with chopped canned clams but if you have access to fresh clams by all means, go for it!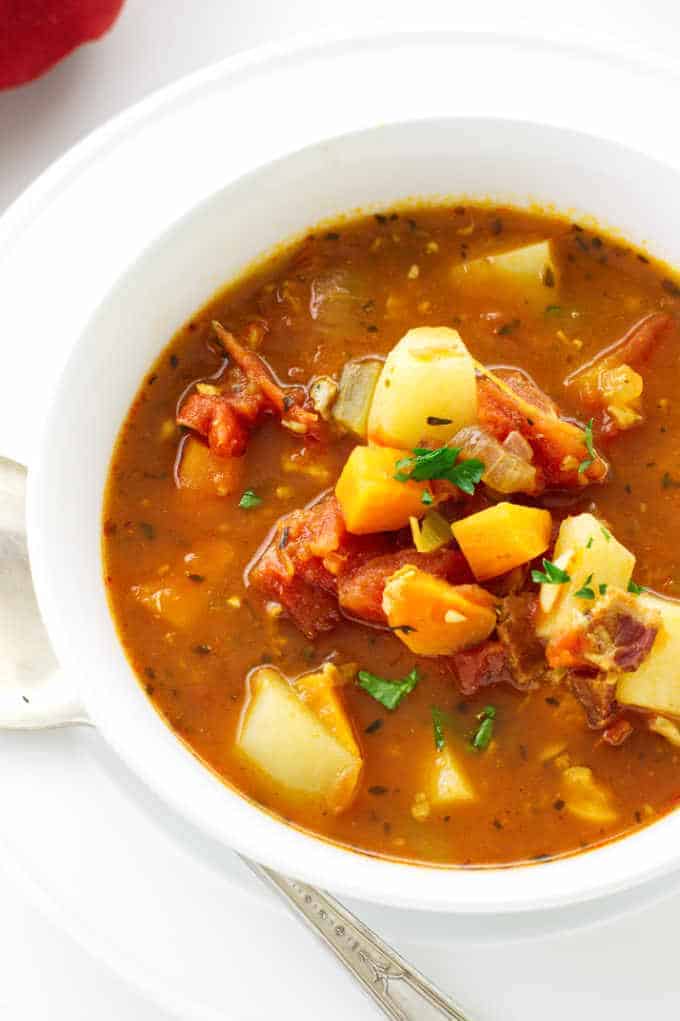 This chowder will take about twenty minutes to prep and another thirty minutes to cook. You can easily work this chowder into your weekday menu routine. Serve it with a warm, crusty, nutritious multi-grain bread and enjoy!

Calories/Fat in New England Clam Chowder Vs. Manhattan Clam Chowder:
I know there is a bit of controversy over the Manhattan clam chowder and some folks even refuse to acknowledge it as clam chowder. This chowder is healthy, nutritious and diet-friendly.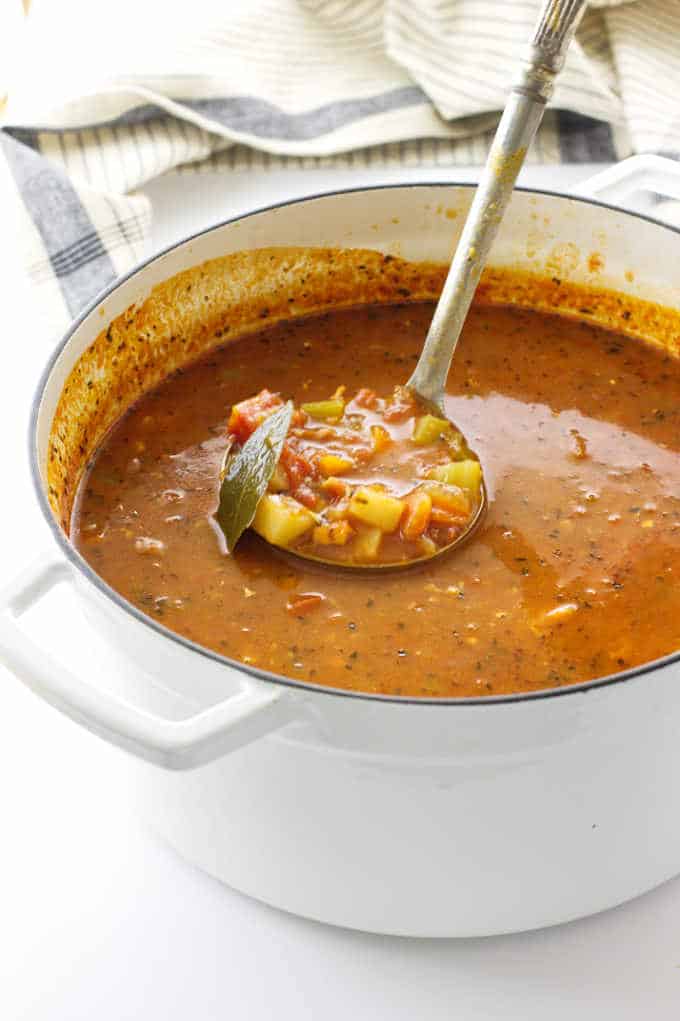 There is a big difference between the two chowders. New England clam chowder is a cream-based chowder and potatoes are the main vegetable. Flour is the usual thickening agent for the chowder also. Manhattan clam chowder is a broth-based chowder with a variety of vegetables, including tomatoes. And there isn't any thickening agent in Manhattan Clam Chowder.

There is also a huge difference in the calorie/fat content of the two chowders. In a classic New England clam chowder, there are 316 calories and 16 grams of fat per serving. For our Manhattan clam chowder, a serving has 250 calories and 3 grams of fat.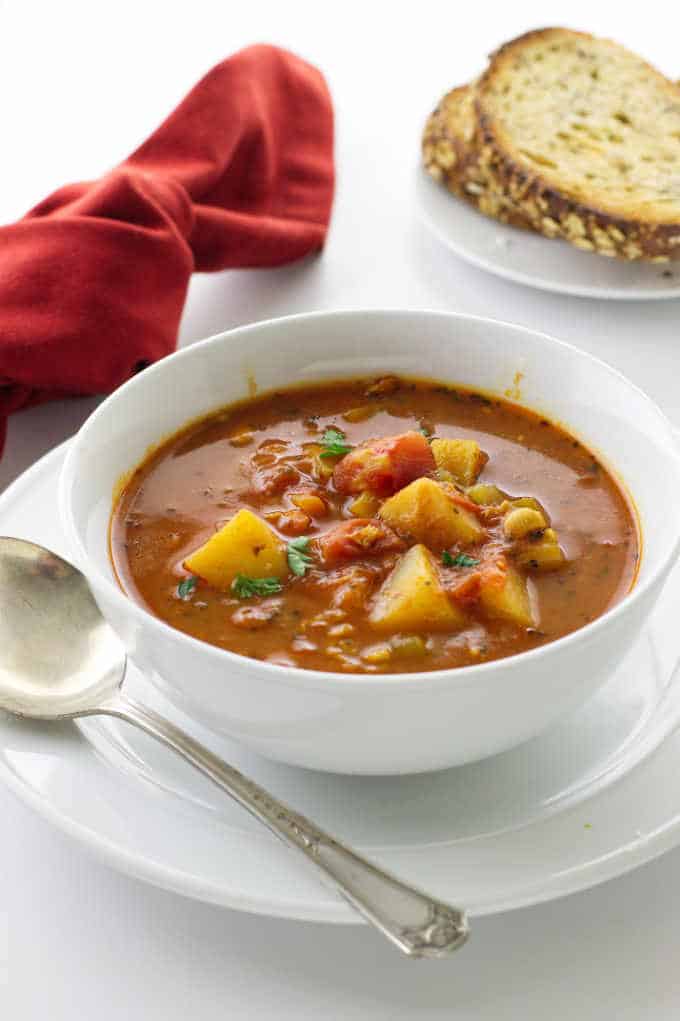 What Ingredients are used to make Manhattan Clam Chowder?

With its base of clam juice, chicken broth, white wine and tomatoes the soup also has a bit of a smoky flavor from crisply cooked bacon. The vegetables include onions, garlic, celery, carrots and small cubes of potatoes. The chowder has a ton of chopped clams and the Old Bay seasoning is a perfect blend of spices complementing the soup.
Be sure to scroll to the bottom of this post for the full recipe and instructions.
How To Make Manhattan Clam Chowder with Fresh Clams:
To use fresh clams, steam 5 pounds of clams in 2 cups of water until they open. Let cool and remove the clams, discard the shells and chop the clams. Use the clam broth as directed in the recipe.
Off the heat, add the clams to the hot chowder and let it rest for 5 minutes. Do not boil the chowder after you add the clams. Over-cooking the clams will result in tough, chewy clams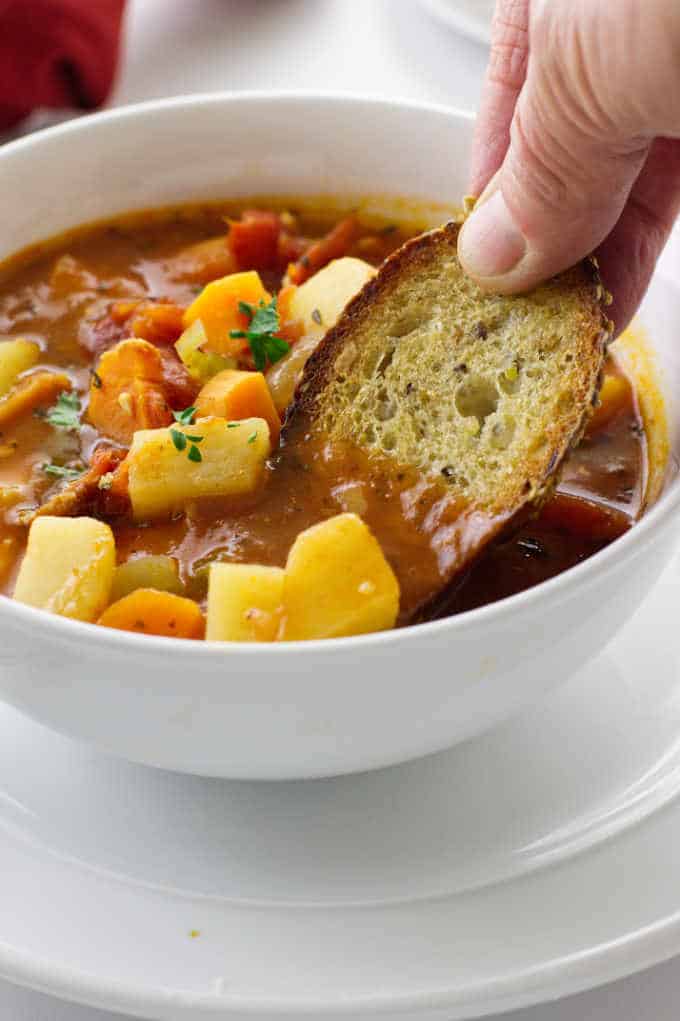 Serve this Manhattan clam chowder with a warm, multi-grain bread and a crisp salad and you have a quick and nutritious one-pot dinner!
Another great seafood-based chowder that you have to try is our wild Alaskan smoked salmon chowder. It has a cream base and it is thickened with flour in the same way our New England clam chowder gets thickened.
If you're looking for a healthier chowder like this Manhattan clam chowder then you might want to try our vegetable chowder with seared scallops. It has a light healthy broth and it is topped with sweet, delicate scallops.
SOME OTHER RECIPES WE ARE SURE YOU WILL LOVE:
Roasted Cauliflower Soup: Roasting brings out the subtle sweetness of the cauliflower as the florets become lightly caramelized. Purred in a blender; then adding a bit of cream gives this soup a thick bisque-like goodness.
Split Pea and Ham Soup: Homemade Split Pea and Ham Soup is a classic, comforting soup, perfect for the cold winter weather. Thick with heart-healthy split peas, chunks of smoky ham and lots of nutritious vegetables.
Chicken Noodle Soup: Chicken noodle soup is so comforting not only when you are down with the flu but anytime. It is healthy and nourishing full of chicken chunks, vegetables and thick noodles in a flavorful chicken broth.
CONNECT WITH SAVOR THE BEST!
Be sure to follow us on our social media accounts
Facebook * Instagram * Pinterest * Twitter * Youtube
Did you make this recipe? We would love to hear from you. Drop us a comment below.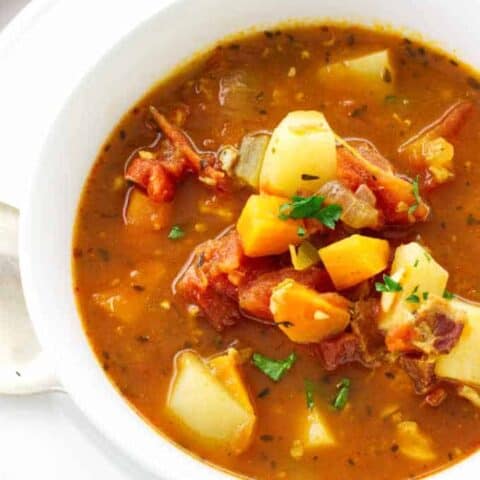 Manhattan Clam Chowder
Yield: 8 to 10 servings
Prep Time: 30 minutes
Cook Time: 30 minutes
Total Time: 1 hour
Manhattan Clam Chowder is a brothy, low calorie chowder packed with chopped clams and vegetables.
Ingredients
4 thick-cut smoky bacon, diced
1 large yellow onion, finely chopped
3-4 garlic cloves, grated or minced
2 carrots, cut into 1/4-inch cubes
1 8-inch celery stalk, sliced 1/4-inch thick
1 cup dry white wine
3 bottles (8 oz each) of clam juice
3 large Yukon Gold Potatoes, peeled and cut into cubes
1 28-oz can diced tomatoes
3 tablespoons tomato paste
1 teaspoon Old Bay Seasoning
1/4 teaspoon black pepper
Red pepper flakes to taste
1 teaspoon dried thyme
3 dried bay leaves
4 cans (6 oz. each) chopped clams with their liquid (See Notes)
1/4 cup chopped parsley for garnish
Instructions
In a Dutch oven or large soup pot set over medium-high heat, add the diced bacon and cook until crisp. Reduce the heat to medium and add the onions, garlic, carrots and celery. Sauté the vegetables for 3-5 minutes.
Pour in the wine and cook for 1 minute to burn off the alcohol; then add the clam juice, potatoes, tomatoes, tomato paste, Old Bay, peppers, dried thyme and bay leaves. Bring to a boil; then reduce to low and simmer for 10 minutes.
Stir in the chopped clams and their liquid and cook on low heat for 5 minutes.
To Serve:
Ladle into soup bowls and garnish with chopped parsley.
Notes
To use fresh clams, steam 5 pounds of clams in 2 cups of water until they open. let cool and remove clams, discard shells and chop clams. Use the clam broth as directed in recipe. Off the heat, add the clams to the hot chowder and let rest for 5 minutes. Over-cooking the clams will result in tough, chewy clams.
1 pint of shucked fresh clams with their liquid may be chopped and substituted for canned clams.
This chowder is gluten-free, and low-calorie
Recommended Products
As an Amazon Associate and member of other affiliate programs, I earn from qualifying purchases.
Nutrition Information:
Yield: 8 Servings
Serving Size: 1-1/2 Cups
Amount Per Serving:
Calories: 250
Total Fat: 3g
Saturated Fat: 1g
Trans Fat: 0g
Unsaturated Fat: 2g
Cholesterol: 34mg
Sodium: 872mg
Carbohydrates: 35g
Fiber: 6g
Sugar: 6g
Protein: 17g
Nutrition information is a guideline only, is calculated automatically by third-party software, and absolute accuracy is not guaranteed.