This classic New England Clam Chowder is a great winter soul-warming soup. It is hearty and nourishing and can be eaten as a full meal. Traditionally, clam chowder is served with saltine or oyster crackers but we did a change-up and served it with homemade crispy puff pastry dilly crackers.
Why is this rich, savory chowder called New England Clam Chowder?? We live in the Pacific Northwest and Puget Sound specifically, where clams are super plentiful and clam chowder is found on nearly any seafood restaurant menu. And these restaurants serve up some amazing clam chowders.
There are so many varieties of clam chowder on the either side of the country with each side professing to have the best of the best. Do you use fresh clams, potatoes, tomatoes or both? Milk, cream or broth? And the texture of the chowder is also in question. Oh…. the debate rolls on. But, the best chowder is the one you like.
Our clam chowder is a milk and cream-based, savory soup made with a lot of clams as the main ingredient. The secret of keeping the clams tender is to add them at the end of the cooking process so they do not over-cook and become tough. Our chowder also includes a little smokey bacon, sliced leeks, potatoes white wine and fresh herbs.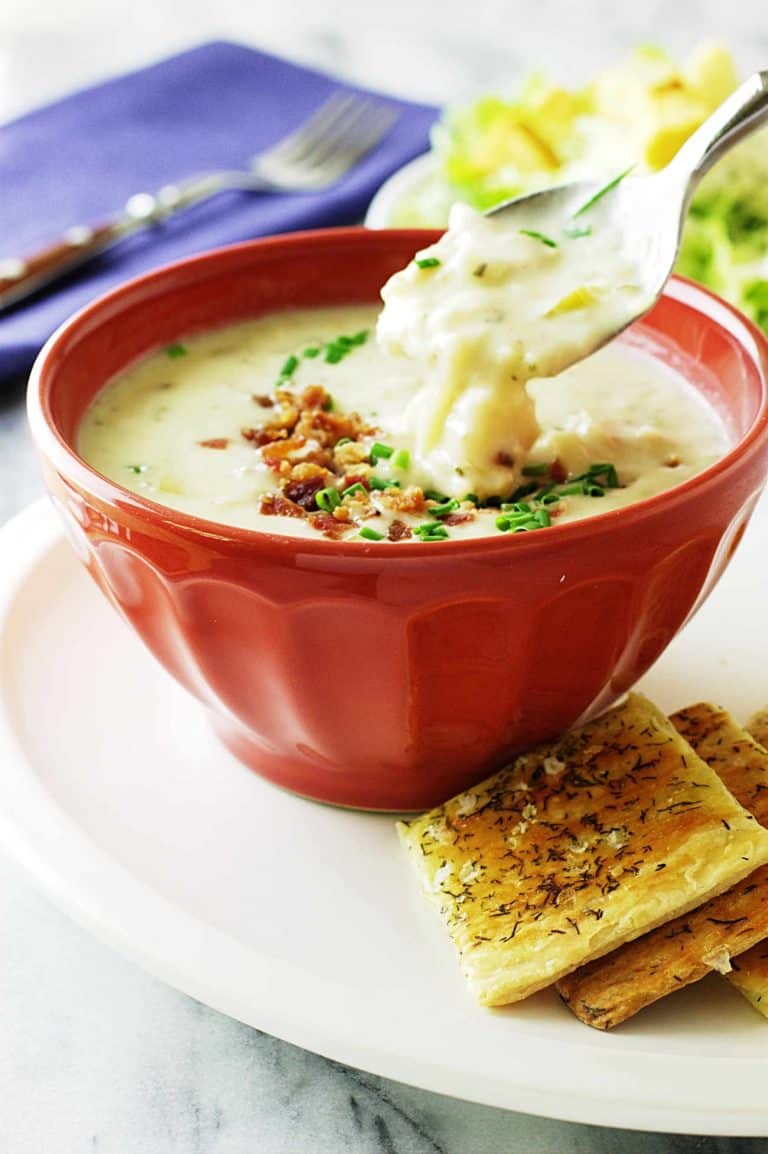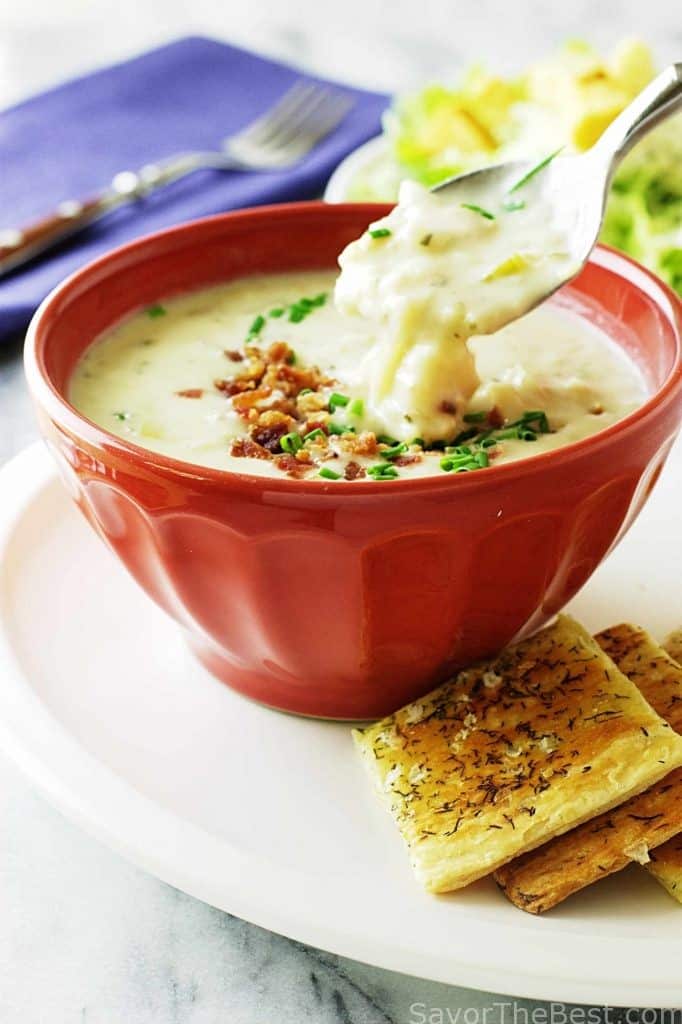 To make our chowder I cooked four strips of bacon which I reserved and chopped for garnishing. The bacon fat is all that is needed to impart a little smokey flavor but not overpowering the taste of the clams. Just a couple tablespoons of bacon fat was used to sauté the sliced leeks.
As we don't particularly like chunks of potatoes in our chowder I grated the potatoes on the largest side of my box-grater and cooked them in a little white wine, a bottle of clam broth, chicken broth and fresh herbs. We like the texture to be semi-thick and I made a roux of butter and flour in a soup pot and added milk, cream and the simmered potato mixture. The clams were added to the simmering soup and cooked for just a few minutes.
To make the puff pastry dilly crackers I used a sheet of puff pastry rolled onto parchment paper cut to fit a sheet pan. The pastry was brushed with an egg wash, sprinkled with sea salt and dried dill, then cut into squares. The parchment paper with the prepared dough was slid onto the baking sheet. Another sheet of parchment paper was placed over the cut dough and a second sheet pan set on top to weigh it down and keep the crackers from puffing. They baked in a 400°F oven for 25 minutes to a golden brown.
Serve this New England Clam Chowder in big bowls garnished with chopped chives and the reserved chopped bacon along with the puff pastry dilly crackers.
Check out these recipes for chowders and soups: Corn and Shrimp Chowder Wild Aslakan Smoked Salmon Chowder Scotch Broth
Yield: 8 servings
New England Clam Chowder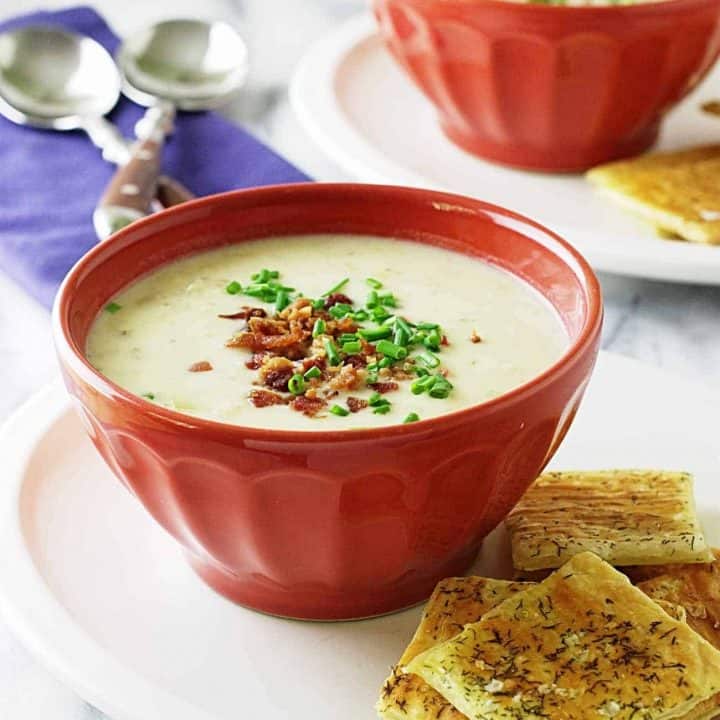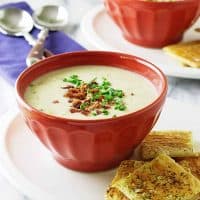 Our clam chowder is a milk/cream-based, thick, savory soup made with a lot of clams as the main ingredient with a little smokey bacon, sliced leeks, potatoes and fresh herbs included. We served this soup with puff-pastry dilly crackers.
Prep Time 30 minutes
Cook Time 30 minutes
Total Time 1 hour
Ingredients
For the Chowder:
4 slices of bacon
2 medium leeks, rinsed of soil and finely sliced, white part only
2 stalks celery, finely chopped
1 8-oz. bottle of clam juice
2 cups low-sodium chicken broth
1 cup white wine
1 pound Yukon Gold Potatoes, peeled and large-grated or diced small
1/2 teaspoon dried dill
Sea salt and freshly ground black pepper-to taste
4 tablespoons butter
4 tablespoons flour
3 cups whole milk
1 cup heavy cream
16 oz. container of frozen clams, defrosted—undrained
1/4 cup finely chopped fresh chives
For the Dilly Crackers:
1 sheet of puff pastry dough, thawed
1 tablespoon flour
1 egg
1 tablespoon cold water
1 tablespoon dried dill
kosher salt
Instructions
Over medium heat, add the bacon to a large saucepan and cook until crispy.
Remove with a slotted spoon and drain on a paper towel-lined plate and when cool chop finely and reserve.
In the same saucepan, still over medium heat, add the sliced leeks to the bacon fat and cook until soft. Add the clam broth, chicken broth, white wine and the grated potatoes. Add the dried dill, sea salt and black pepper. Bring to a boil then reduce to simmer and cook until the potatoes are tender, about 10 minutes.
In another large pot or a Dutch oven set over a medium-low heat, add the butter and when it has melted stir in the flour and cook the mixture stirring it until the flour is just beginning to color lightly. Do not brown. Slowly whisk the milk and cream into the flour mixture and cook until thickened.
Stir in the potato mixture and the clams, simmer on low for about 5 minutes. Ladle the chowder into bowls and garnish with the chopped bacon and dill. Serve with the puff pastry dilly crackers
For the Dilly Crackers:
Preheat the oven to 400°F
You will need 2 baking sheets, one to bake the crackers on and one to stack on top of the crackers while they bake.
Cut 2 pieces of parchment paper to fit baking sheets.
Place the parchment paper on a work surface and sprinkle with flour; unroll the sheet of puff pastry onto the parchment paper. Roll the pastry out to the size of the parchment paper.
In a small dish mix the egg and water together as an egg-wash and brush onto the puff pastry. Sprinkle with the dried dill and salt. With a sharp knife, cut the pastry into squares, being careful not to cut the parchment paper.
Carefully, slide the parchment paper with the cut pastry onto one of the baking sheets, place the second piece of parchment paper on top of the pastry and place the second baking sheet on top of the parchment paper. This will keep the puff pastry flat and bake into crisp crackers.
Transfer the set of baking sheets to the middle rack of the oven and bake for 25-30 minutes. Remove from the oven and allow to cool on a wire rack.
Nutrition Information
Yield
8
Serving Size
1
Amount Per Serving
Calories 316
Total Fat 16g
Cholesterol 70mg
Sodium 630mg
Carbohydrates 22g
Protein 15g
Nutrition information is a guideline only, is calculated automatically by third party software, and absolute accuracy is not guaranteed.