Do you remember those cute Campbell kids in the old Campbell's soup commercials?….M'm! M'm! Good! That's what this old-fashioned Vegetable Beef Soup is, M'm! M'm! Good! But it is fresh-made in our kitchen from scratch. It is loaded with chunks of tender beef, fresh veggies and herbs in a rich flavorful, beefy broth!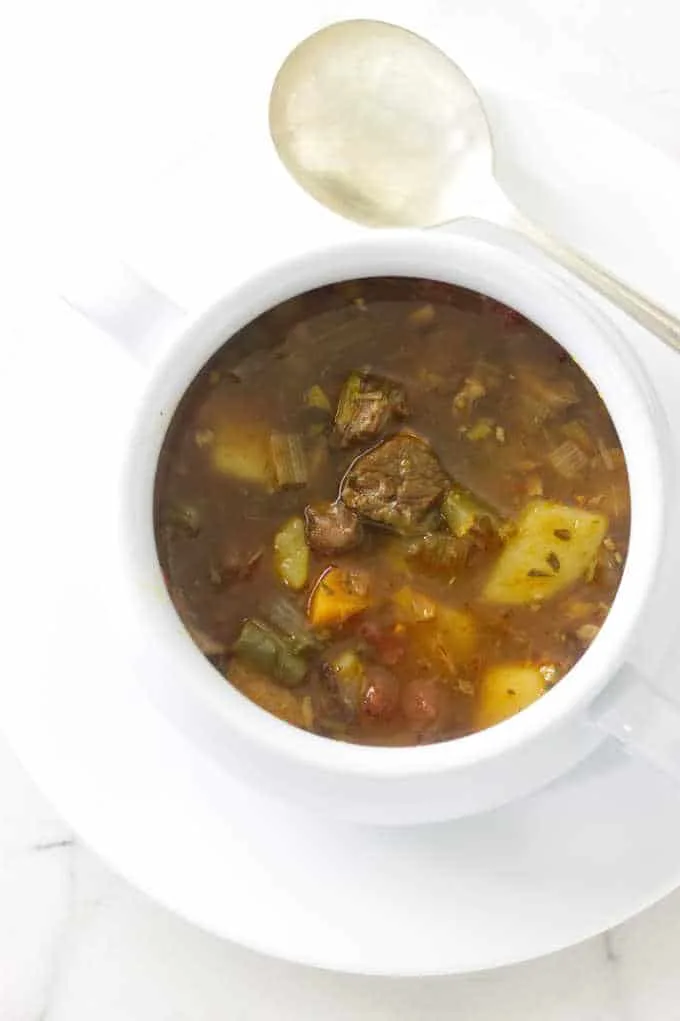 A big bowl of hot soup is so satisfying on a blustery winter day and this vegetable beef soup is one of our favorites!
I love making this soup on a cold day with the wood stove blazing. After putting it all together I like to set it on top of the wood stove to simmer for a couple hours until dinner time. It really is…., M'm! M'm! Good!
What Cut of Beef is Best For Vegetable Beef Soup:
We personally like a chuck roast. It has a big, bold beefy flavor! It is also a budget-friendly cut of beef that cooks up tender and is full of rich beef flavor. There are other choices such as short ribs, round roast or even ground beef. These are all good choices although it is hard to beat the flavor in a chuck roast.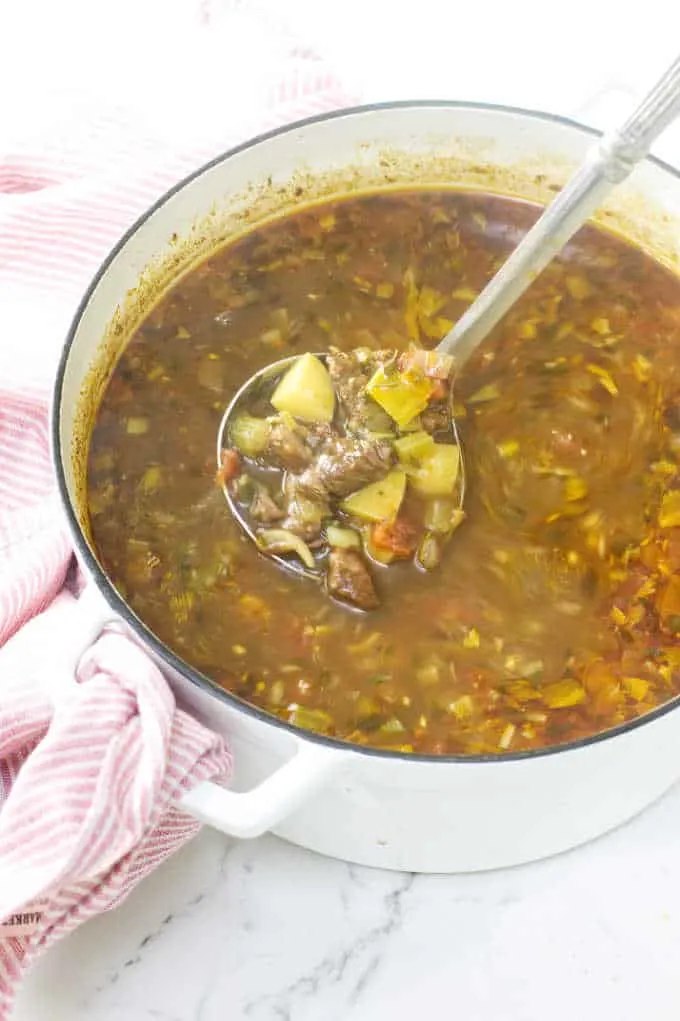 How to Make Vegetable Beef Soup:
A nice lean, two-pound chuck roast adds a healthy amount of beef to our soup. We found this roast in the meat sale bin with a nicely discounted price tag.
Here is a money-saving tip, check out the 'sale bin' and you will be surprised at the treasures you will find. These price-reduced cuts of beef may not look as pretty as those freshly cut, higher priced packages of meat but there is nothing wrong or unsafe with them.
They just got passed by so they get a price adjustment for a fast sale. That also means they have aged a little longer and taste fantastic. It is a win-win for you.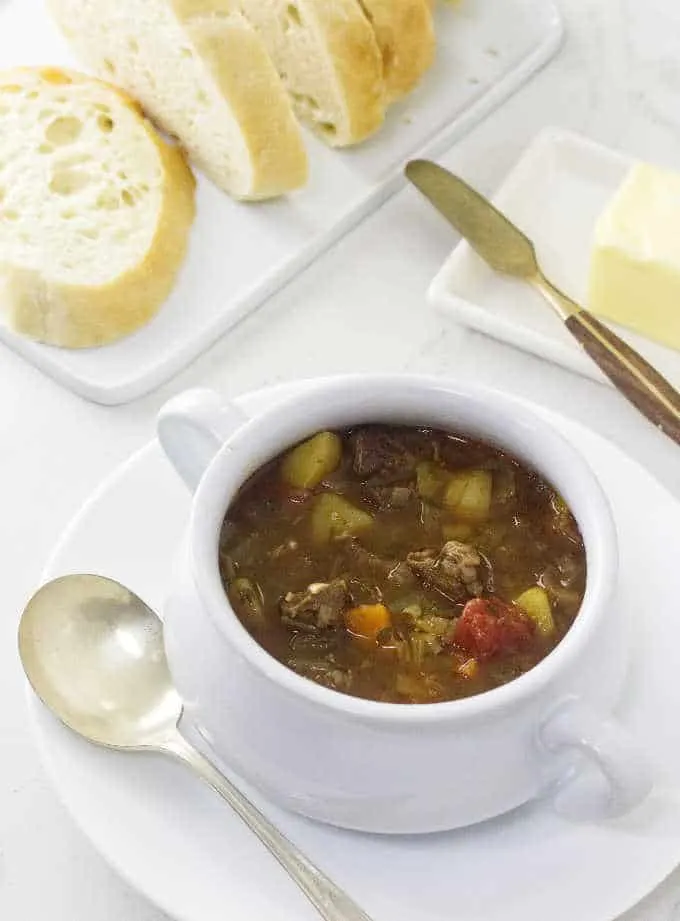 Vegetable Choices for Vegetable Beef Soup:
We are using onions, garlic, carrots, celery, potatoes, green beans and tomatoes. These are the basics for a vegetable beef soup, however, there is a wide variety of choices including:
Canned cannellini or kidney beans
Corn kernels
Edamame
Parsnips
Turnips
Cabbage
Add in whatever you have on hand in your pantry and fridge or experiment with something new.
To make this pot of vegetable beef soup we began by searing the chuck roast in our heavy-bottomed Dutch oven. You need a hot heat to get that rich, brown crust that will deliver amazing flavor to the soup broth. After it was browned we set it aside on the cutting board to cool then cut it into bite-sized pieces.
While the beef was cooling we sautéed the veggies in the drippings remaining in the soup pot then added beef broth, tomato juice and fresh herbs. Next the beef chunks were added back into the soup pot and a packet of dry onion soup mix was stirred in.
A Tip For Extra Beefy Flavor: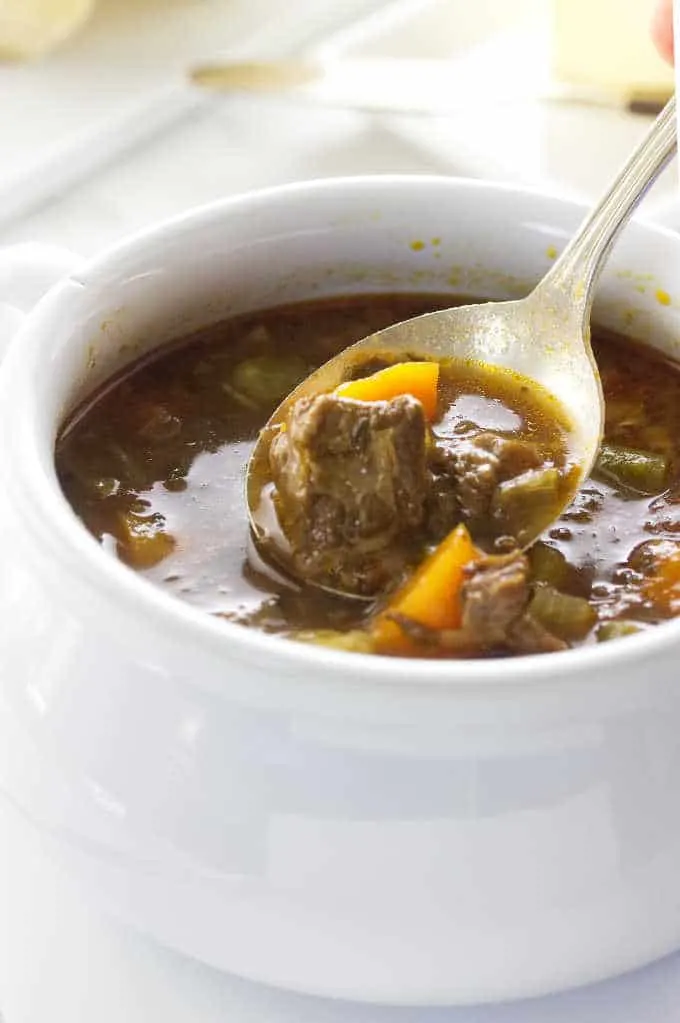 A packet of onion soup mix goes a long way in intensifying the beefy richness of this soup. This simple mix of dehydrated onions and powdered beef stock is usually in my pantry for soups and stews. It also is one of the must-have ingredients in My Favorite Meatloaf.
There is one caveat though, this onion soup mix has a high ratio of salt. If you have skipped to the recipe card below you will notice that the seasonings are listed as the last ingredients. By adding the seasoning last you can taste and adjust the amount needed and prevent over-salting.
Let the soup simmer on low heat for a couple hours then ladle it into soup bowls. Serve with some crusty bread. Enjoy!
P.S. This soup will be even better tasting the next day!
A helpful tip for gluten-free vegetable beef soup:
We used Lipton's Onion Soup mix since that is what was in our pantry. However, due to the type of yeast extract that is used in Lipton's dry onion soup mix, it probably is not gluten-free.
If you need to be strictly gluten-free then we recommend Vogue Cuisine Onion soup mix. The great thing about this brand of soup mix is that it is much lower in sodium.
That means you may want to add an extra dash of salt. Just do a taste test and add what you need. You can use whatever gluten-free brand you like to make an incredible gluten-free vegetable beef soup.
MORE GREAT SOUP RECIPES WE ARE SURE YOU WILL LOVE:
Connect With Savor the Best:
Please follow us on our social media accounts
Facebook * Instagram * Pinterest * Youtube * Twitter
Did you make this recipe? We would love to hear from you. Drop us a comment below.
Check out our soup cookbook. It is filled with wholesome and hearty soups. Each soup recipe is from scratch with real ingredients and filling enough to be enjoyed as a main-course meal.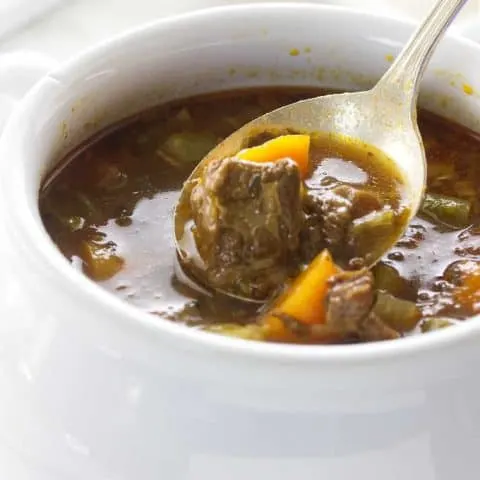 Vegetable Beef Soup
Total Time:
2 hours
30 minutes
Old fashioned Vegetable Beef Soup! Loaded with chunks of lean beef and a mix of fresh vegetables in a rich, beefy broth.
Ingredients
1 tablespoon vegetable oil
2 pounds beef chuck roast
1 yellow onion diced
4 garlic cloves, minced
3 carrots peeled and cut into 1/2-inch cubes
3 celery stalks, 8-inches long, cut into small slices
4 Yukon Gold potatoes peeled and cut into 1/2-inch cubes
1 cup fresh green beans cut into 1/2-inch pieces
1 can (15-ounce) diced tomatoes
2 cups tomato or V-8 juice
4 cups beef broth
1 envelope dry onion soup mix (see notes)
2 bay leaves
2 tablespoons chopped fresh rosemary
Salt
Black pepper
Instructions
In a Dutch oven or heavy bottomed soup pot set over medium-high, heat the oil and add the chuck roast and season with salt and pepper. Sear the roast for 4-5 minutes on each side to get a deep, rich crust. If there is a rim of fat on the edges, use the tongs to hold it on edge to render out the fat.
Transfer the roast to a cutting board and when cool cut it into 1-inch chunks, trimming away and discarding any large pieces of fat and grizzle. Reserve.
Add the onion, garlic, carrots and celery to the Dutch oven and sauté until the onion has softened. Add the potatoes, green beans, tomatoes, tomato juice and beef broth. Stir in the onion soup mix and the reserved beef chunks, bay leaves and rosemary. Taste the soup and add salt and pepper. Reduce the heat to low, cover the pot and simmer for two hours.
Ladle the soup into large bowls and serve hot with crusty sourdough bread or crisp crackers.
Notes
Chuck roast can be substituted with beef stew meat, short ribs, sirloin or ground beef.
Try adding different vegetables like canned cannellini beans, corn, edamame, parsnips, turnips or cabbage.
Red or white wine can be added as part of the liquid.
A package of dry onion soup will increase the rich beef flavored broth.
Adding salt and pepper after stirring in the dry onion soup will prevent over seasoning.
Not all onion soup mix is gluten free, If you need to be strictly gluten-free, double check the ingredient label.
Recommended Products
As an Amazon Associate and member of other affiliate programs, I earn from qualifying purchases.
Nutrition Information:
Yield:

12
Serving Size:

1-1/2 Cups
Amount Per Serving:
Calories:

383
Total Fat:

22.8g
Saturated Fat:

8.8g
Cholesterol:

78mg
Sodium:

772mg
Carbohydrates:

20.8g
Fiber:

2.8g
Sugar:

4.9g
Protein:

24.1g