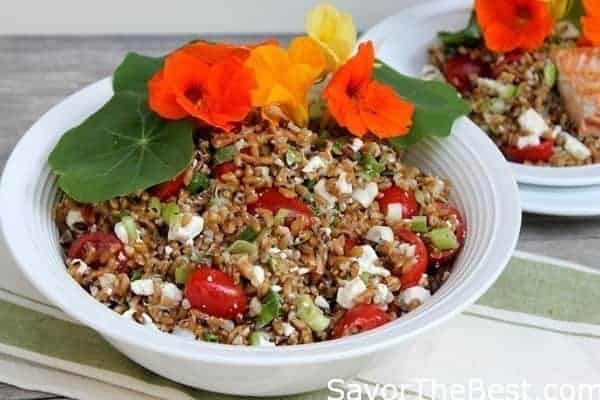 Farro is an ancient whole-grain, I mean really ancient and it is cultivated in the fields of Italy and elsewhere in the Mediterranean. With the revival of interest in whole grains, farro's popularity is gaining popularity in America as well and it is also being grown in Eastern Washington by Bluebird Grain Farms.
Farro has a little bit of a nutty flavor and is cooked about like you would cook steel-cut oats. You can buy it in most major grocery stores where the rice and dry beans are located. It is a versatile whole-grain and I have added it to my minestrone soup in place of pasta and also cooked it as a morning breakfast cereal. I like the nutty taste of it and it can be cooked where it has a little crunch to it or, if cooked longer is softer. It is full of nutrition and just one-half cup of cooked faro has seven grams of protein with zero fat.
In the produce section of my very favorite market there is a kiosk that serves daily samples of whatever the store highlights for the day. Most of the time it will be a fruit or a vegetable that has just come into season or a new item that the market started carrying. A couple of weeks ago the featured item was farro from the Bluebird Grain Farms and samples were being served of this nice Farro salad which was paired with grilled salmon. It was really good, I liked the nutty toasted flavor of the grain which also had a nice chewy-ness to it.
This salad was inspired by that taste-sampling and I have added nasturtiums from my garden as a garnishment as they have just started blooming and their bright jewel-like blossoms are so beautiful. I planted these nasturtiums in the spring and have been looking forward to using them in my recipes as they are an edible flower as well as a beautiful garnishment. It is not just the flower that is edible but also the green leaves and the stems. The leaves have a spicy flavor to them and there is a little spice and crunch to the stems. The blooms themselves have a nice slightly sweet flavor. I used them as a garnish in this salad but we ate them and they were interestingly delicious.
The salad plus some grilled salmon, shrimp or chicken makes a wonderful summertime dinner all by itself. Although a nice glass of my favorite white wine, Sauvignon Blanc would be just lovely.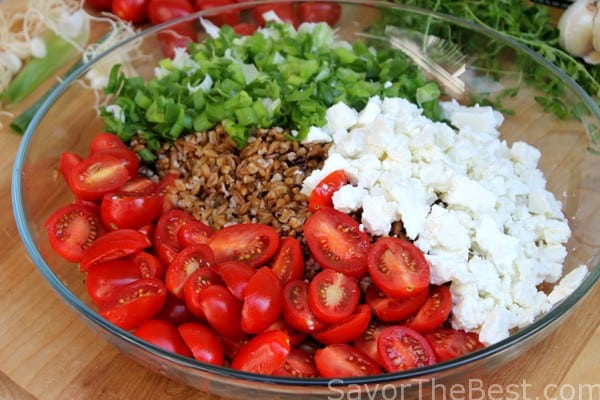 CONNECT WITH SAVOR THE BEST!
Be sure to follow us on our social media accounts
Facebook * Instagram * Pinterest * Twitter * Youtube
Did you make this recipe? We would love to hear from you. Drop us a comment below.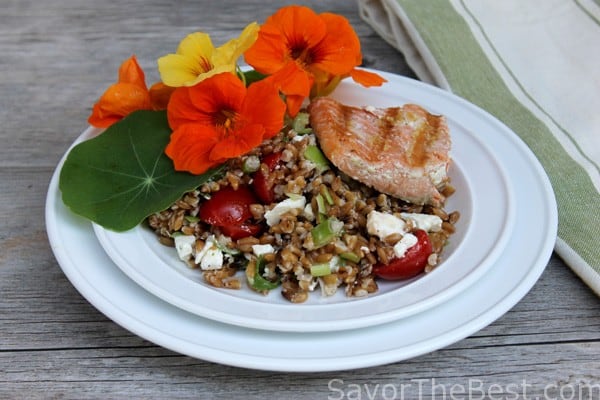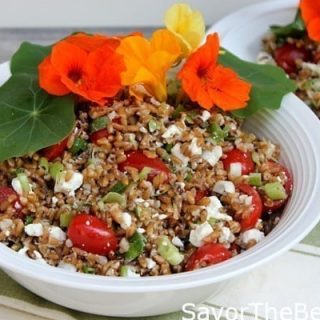 Toasted Farro Salad with Nasturtium Flowers
Yield: 6 servings
Prep Time: 20 minutes
Cook Time: 40 minutes
Total Time: 1 hour
A whole-grain, nutty flavored salad with tomatoes, feta cheese and the spiciness of edible nasturtium blossoms
Ingredients
2 Tablespoons olive oil
1-1/2 cups Farro
1 teaspoon salt
4 cups water
1 cup cherry tomatoes, halved
5 scallions, chopped-white and part green
6 ounces feta cheese
For the vinaigrette:
3 tablespoons olive oil
2 tablespoons red or white wine vinegar
2 tablespoons chopped fresh thyme
1 tablespoon chopped fresh oregano
1 tablespoon minced garlic
1/4 teaspoon kosher salt
Freshly ground black pepper, to taste
Fresh Nasturtium blossoms and leaves for garnish (optional)
Instructions
In a medium saucepan, heat 2 tablespoons of oil over medium-high heat. Add farro and stir until farro begins to toast lightly and becomes fragrant, about 2 minutes. Add water and salt, bring to a boil, reduce heat to simmer, cover and cook for 40 minutes. Remove from heat and drain off any excess water and set aside to cool. This can be made a day ahead and kept in the refrigerator.
Transfer the cooled farro to a large mixing bowl, add the the cherry tomatoes, scallions and the feta cheese.
For the vinaigrette:
In a small dish, whisk together the olive oil, wine vinegar, thyme, oregano, garlic, salt and pepper.
Toss the salad with the vinaigrette to coat lightly. Garnish with fresh Nasturtium blossoms and the leaves.
Nutrition Information:
Yield: 6
Serving Size: 1 cup
Amount Per Serving:
Calories: 253
Total Fat: 20g
Sodium: 708mg
Carbohydrates: 16g
Protein: 6g