The holidays are officially upon us and gifting is on our minds. So, we've created the Savor the Best 2019 Holiday Gift Guide: Homemade Gifts, a roundup of the best holiday gift ideas for the make-it-yourself gifter! While we are big fans of store-bought gifts, it's always exciting to receive yummy treats made with love, too. And in our opinion, a box of fresh-baked biscotti, Christmas cookies or homemade jam can be the "perfect gift" for just about anyone!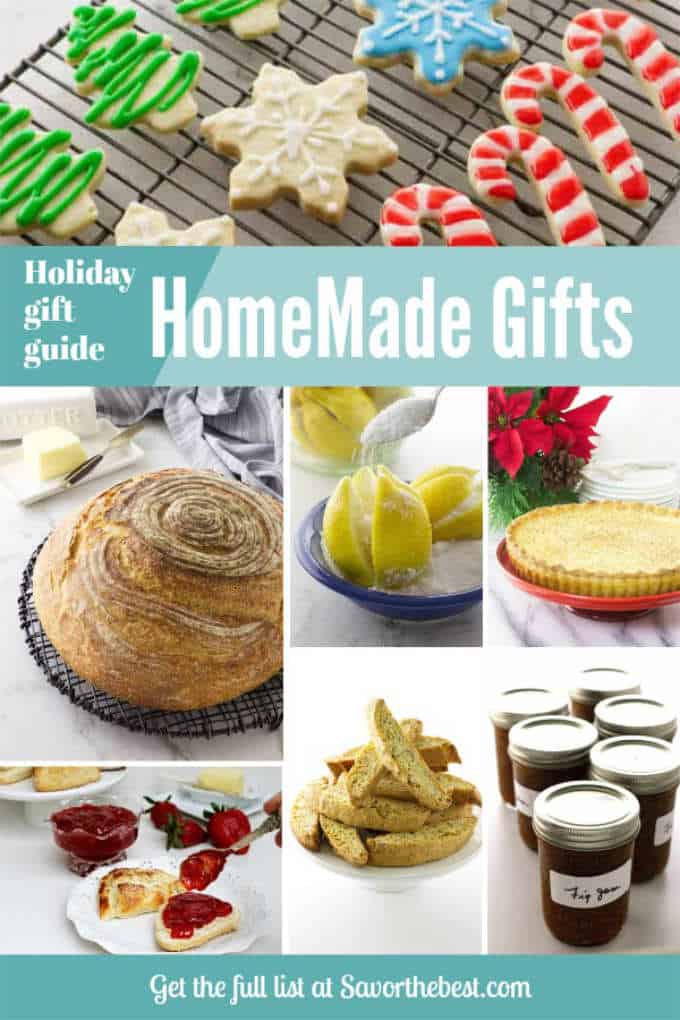 Savor the Best 2019 Holiday Gift Guide: Homemade Gifts
Who doesn't love fresh, home-baked treats? Or a jar of homemade preserves? If you're looking for the perfect gift, our 2019 Holiday Gift Guide is a one-stop shop for the best homemade gift ideas.
Our Classic Almond Biscotti makes for the perfect gift, especially for the coffee lover. Easy and delicious, these crisp and crunchy Italian cookies are sweet little dunkers for coffee or tea. Place a batch in a pretty jar or gift box, or wrap up a few to gift with a bag of coffee beans or a cute mug. However they're delivered, our Classic Almond Biscotti is always a win.
Our homemade fig jam is a delicious preserve made with dried figs and hints of lemon. It can be enjoyed many ways, and would be a lovely addition to a holiday gift basket or alongside a fresh-baked loaf of sourdough bread.
Is there anything more festive than Christmas cutout cookies? These sugar cookies are easy, buttery and sweet. Plus, making Christmas cookies with kiddos is sure to become a favorite holiday tradition if it's not already. Decorate a batch and place them on a pretty platter or wrap individual cookies as a fun gift for neighbors, teachers, co-workers, the list goes on.
Preserved lemons are like summertime in a jar! And they just might be the perfect gift for a friend or family member who loves to cook. The intense flavor of preserved lemons can be a great addition to many dishes, and is very common in Morroccan cooking. Gift a jar of preserved lemons on its own, alongside some nice kitchen utensils or a fun cookbook, or make your own preserved lemon set including our preserved lemon butter and preserved lemon vinaigrette.
Rich and creamy with eggnog and nutmeg flavor, this eggnog tart is a delicious holiday treat. Place a whole tart in a holiday box as a gift or make several mini tarts to include as part of a mini dessert treat box. It's not Christmas without eggnog and this is just one way to spread good cheer.
Homemade, fresh strawberry jam is a classic and is sure to be loved by anyone. It has an intense strawberry flavor and is a delicious go-to in the morning. With its pretty, bright red color, it would look beautiful in a jar tied with a ribbon as a finishing touch.
I hope our 2019 Holiday Gift Guide gives you some great inspiration for holiday gift ideas this season! At Savor the Best, we love whipping up yummy treats, and it's always extra special when we get to bake for someone we care about. Because of this, homemade food gifts are a win all around! Happy gifting!
SOME OTHER RECIPES WE ARE SURE YOU WILL LOVE:
Our Holiday Eggnog is rich and full of vanilla flavor, without the common, overly sweet taste found in most store-bought brands. If you're looking for a delicious and festive drink for all of your holiday gatherings, this one is it.
This Spiced Pumpkin Cheesecake is extra creamy and smooth, full of warm spices and pumpkin flavor. From Thanksgiving to Christmas and any events in between, this cheesecake will impress.
Our French-inspired Potatoes Au Gratin is made with cheese, cream, garlic and fresh thyme and topped with a crunchy, breadcrumb crust. This delicious dish will go with almost any meal and is sure to be a favorite.
CONNECT WITH SAVOR THE BEST!
Be sure to follow us on our social media accounts
Facebook * Instagram * Pinterest * Twitter * Youtube
Did you make this recipe? We would love to hear from you. Drop us a comment below.