Sweet tamales are a delightful twist on a classic favorite, perfect for any occasion. Filled with options like apple pie or brownie batter, these aren't just treats; they're a fun kitchen project for the whole family. So, gather your favorite people, clear some counter space, and let's get started on making some dessert tamales.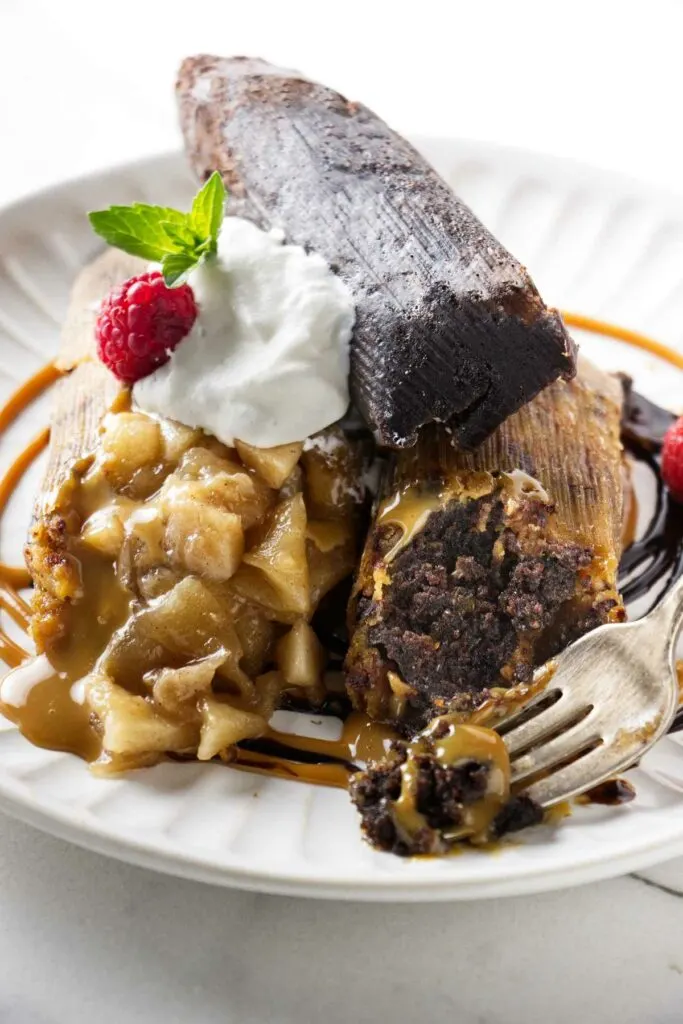 But you might be asking, 'how do you make sweet tamales?' It's a blend of tradition and dessert-inspired creativity. While the steps may mirror our savory pork tamales recipe, the ingredients tell a different, sweeter story. Dive into this guide, and let's uncover the secrets of these delightful confections.
Here is Why This Sweet Masa Tamales Recipe Works
Customizable Fillings: This recipe offers an array of filling options, from apple pie to brownie batter, catering to everyone's individual tastes. If you can dream it, you can fill it!
A Twist for Everyone: Not a fan of sweet masa? No problem! This recipe offers a brownie batter variation because who doesn't love brownies?!
Family-Friendly Fun: Making tamales is a group effort. It's an excellent way to involve family and friends of all ages in the kitchen.
Ingredients for Dessert Tamales
Here is a list of the ingredients you will need for this recipe. Scroll down to the printable recipe card for all the details.
Pantry: Instant corn masa flour, sugar, mini chocolate chips, sweetened condensed milk, coconut milk (canned), vanilla extract.
Pantry Seasonings: Baking powder, ground cinnamon, salt, ground nutmeg.
Dairy: Butter.
Filling Options: Brownie batter, apple pie filling, dulce de leche, or thick caramel sauce, Nutella, jam, raisins, marshmallows…. the list is endless.
Miscellaneous: Corn husks for the tamale.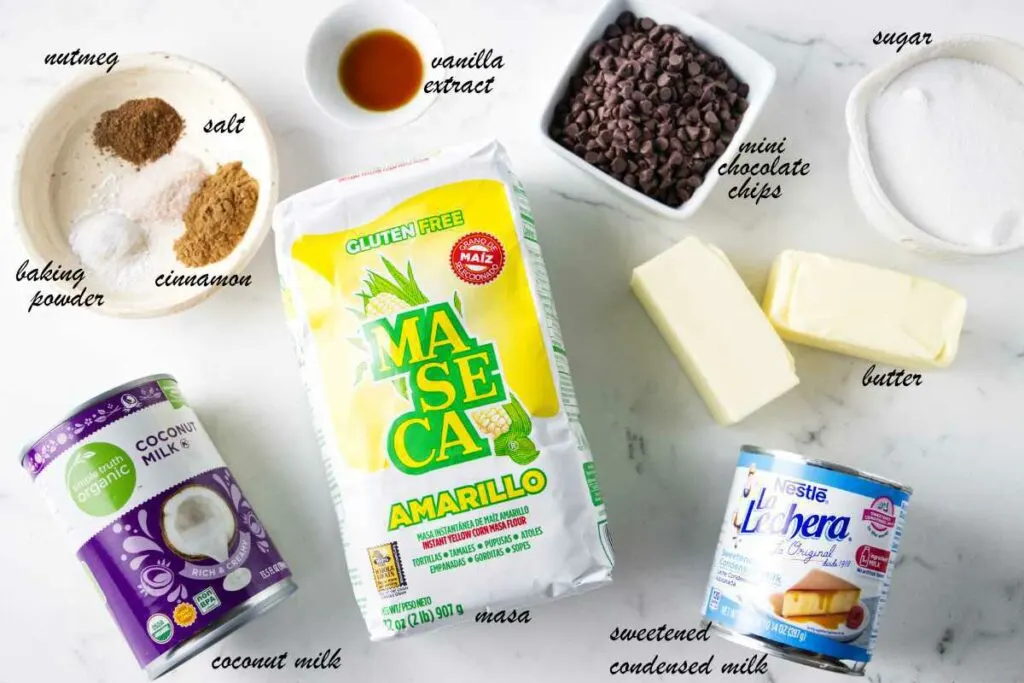 Below is a spread of filling options! From pineapple to dulce de leche, and from marshmallows to exotic fig jam, the possibilities are nearly endless. Consider this an inspiration board for your creativity. These are just a few ideas to get you started!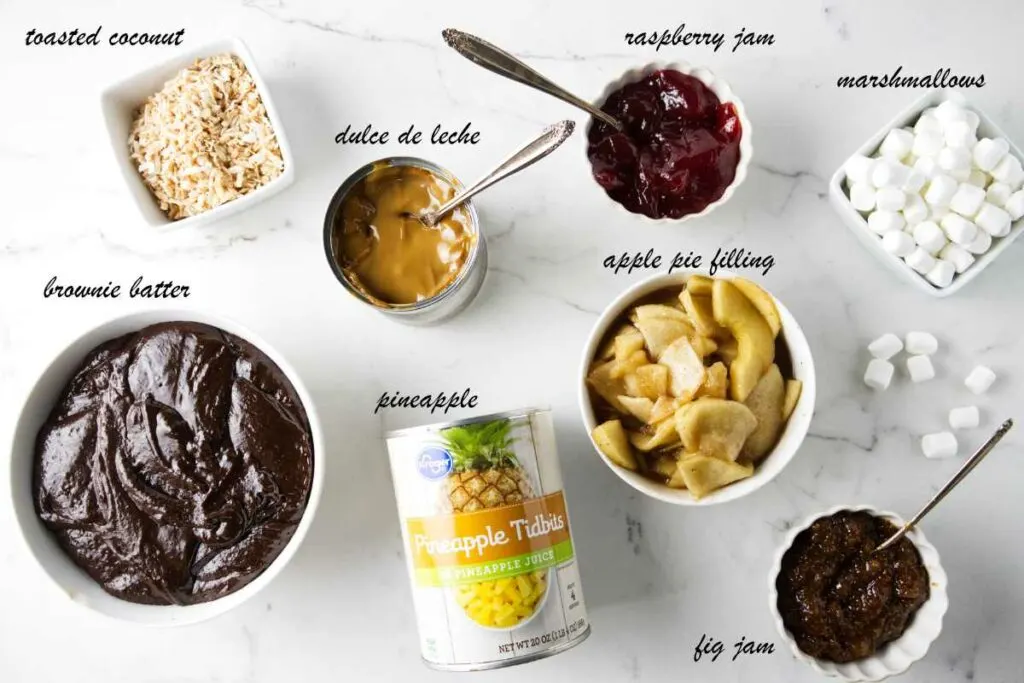 Just a few ideas to use as a filling in the sweet tamales.
How Do You Make Sweet Tamales
Here is a brief overview to get an idea of what to expect with the recipe. Scroll down to the printable recipe card for all the details.
Soak Corn Husks: Soak the corn husks in hot water until they're nice and soft.
Prepare the Masa: Whip the butter until it is fluffy. Add the dry ingredients, then mix in the liquids. Fold in the chocolate chips.
Assemble Tamales: Spread the masa on the corn husks. Add your choice of fillings and roll them up.
Steam: Arrange the sweet tamales in a steaming pot and cook. Serve while still warm.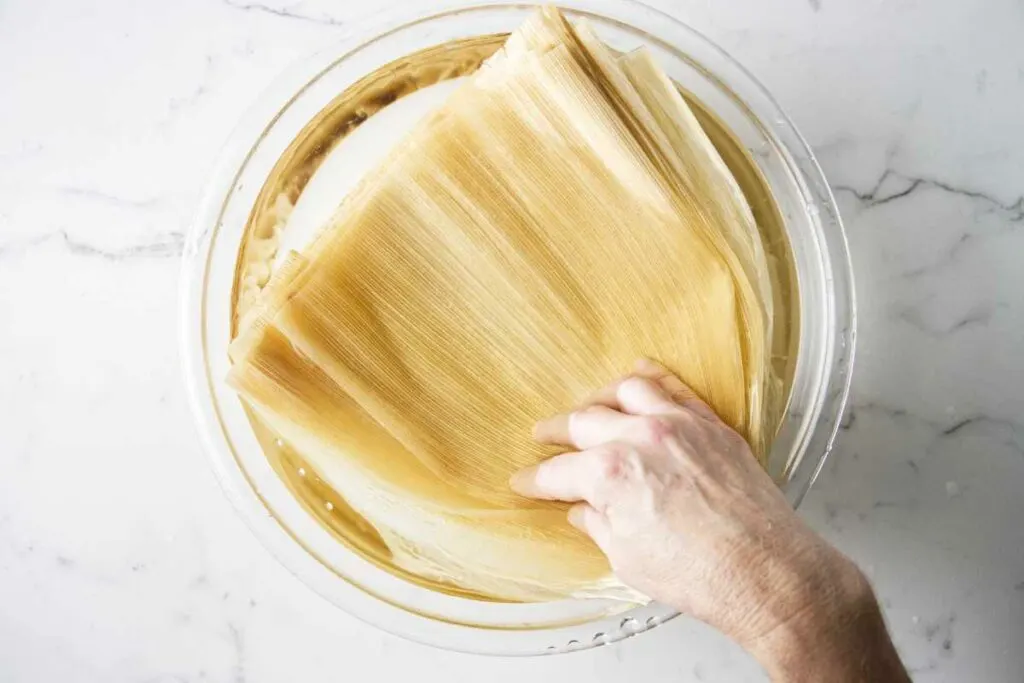 Before you start the assembly, dry the corn husks with a towel.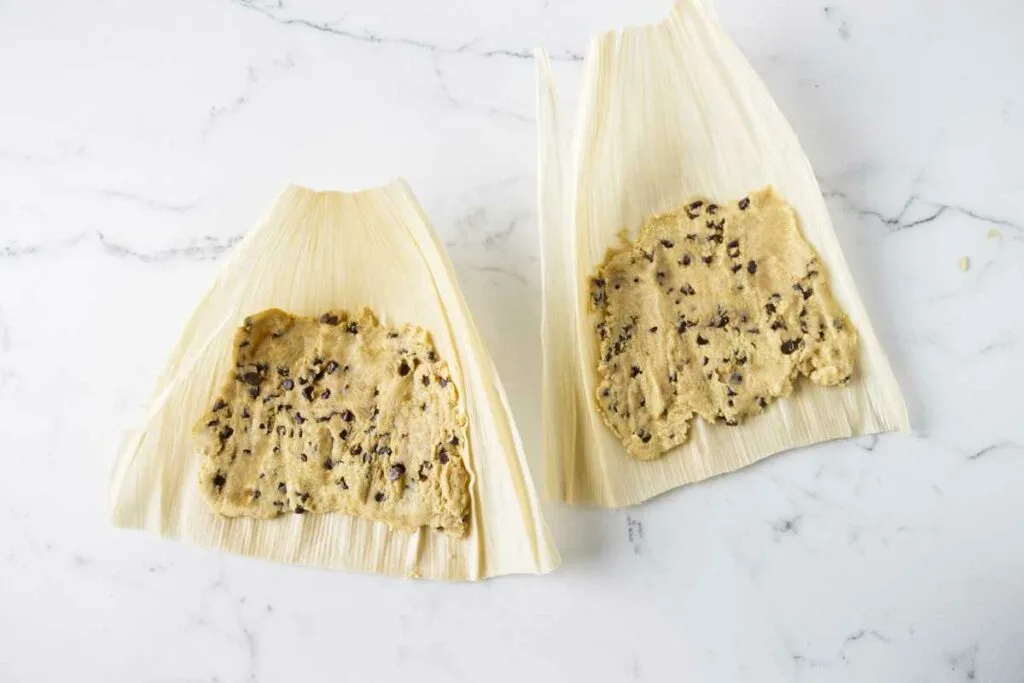 If you are wondering "how do I cook tamales?". Did you know you can cook tamales on the stove, in the oven, or in an Instant Pot?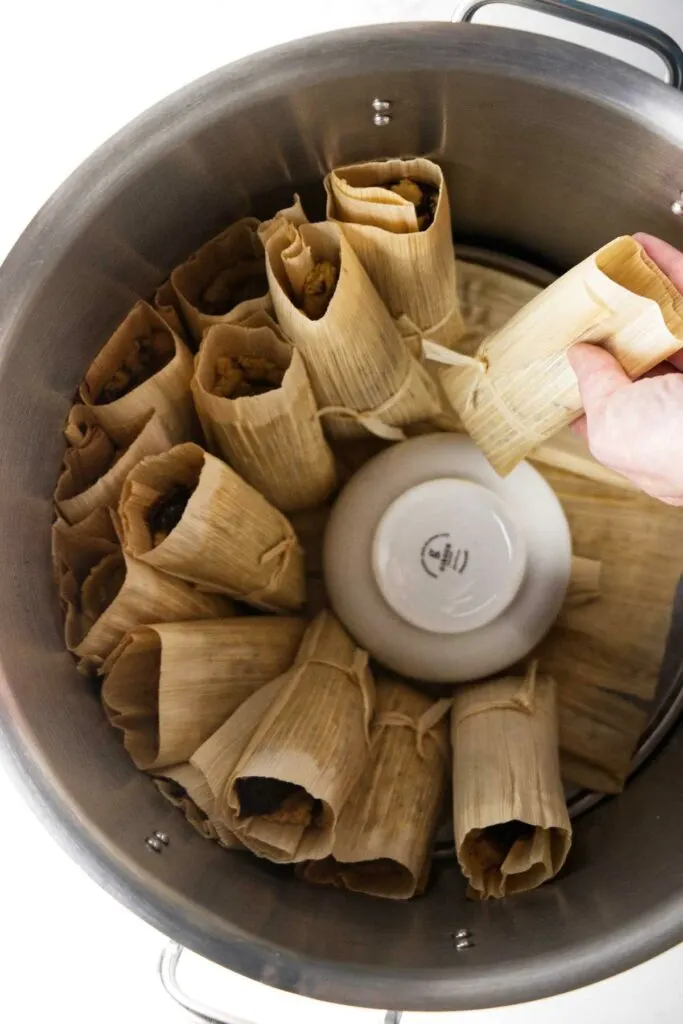 Some Ideas for Flavor Variations
Mexican Chocolate and Orange
Replace the mini chocolate chips with chopped Mexican chocolate and add some orange zest. Fold these into the dough. To make the filling even more dynamic, mix a teaspoon of cinnamon and a pinch of cayenne pepper into some brownie batter, along with additional chopped Mexican spiced chocolate. Fill the chocolate tamales with this spiced brownie batter and a dollop of orange marmalade.
Tropical Paradise Tamales
Incorporate a hint of coconut extract into the dough, making the base perfect for tropical pineapple tamales. Complement the extract with vanilla for added depth. For the filling, blend in mango and pineapple chunks, finishing with a sprinkle of toasted, shredded coconut.
Nutty Delight Tamales
Add chopped almonds, walnuts, or pecans to the masa harina dough. For the filling, use almond paste or Nutella.
Raisin and Banana Spin
Soak raisins in rum or apple juice until they're plump and juicy. Drain and fold the raisins into the dough along with the chocolate chips. Roll a chunk of a banana into the tamales.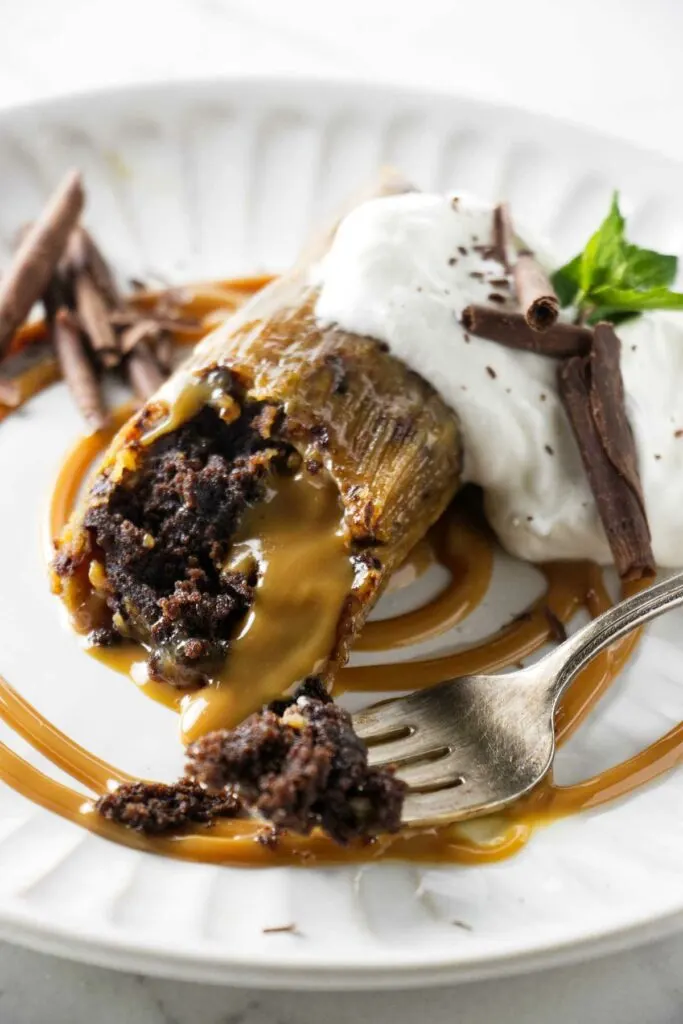 Tips for Success
Make sure the corn husks are well-soaked so they are pliable and easy to work with. If they tear, you can layer them to make a stronger wrapper.
Feel free to get creative with your fillings. Whether you have some leftover fruit compote or a craving for Nutella, the sky's the limit!
Keep an eye on the water level when steaming. Add more water if needed, but avoid pouring it directly on the tamales, as it could make them soggy.
To save time on the day you plan to serve the tamales, you can prepare the sweet tamales a day in advance. Keep them in the fridge until you're ready to cook, but store them upright so the filling doesn't seep out.
If you want to add homemade pie filling or homemade brownie batter to the tamales, make those items in advance.
Serving Sweet Tamales
For an extra touch of indulgence, pair each warm tamal with a generous scoop of vanilla ice cream or a cloud-like dollop of whipped cream.
Elevate the flavors even further by drizzling a rich caramel sauce or chocolate sauce over the top. And for that final flourish, sprinkle some toasted nuts or colorful sprinkles to add both texture and visual appeal.
Storage and Reheating
In the fridge: Store any leftover tamale in the fridge for up to one week.
In the freezer: You can freeze the sweet tamales for up to three months. Allow them to thaw overnight before reheating.
Reheat in the microwave or oven until warmed through.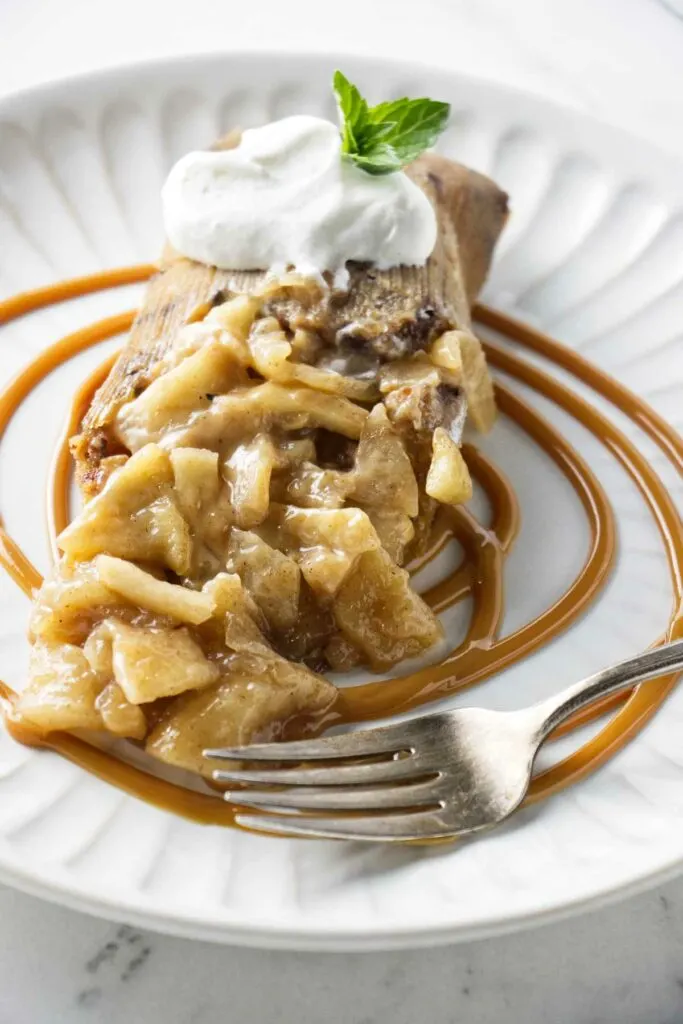 Frequently Asked Questions
What are sweet tamales made of?
Our recipe for sweet tamales involves a sweetened dough made from corn masa flour and a variety of gooey fillings at its center.

However, when it comes to traditional tamale eateries, you'll usually find sweet tamales that are solid throughout, with ingredients such as fruit or jam blended right into the dough. Regardless of the style, they're all wrapped in pre-soaked corn husks and steamed to perfection
What's the difference between sweet and savory tamales?
While savory tamales often feature meat, cheese, or vegetable fillings, sweet tamales are all about dessert. The masa dough is sweetened and many times, raisins, fruit or jam gets mixed right into the dough.
How do you serve sweet tamales?
Sweet tamales can be enjoyed as-is, straight out of the husk, or you can add toppings like whipped cream, fresh berries, or a sprinkle of cinnamon. They taste best served warm.
And there you have it, a kitchen project that turns into a mouthwatering masterpiece. We began with an empty counter and a plan for sweet tamales, and now you've got an array of treats that everyone had a hand in creating. This recipe isn't just about sugary treats; it's about making memories with your favorite people in the kitchen. Thanks for joining in, and enjoy your sweet tamales!
Connect With Savor the Best:
Please follow us on our social media accounts
Facebook * Instagram * Pinterest * Youtube * Twitter
Did you make this recipe? We would love to hear from you. Drop us a comment below.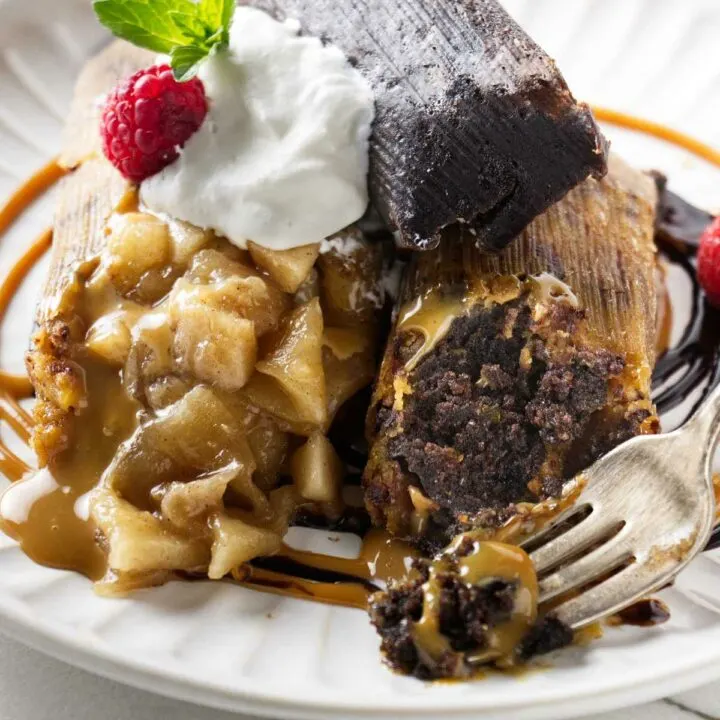 How to Make Sweet Tamales
We've added a sweet twist to traditional tamales with these dessert tamales. Making tamales is a labor of love, but it is a fun and rewarding experience, especially if you get the whole family to join in. Sit everyone around the table and let them 'choose their own adventure' with a range of imaginative fillings from apple pie to brownie batter.
And if sweet masa isn't your thing, no worries! You can still join in the fun by wrapping brownie batter in a corn husk to make tamale-shaped brownies. It's a great alternative for the folks who don't care for sweet tamales (there are a few in our family).
Ingredients
20 to 25 corn husks for tamales
Sweet Masa
3 cups instant corn masa flour (masa harina) (360 grams)
2-½ teaspoons baking powder
2 teaspoons ground cinnamon
1 teaspoon salt
½ teaspoon ground nutmeg
1 cup butter, softened
1 can (14 ounces) sweetened condensed milk
¼ cup sugar
2 teaspoons vanilla extract
½ to 1-¼ cups coconut milk
2 cups mini chocolate chips
Filling Options (see notes for more ideas)
Raw brownie batter (from a homemade recipe or a box mix)
Apple pie filling (homemade or from a can)
Dulce de Leche or thick caramel sauce
Instructions
Preparing the Corn Husks:
Rinse the corn husks to remove debris and place them in a large bowl. Cover the husks with hot water and soak for at least 1 hour until they become soft.
Keep them submerged in water while you prepare the other components.
Sweet Masa Dough:
In a medium-sized bowl, mix together the corn masa flour, baking powder, salt, cinnamon, and nutmeg. Set aside.
In a separate large bowl, beat the butter until it becomes light and fluffy, similar to frosting texture. It will take 4 to 5 minutes.
Gradually incorporate the dry masa mixture into the whipped butter, mixing well after each addition. The mixture will look dry and crumbly at this point.
Add the sweetened condensed milk, sugar, and vanilla extract to the masa mixture and blend until well combined. The dough will feel like a very soft play dough at this point.
Slowly pour in the coconut milk, ¼ cup at a time. Mix until the masa reaches a spreadable consistency. The amount of milk you need to add varies depending on the brand of masa flour. Just keep mixing in more milk until the dough is thin enough to spread with a knife.
Turn the mixer to medium high and beat for 2 to 3 minutes to aerate the dough. Fold in the mini chocolate chips.
Filling Preparation:
Prepare your raw brownie batter and apple pie filling according to your preferred recipes. If you want to use a box mix and a can of pie filling, that works fine, too.
Transfer dulce de leche into a piping bag for easy assembly.
Assembling the Tamales:
Dry the corn husks with a towel and lay one flat on your work surface. Spread about 2 to 3 tablespoons of the sweet masa mixture onto the top two-thirds of the husk, leaving a half-inch border at the top.
Add either a spoonful of raw brownie batter or apple pie filling in the center of the masa.
Drizzle a bit of dulce de leche over the filling.
Fold the sides of the husk toward the center, and then fold the narrow end upwards to seal your tamale. Place on a plate and repeat the process for the remaining tamales.
I used extra brownie batter to make several "brownie tamales" by wrapping the batter in the corn husks. These were perfect for the folks that don't like the regular sweet tamale.
Cooking the Tamales:
Add 3 inches of water to the bottom of a large steaming pot.
Drop a coin into the water. The coin will jingle when the water boils. If it stops jiggling, that is a clue that the water evaporated and you need to add more water to the pot.
Place the tamales upright in a steamer basket, making sure the open end faces upward.
Cover the tamales with a clean towel or additional corn husks to keep the steam trapped.
Steam the tamales for 60 minutes, checking for doneness by removing one and peeling back the husk. If the masa separates cleanly from the husk, they're done!
Allow the tamales to sit at room temperature for 10 minutes to firm up before serving. Serve while they are still warm. If they get too cold, the masa dough gets pretty firm. Plus they taste better warm.
Notes
Consistency of Sweet Masa: The dough should be a bit sticky and easy to spread. You can also use less liquid and go for a thicker consistency—akin to play dough—but we find that thinner, spreadable dough makes it quicker and easier to assemble the tamales.
Steaming Safeguard: If your tamales slip through the gaps in the steamer rack, cover the rack with additional corn husks to provide a safety net.
Cooking Time: The more tightly the tamales are packed in the steaming pot, the longer they may need to cook. It's a balance between making sure they are upright and not overly squished together.
Water Level Indicator: Placing a coin in the bottom of your steaming pot will help you keep track of the water level. If you stop hearing it rattle, it's time to carefully add more water down the pot's side. Try not to pour water directly over the tamales.
Freezing and Reheating: These tamales can be frozen before or after steaming. For pre-cooked, frozen tamales, aim for a reheat time of about 45 minutes in the steamer. If they were frozen and uncooked, steam them for 1-1/2 to 2 hours from their frozen state.
More ideas for filling the sweet tamales: Jam (any flavor), pineapple with coconut and brown sugar, marshmallows with fudge sauce, and graham crackers (for a s'mores filling).
Instant Pot directions: Add 1 cup of water to the pot and place the tamales on a steamer rack. Cook on high pressure for 30 minutes then let the pressure release naturally for 10 minutes.
Nutrition Information:
Yield:

25
Serving Size:

1
Amount Per Serving:
Calories:

316
Total Fat:

15g
Saturated Fat:

8g
Trans Fat:

0g
Unsaturated Fat:

6g
Cholesterol:

23mg
Sodium:

202mg
Carbohydrates:

46g
Fiber:

4g
Sugar:

19g
Protein:

6g
Nutrition information is a guideline only. It is calculated automatically by third-party software, and absolute accuracy is not guaranteed.