Crock Pot Cowboy Casserole is one of those slow cooker recipes that just might become your weeknight dinner hero! Hearty veggies, beans, smoked sausage and seasonings cook low and slow and transform into a savory, mildly spicy, cozy dinner that's not only budget-friendly but low effort, too! It is the epitome of perfect comfort food.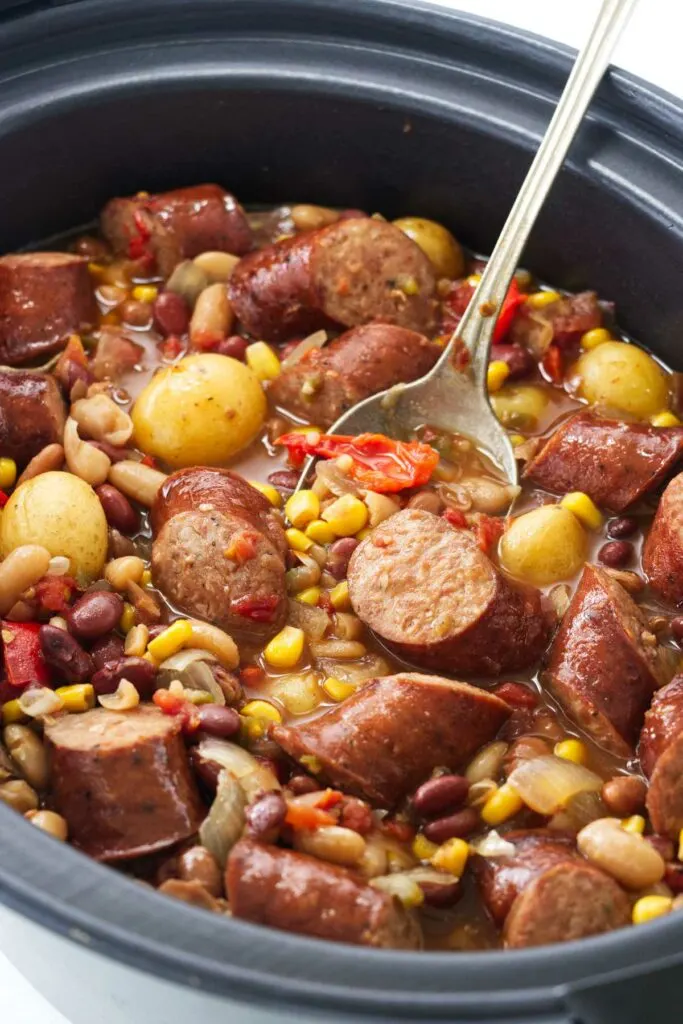 If you've ever had a traditional Cowboy Casserole, you might be familiar with the combination of chili beans, ground beef, and a golden topping of tater tots or hash browns.
As much as we love the original, this easy Crockpot cowboy casserole recipe is a much healthier spin on the classic that doesn't sacrifice all those delicious flavors.
We're skipping the tater tots for tender potatoes and swapping in smoky sausage to give this dish an irresistible, camp-out taste!
Why This Cowboy Casserole Recipe Works
A traditional cowboy casserole features ground meat, but by using smoked sausage, you'll make dinner prep even easier.
There's no large skillet required in this slow cooked recipe- it all gets piled into the slow cooker and is truly a one-pot meal.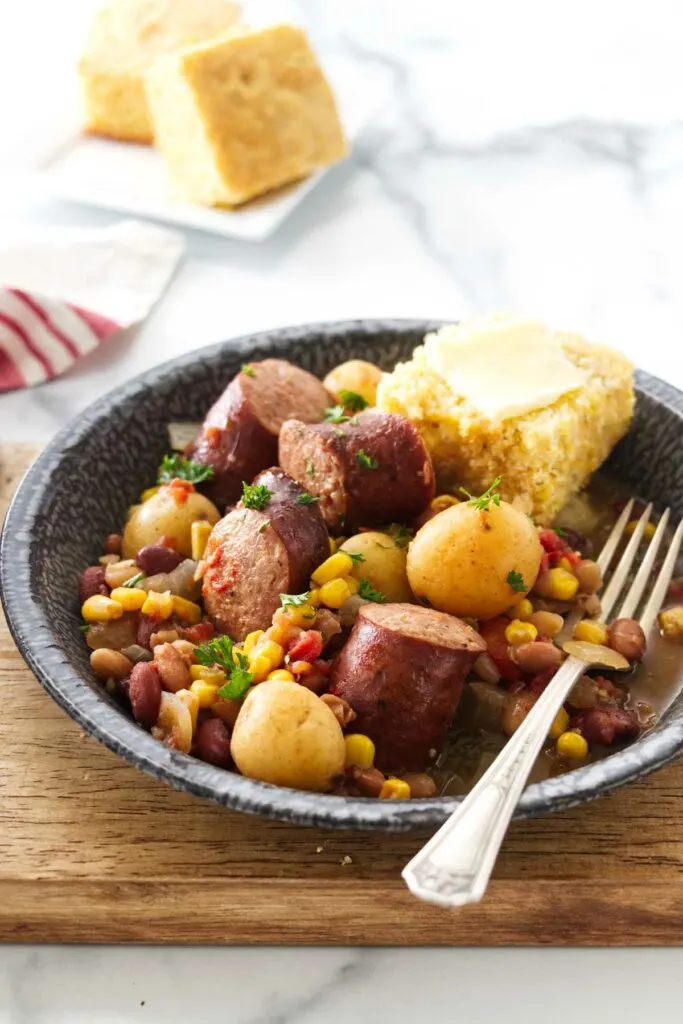 Simple ingredients come together in this hearty slow cooked dinner, which you could also consider to be a cowboy stew recipe of sorts.
When cooler temps appear, we're all about easy Crockpot meals like our Slow Cooker Beef Stew with Onion Soup Mix, Slow Cooker Chicken Paprikash and Crockpot Chicken Thighs and Vegetables.
This one is extra easy, even for a slow cooker meal. It's perfect for a busy day when all you need is dinner prepped in a jiffy and waiting for you when you walk in the door.
Here's why you'll love it:
With a rich, mildly spicy tomato sauce loaded with vegetables and smoky sausage, add this to your list of favorite recipes and easy meals to make again and again.
Bold flavors intensify over time, which means leftover stew tastes even better the next day.
Healthy, hearty ingredients create a comfort food dish that is warming, cozy and filling!
You can adapt this recipe with different vegetables of choice based on what you have on hand. Try sweet potatoes, carrots, and cauliflower.
Ingredients for the Cowboy Casserole
Here's a look at what you will need to make this slow cooker cowboy casserole:
Onion. Diced onions give the dish a deep, savory flavor.
Garlic. Another savory addition that is simply a must.
Red bell pepper. For a sweet pepper flavor.
Jalapeño. A fresh jalapeño, seeded and diced, adds just the right amount of heat to this Crockpot recipe.
Yukon or red potatoes. They turn out deliciously tender and add heartiness to the stew.
Beans. A medley of pinto, red, and cannellini beans adds a delicious variety to this meal.
Diced tomatoes. A can of diced tomatoes and a second can of diced tomatoes with green chilies (we use Rotel), create a yummy, tomato base with a little heat.
Frozen corn. Use frozen, whole kernel corn and make sure it's thawed before putting it into the Crockpot.
Seasonings. A combination of salt, cumin powder, chili powder and black pepper give this recipe a little bit of heat and flavor.
Beef broth. A little bit of beef broth adds moisture and helps everything cook until tender.
Smoked beef sausage. Use your favorite smoky sausage of choice, cut into 2-inch pieces.
Chopped parsley. For a pretty garnish!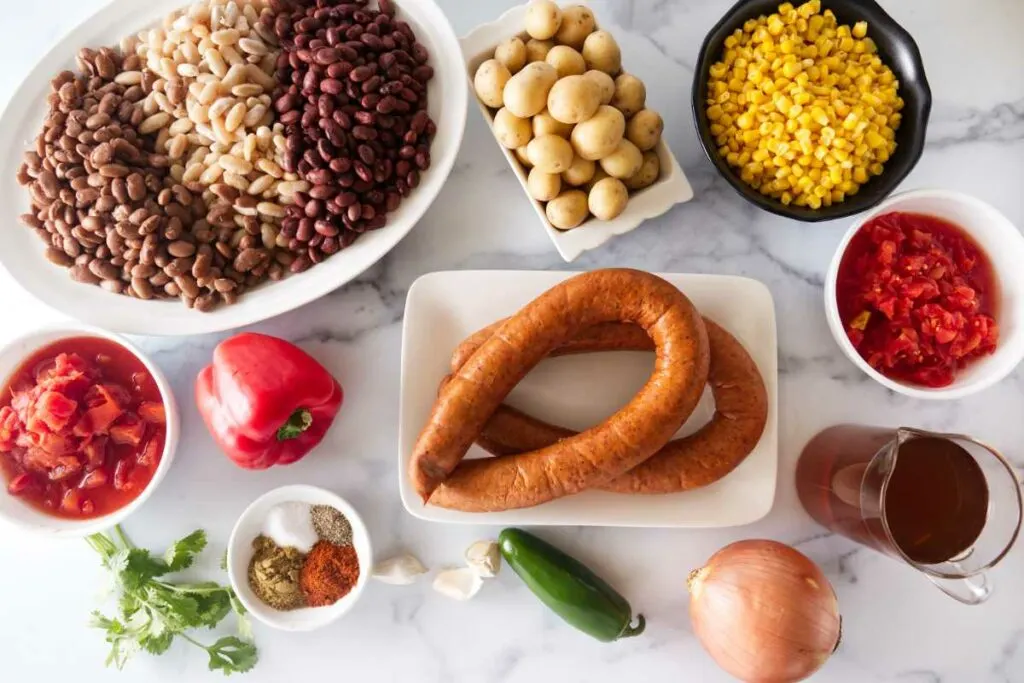 Slow Cooker Cowboy Casserole Recipe
This delicious recipe is a breeze to pull together. The cook time will vary based on your slow cooker temperature setting, but it's an easy recipe to prep in the morning just before heading out the door.
Here's a look at the process but be sure to check out the printable recipe card at the bottom of the page for all of the details.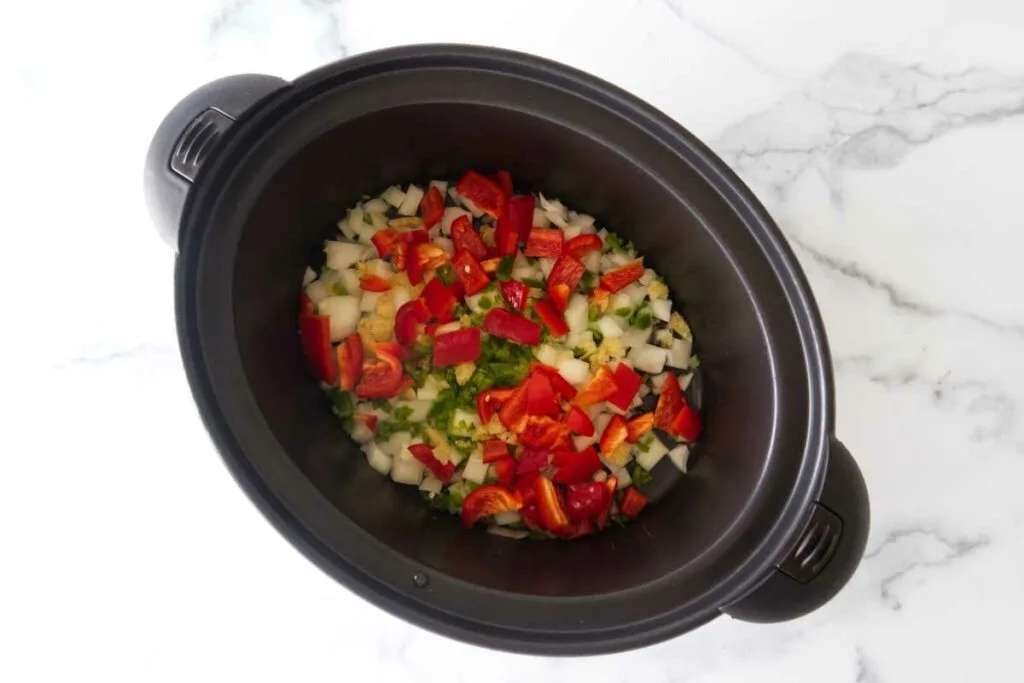 In a 6-quart crock pot, layer the onion, garlic, red bell pepper, jalapeño.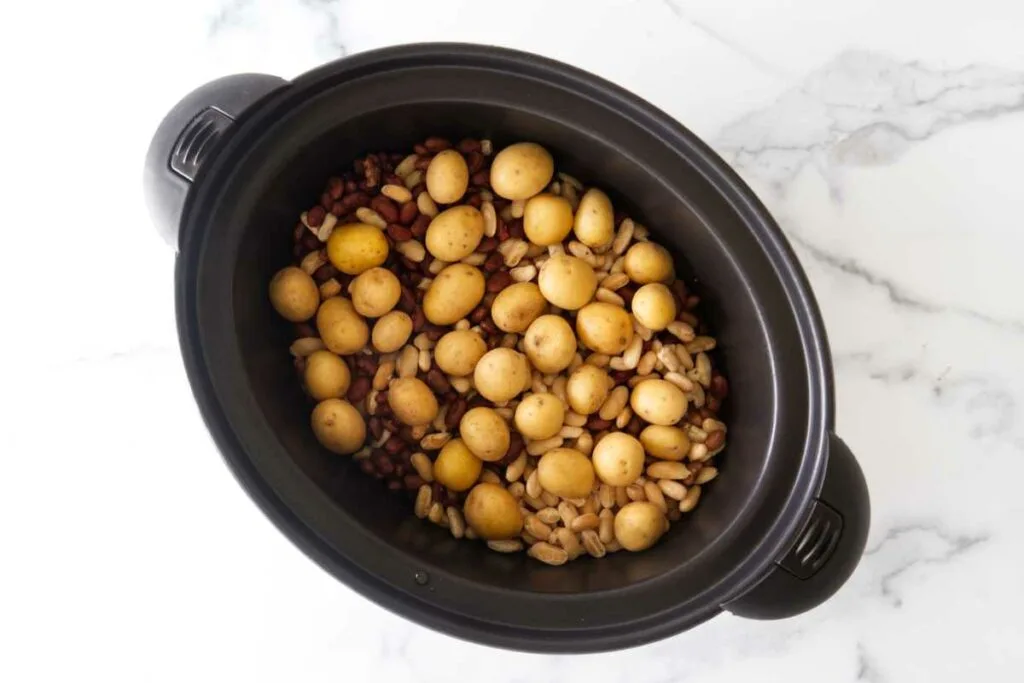 Add the potatoes, beans, tomatoes, corn and the can of RoTel. In a small bowl, combine the seasoning ingredients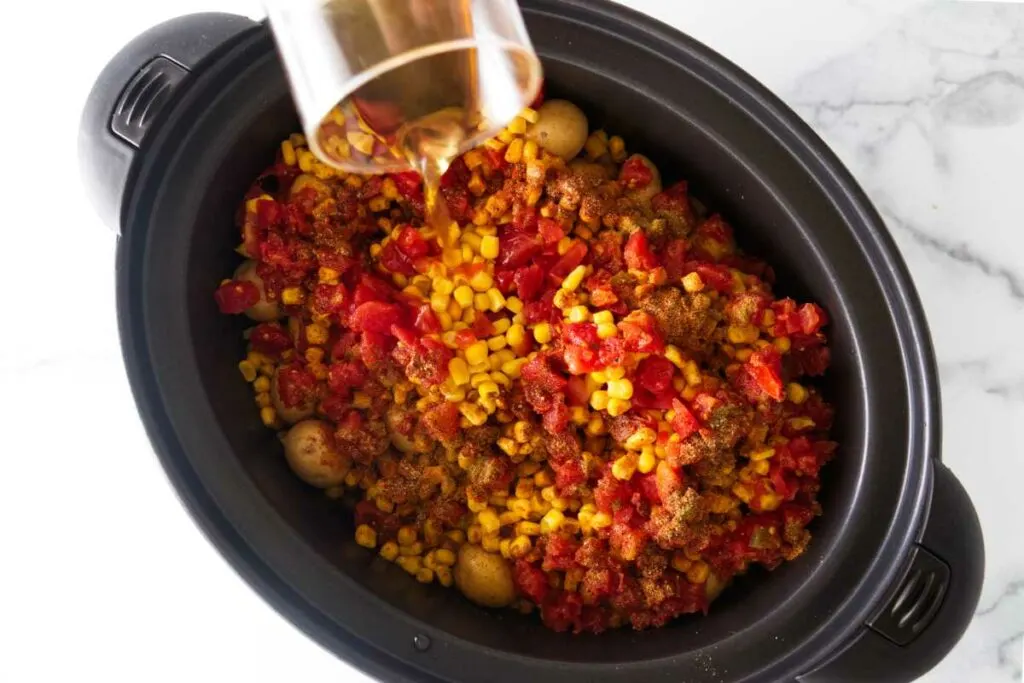 Sprinkle the seasoning over the Crockpot ingredients, then add the beef broth.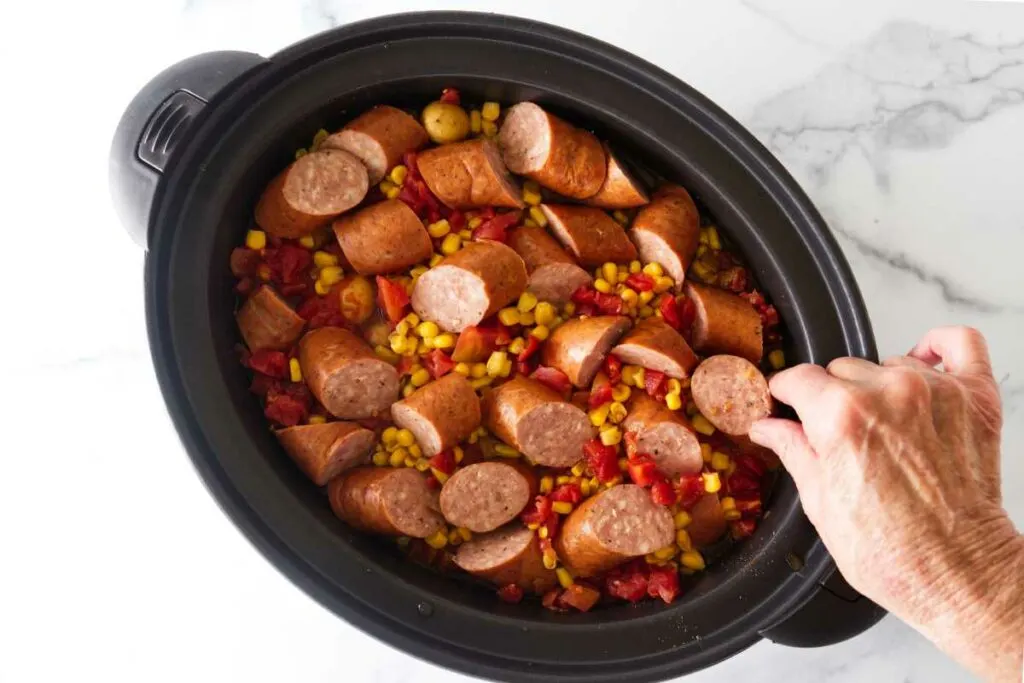 Place the sausage pieces into the Crockpot and cover it with the lid. Turn it on and go to work or play!
Dish the casserole into shallow bowls garnished with the chopped parsley. You can add your favorite toppings, like sour cream or a dash of hot sauce to up the heat.
This Crockpot cowboy casserole is extra tasty with a slice of hot, buttery cornbread!
Variations That Inspire: Recipes with a Twist
Here are some flavorful twists for crock-pot recipes that will keep some variety in your meals. We're here to help you save precious time without sacrificing flavor. These recipes are perfect additions to your recipe box for those days when you want to take it slow in the kitchen but not compromise on flavor. Play around with these recipes to make a new family dinner every day.
Spicy Beef and Black Beans Casserole
Add some browned ground beef and a can of black beans.
For a veggie boost, add sliced mushroom, and diced zucchini or butternut squash.
Include some cayenne pepper or Cajun seasoning for a fiery kick.
Top with shredded cheese and diced avocado for a cooling contrast.
Slow Cooker Hawaiian Cowboy Casserole
Swap out the smoked beef sausage for diced ham or cooked and shredded pork.
Add diced pineapple and red bell peppers.
Stir in a splash of sweet and tangy barbecue sauce.
Garnish with chopped green onions and a sprinkle of toasted coconut flakes for a tropical touch.
Crockpot Cajun Cowboy Casserole
Use Andouille sausage or spicy Cajun-style sausage for a fiery kick.
Add diced celery, bell peppers, and okra for a Cajun-inspired flavor.
Season with Cajun spices like paprika, cayenne pepper, and thyme.
Serve it over cooked white rice and garnish with chopped green onions.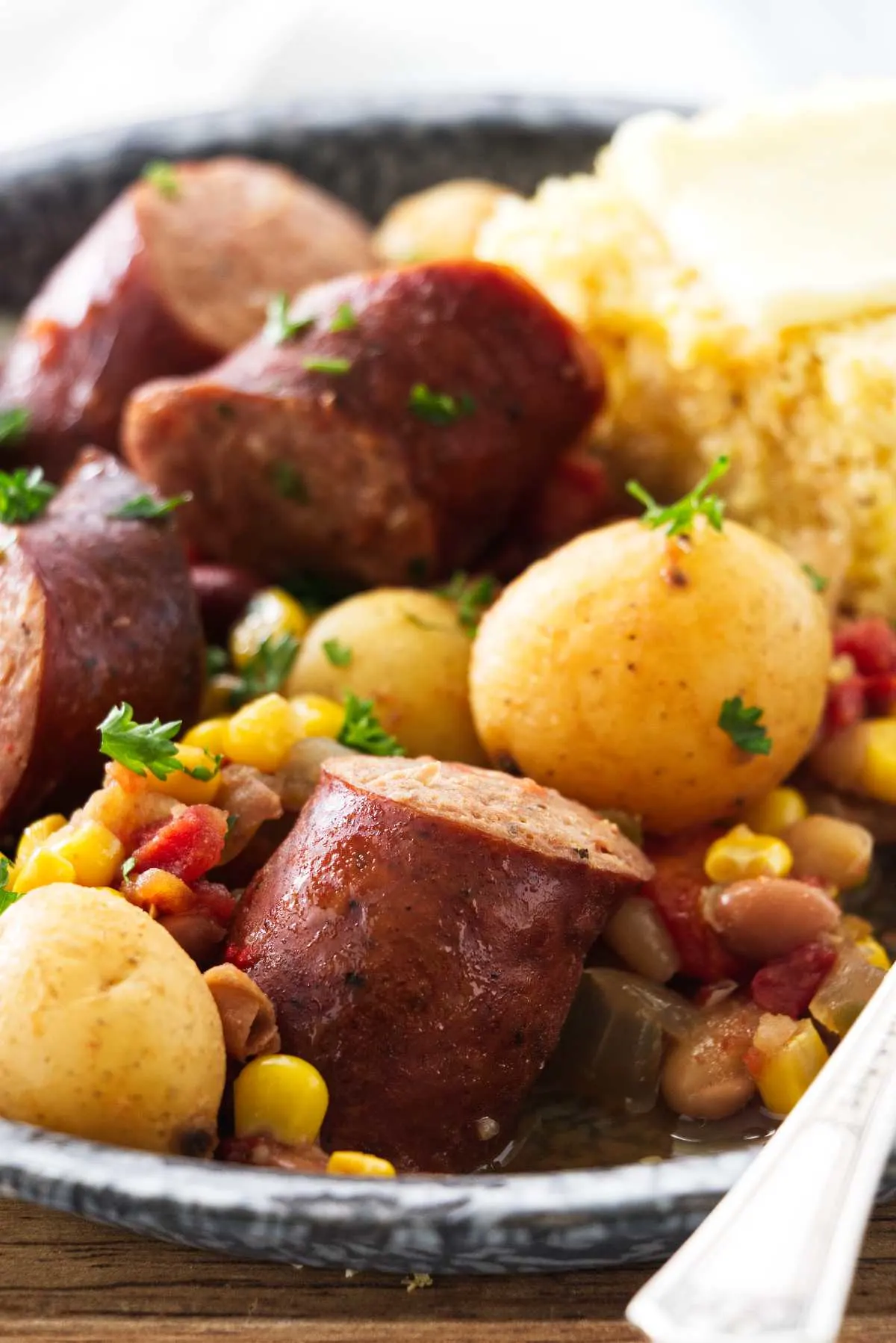 Pro Tips for Crock Pot Success
The great thing about this easy crock pot recipe is that it can be prepared without any pre-cooking. If you'd like to substitute the smoked sausage with lean ground beef (or even ground turkey), we recommend that you brown the meat in a skillet first. Then add the cooked ground beef to the crock pot with the rest of the ingredients.
We used tiny, waxy yellow potatoes and left them whole. If using larger potatoes like Russet potatoes or sweet potatoes, we recommend cutting them in ½-inch cubes or thick slices.
The smoky flavor from the sausages adds a delicious cook-out flavor to the casserole meal.
This casserole is mildly spicy. For less heat, you can omit the jalapeño.
For a gooey, cheesy topping add some shredded cheese to the top when it is finished cooking.
Store leftovers in an airtight container in the refrigerator for up to one week. This meal is also great for meal prep.
Helpful Tools for This Crockpot Casserole
Here are some items to help with all of your slow cooker recipes. Some of the following are affiliate links. We may receive a small commission if you click on these links and purchase something. You don't pay any extra, but it will help us keep the lights on.
More Recipes You Will Love:
Nothing brings the family together quite like a warm and delicious meal simmering in the slowcooker crock, filling the air with the comforting aroma of good ole home cooking. Here are some crockpot wonders that are perfect for those cozy evenings of eating and sharing.
Connect With Savor the Best:
Please follow us on our social media accounts
Facebook * Instagram * Pinterest * Youtube * Twitter
Did you make this recipe? We would love to hear from you. Drop us a comment below.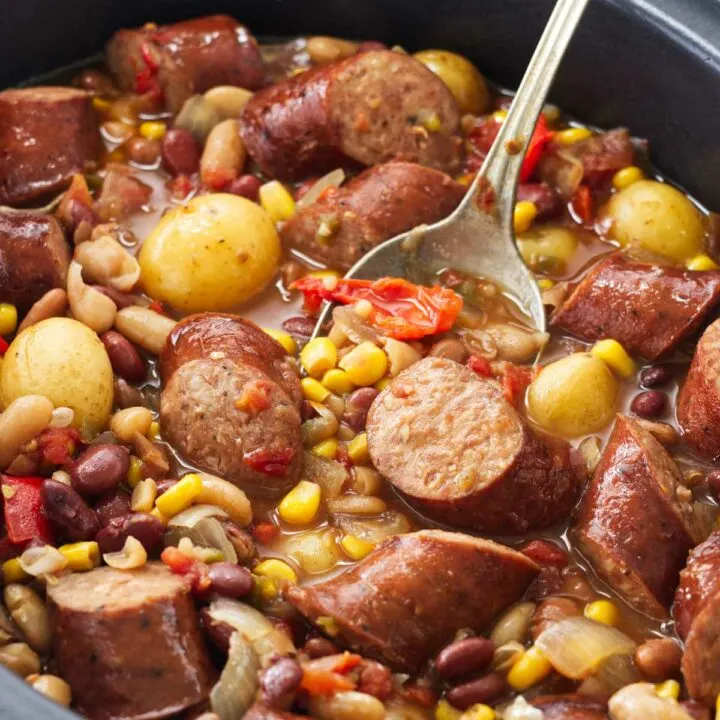 Crock Pot Cowboy Casserole
Total Time:
6 hours
10 minutes
Crockpot Cowboy Casserole is a budget-friendly, one-pot dinner that is nutritious with a variety of veggies and the savory flavor of smoked sausage.
Ingredients
1 medium onion, chopped
2 garlic cloves, minced
1 medium bell red pepper, diced
1 jalepeno pepper, seeded and diced
1 pound small Yukon or red potatoes
1 can (15 oz.) pinto beans, drained
1 can (15 oz.) red beans, drained
1 can (15 oz.) cannellini beans, drained
1 can (15 oz.) diced tomatoes
10 oz. frozen whole kernel corn, thawed
1 can (15 oz.) Ro°Tel diced tomatoes & green chilies
1 teaspoon salt
1 teaspoon cumin powder
1 teaspoon chili powder
½ teaspoon black pepper
2 cups beef broth
1-½ pounds smoked beef sausage, cut into 2-inch chunks
2 tablespoons chopped parsley for garnish
Instructions
In a 6-qt. crock pot, layer the following ingredients: onion, garlic, red bell pepper, jalepeno, potatoes, beans tomatoes corn and the can of Ro*Tel.
In a small dish, combine the salt, cumin, chili powder and black pepper. Sprinkle the seasoning over the crock pot ingredients then pour in the beef broth.
Nestle the sausage chunks into the crock pot and add the lid to the crock pot. Set the heat to high and cook for 6 hours or low for 8 hours.
Serve the casserole in shallow bowls garnished with chopped parsley and hot, baked cornbread!
Notes
This casserole can be prepared without any pre-cooking. If you choose to substitute the smoked sausage with ground beef, we recommend that you brown the beef in a skillet before adding it to the slow cooker/crock pot.
We used tiny, waxy yellow potatoes and left them whole. If using larger potatoes we recommend cutting them in ½-inch cubes or thick slices.
Alternate choices for the canned beans would be: black beans, kidney beans, navy beans or cranberry beans.
The smoky flavor from the sausages adds a cook-out flavor to the casserole.
This casserole is mildly spicy.
Nutrition Information:
Yield:

12
Serving Size:

1
Amount Per Serving:
Calories:

257
Total Fat:

11g
Saturated Fat:

4g
Trans Fat:

0g
Unsaturated Fat:

5g
Cholesterol:

24mg
Sodium:

894mg
Carbohydrates:

32g
Fiber:

5g
Sugar:

9g
Protein:

12g
Nutrition information is a guideline only. It is calculated automatically by third-party software, and absolute accuracy is not guaranteed.