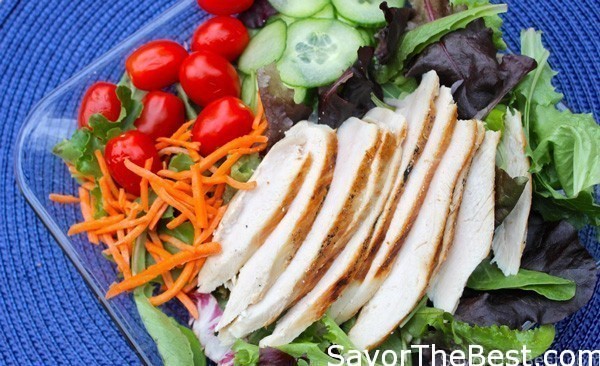 About 15 years ago I discovered the wonders of the George Foreman grill. Since then I have worn out several of them. I have had different sizes of these grills but the one that I like the best is the smallest one.
It is just perfect for grilling up a chicken breast, salmon steak or a few nice shrimp. Plus, it is not big and bulky and difficult to store. Because it is heating from both sides it takes only a few minutes to cook something and by the time you have the rest of your ingredients ready, tada…, it is grilled perfectly!
Today I have been busy doing housework and de-Christmasing the house and didn't want to take a lot of time fixing lunch for Don and I and this chicken salad was quick to fix and fit into my schedule perfectly.
When I searched out my refrigerator I found only one-half of a lemon and some still-fresh tarragon. While the chicken was grilling I just put this salad together, mixed the dressing and the grilled chicken was ready. The tarragon, dijon mustard and lemon juice give the salad a nice, light, tangy flavor.
I used avocado oil in the dressing but a light flavored olive oil or grape seed oil would be just as good. I have a really good olive oil but it also has a heavy, distinctive flavor and the avocado oil was a better choice for this salad.
I know that avocado oil is a little expensive and consequently, I don't usually buy it but Costco has been carrying it in the store and the price is less than what I had been paying for the same size bottle of olive oil. I'm stocking up as Costco has a habit of discontinuing items from their inventory.
CONNECT WITH SAVOR THE BEST!
Be sure to follow us on our social media accounts
Facebook | Twitter | Youtube | Pinterest | Instagram
If you make one of our recipes, snap a photo and tag it @savorthebest on Instagram and hashtag it #savorthebest
Yield: 2
Chicken Salad With Tarragon Vinaigrette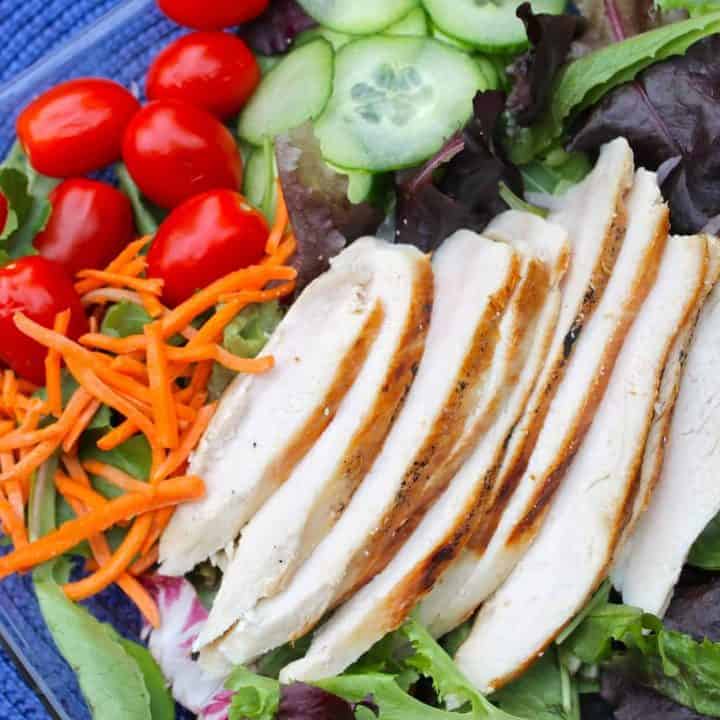 An easy chicken salad with a tarragon vinaigrette that is low-fat and low-calorie and perfect for a lunch or light dinner.
Prep Time 10 minutes
Cook Time 10 minutes
Total Time 20 minutes
Ingredients
1 6-oz chicken breast
1/8 teaspoon sea salt
4 cups mixed greens
2 thin slices of medium sized red onion
1/4 English cucumber
1 small carrot, grated
8-10 grape tomatoes
Dressing:
1 tablespoon fresh lemon juice
1/2 teaspoon dijon mustard
2 tablespoons chopped fresh tarragon
1 tablespoon avocado oil, grape seed or light olive oil
Instructions
Season the chicken breast with salt and place on grill or in a non-stick skillet.
Divide the mixed greens, onion, cucumber, carrot and tomatoes equally on two salad plates.
In a small jar mix the lemon juice, dijon mustard, fresh tarragon and oil together, season with salt and pepper for taste. Put the lid on the jar and shake well to combine.
Remove chicken from grill/skillet when it is cooked, slice or dice and divide into two portions. Arrange each portion onto the salads, drizzle with the dressing and serve.
Nutrition Information:
Yield:
2
Serving Size:
1
Amount Per Serving:
Calories: 190
Total Fat: 9g
Carbohydrates: 9g
Protein: 20g