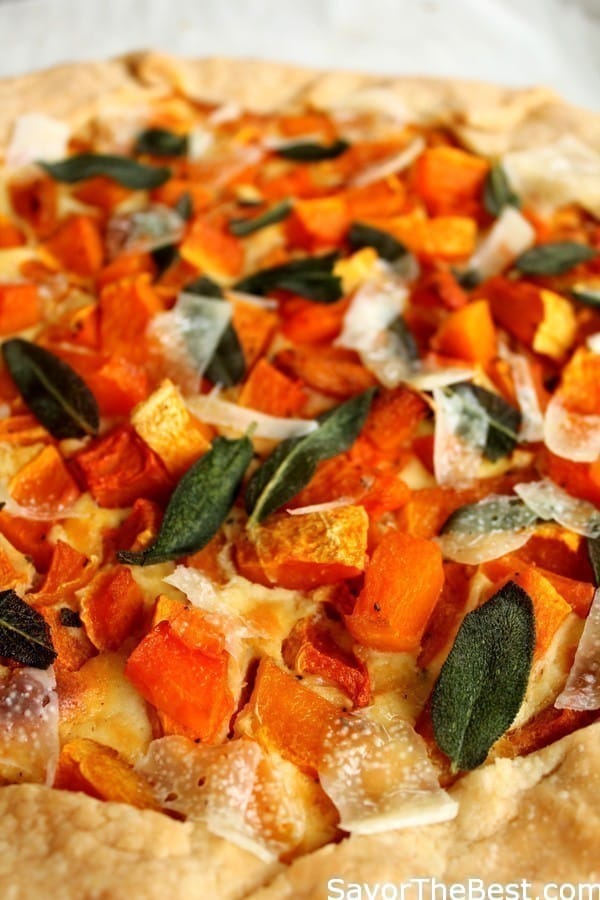 Sage has a fairly pronounced flavor and can easily overpower a dish, however, when it is fried it mellows into a very delicate flavor. I typically use it with squash, soups, pasta and cheese dishes.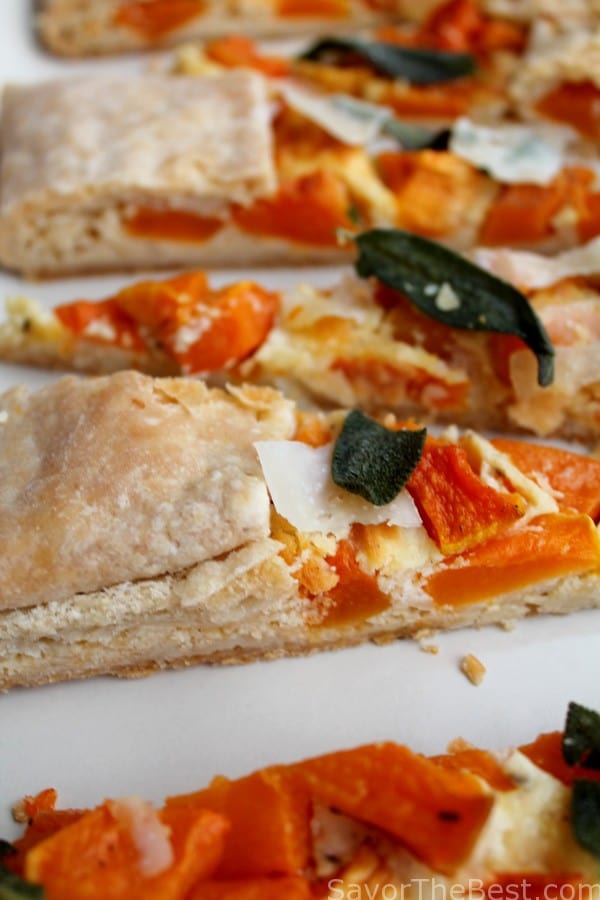 Very fresh sage leaves will have a higher moister content and will splatter when you place them in the hot oil so use caution when making them. Don't throw out the oil after you fry the sage leaves in it. The oil will be flavored with sage and is wonderful drizzled on pasta or used as a bread dip.
I sliced this crostata into several thin slices and served it as an appetizer however it would make a lovely brunch entrée served with a green salad.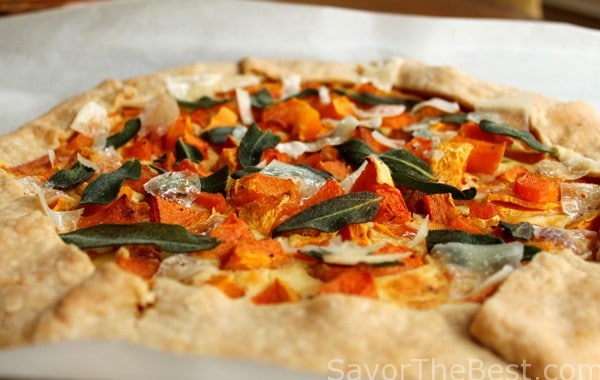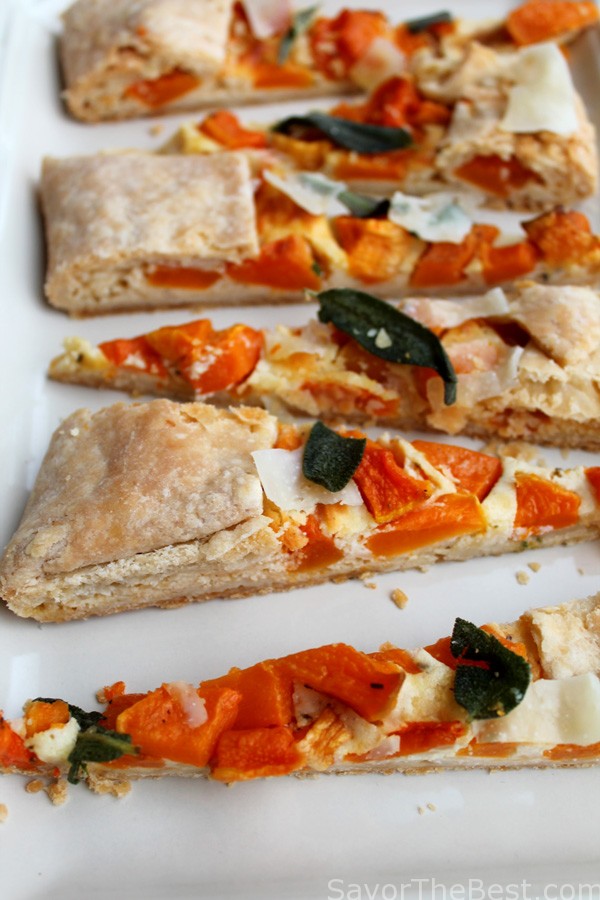 CONNECT WITH SAVOR THE BEST!
Be sure to follow us on our social media accounts
Facebook * Instagram * Pinterest * Twitter * Youtube
Did you make this recipe? We would love to hear from you. Drop us a comment below.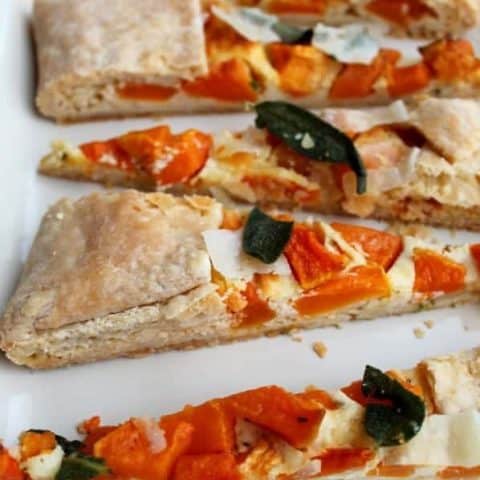 Savory Butternut Squash Crostata with Fried Sage
Yield: 24 servings
Prep Time: 40 minutes
Cook Time: 1 hour 15 minutes
Total Time: 1 hour 55 minutes
Butternut squash, goat cheese and fried sage wrapped in a flaky butter pastry
Ingredients
Flaky Pastry Dough
2 ¼ cups (315 grams) all purpose flour
1 teaspoon salt
1 cup (2 sticks) cold butter, cut into 1 to 2 inch pieces
½ cup ice cold water
Filling
1 ½ to 2 pounds Butternut squash, peeled, seeds removed and cut into ½ inch cubes
1 cup ricotta cheese
6 ounces soft goat cheese
1 cup grated parmesan cheese
1 egg
¼ teaspoon freshly grated nutmeg
Parmesan cheese shavings (use a vegetable peeler for thin shavings)
15 to 20 sage leaves
oil for high heat such as avocado oil
Instructions
Flaky Pastry Dough (can be done 1 week in advance)
** The secret to this flaky pastry dough is to create layers by folding, rolling and folding again. Do not kneed the dough or add more water, it will start to come together with each fold.
In a large bowl combine the flour and salt then add the cold butter. Use a pastry blender or two forks to cut the butter into the flour. Do not over blend; leave large chunks of butter (about ½ inch pieces). Add ½ cup ice water and toss with a fork. The mixture should start to hold together in places but still seem dry and under- mixed.
Lay a large piece of plastic wrap out on the counter then pour the mixture onto the plastic wrap. Push the mixture into a rough rectangle, the edges will be dry and won't cling to the dough, this is ok. Sprinkle some flour onto the dough and use a rolling pin to roll it out into a larger rectangle (edges will be dry and crumbly). Use the plastic wrap to fold each of the short ends of the rectangle toward the middle (it is ok if it cracks, it will eventually start to come together). Roll the dough out again then fold the opposite ends toward the middle and roll out into another rectangle. If there are still loose, crumbly edges then fold and roll one more time. The dough will be spotted with flecks of butter, which is what you want.
Wrap the dough in plastic wrap and refrigerate for at least 1 hour.
Filling
Pre-heat the oven to 425°.
Place butternut squash cubes on a baking sheet, drizzle with olive oil and season with salt. Bake for 30 to 35 minutes or until a sharp knife can slide easily into the cubes yet they are still firm. (Baking time will vary depending on how large the cubes are). When done, set aside and reduce the oven temperature to 350°.
Roll out the pastry dough into a 15 to 16 inch round (roll it out on parchment paper so it can be transferred to a baking sheet easily)
In a small bowl, mix the ricotta cheese, goat cheese, Parmesan, egg, and nutmeg together. Spread this mixture into the center of the pastry dough leaving about a 2-inch border. Spread the reserved butternut squash cubes over the cheese mixture. Fold the edge of the dough toward the center. Transfer to a baking sheet.
Bake for 40 to 45 minutes or until the crust is golden.
While the crostata is baking, make the fried sage leaves. In a large sauté pan, heat about ¼ cup of oil over medium high heat (if you use an oil with a lower smoke point such as olive oil or butter, then heat it just to it's smoke point, if you start to see it smoke, remove it from the heat for a few seconds). Once the oil is very hot, drop about 8 to 10 sage leaves in at a time, being careful for splattering oil**. Cook the leaves in the hot oil for 25 to 30 seconds then remove them with a fork or slotted spoon to a paper towel. Repeat with the rest of the leaves. They will get crispy when they cool.
When the crostata is finished baking, remove it from the oven and sprinkle the fried sage leaves and Parmesan shavings over it. Let it cool down slightly before slicing into 16 to 24 thin slivers.
Nutrition Information:
Yield: 24
Serving Size: 1
Amount Per Serving:
Calories: 75
Total Fat: 11g
Cholesterol: 37mg
Sodium: 238mg
Carbohydrates: 13g
Fiber: 1g
Protein: 6g