Peas and mint are perfect partners in this Fresh Green Pea Soup with Mint. The cool taste of tiny bits of fresh mint adds a touch of elegance to this lovely springtime soup. Plain yogurt replaces heavy cream for a lighter fare and gives the soup a slightly tangy flavor and a rich creaminess.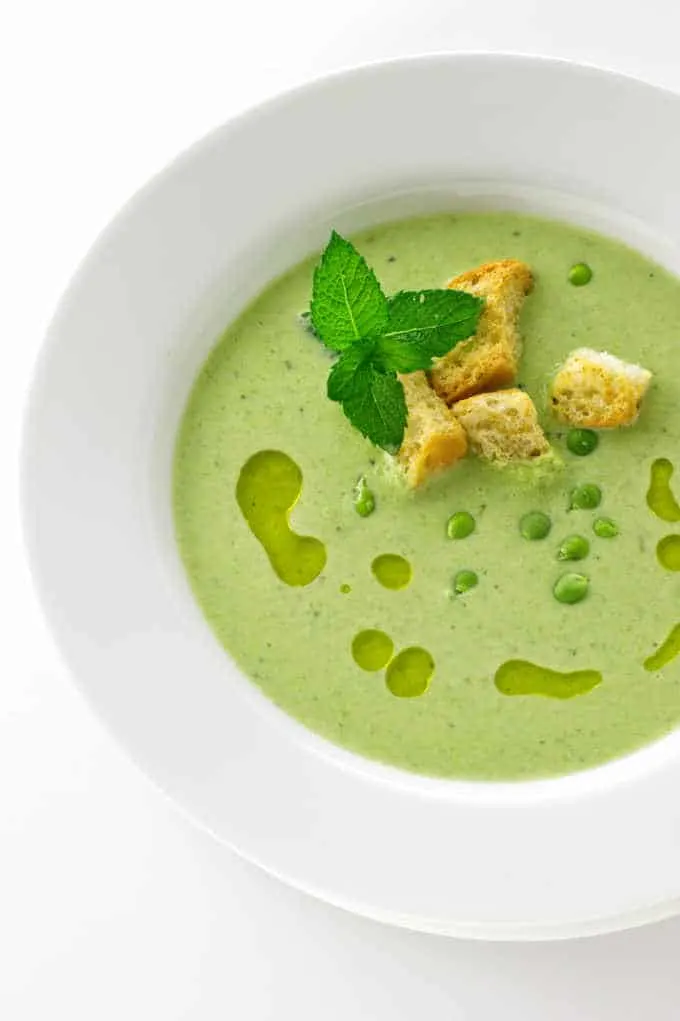 The peas are tender and require only a short cook time which also retains their vibrant green color. A handful of fresh mint adds a zesty flavor that enhances the sweet green peas. A swirl in of plain yogurt adds a smooth, creamy texture.
Can you imagine peas any fresher than just picked from your backyard garden? They are crisp, fresh, sweet and crunchy. Delicious! They are so good you can just open the pods and munch those little bits raw! It is a great snack in the afternoon.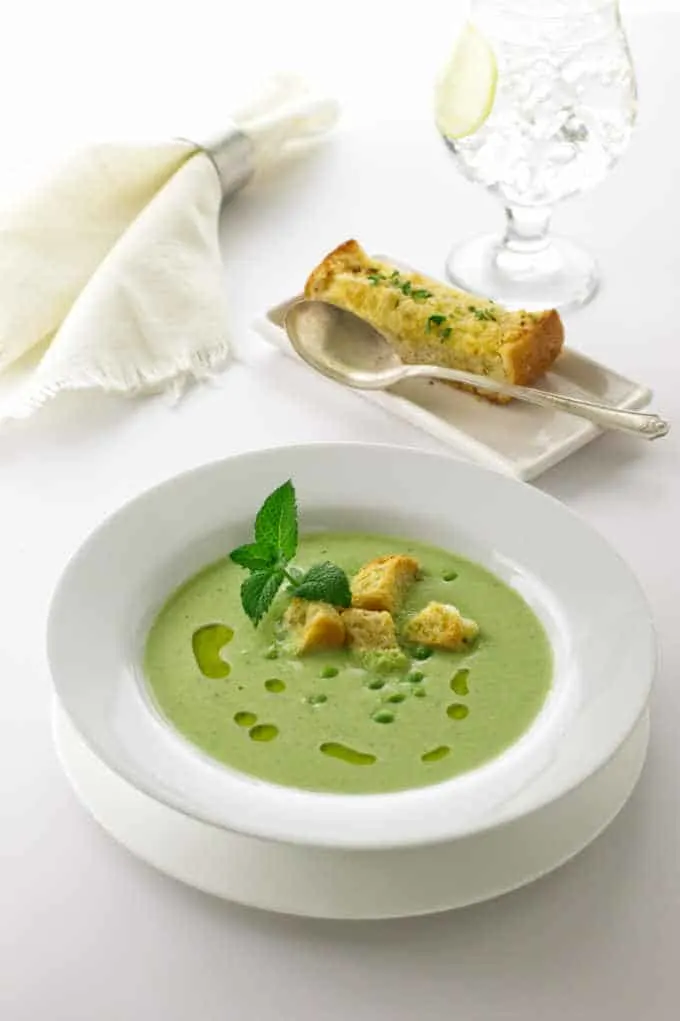 Well, I no longer have a garden in my backyard but our daughter, Dahn, does and I raided her pea vines for this fresh, vibrant green pea soup. I will, however, take credit for the addition of fresh mint that grows in a pot on my back deck.
Fresh peas are a springtime treat and begin appearing in the Farmers' markets in June. They do have a short growing season with a high demand so you need to be quick. If you see them, buy them!
How to buy fresh peas:
Look for pods that are firm and green without any yellowing. They should look crisp and not limp or wilted. The smaller pods will be younger, more tender and sweeter than the larger pods. Break one open and taste it. They should be small, bright green and taste sweet.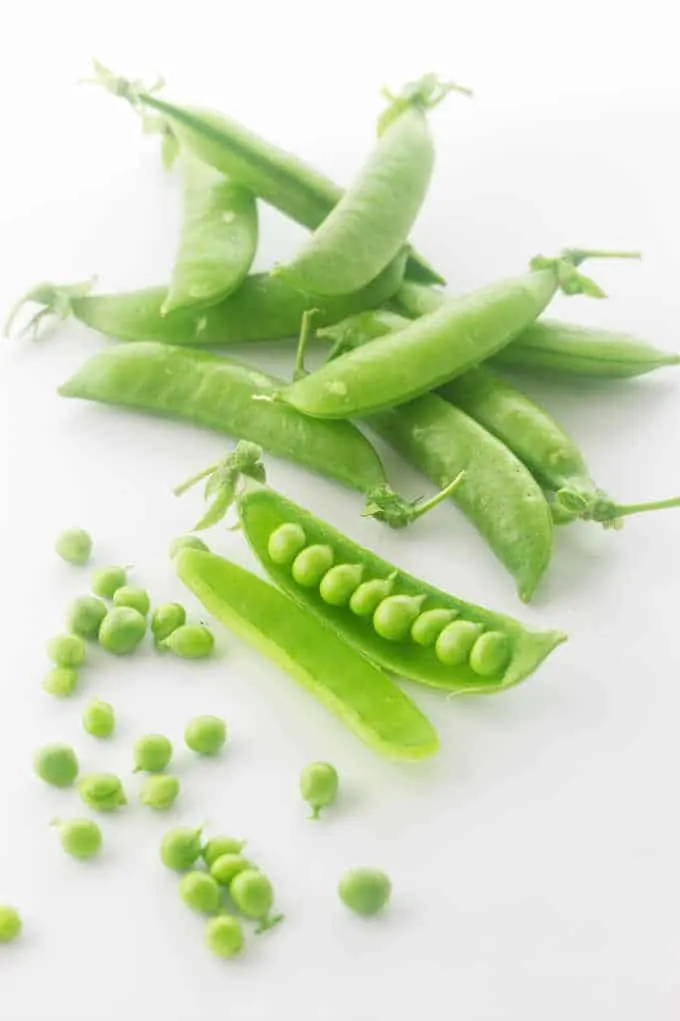 You will need to buy one pound of fresh pea pods for every cup of shelled peas that the recipe requires. For this fresh pea and mint soup you will need to buy two pounds of fresh pea pods. Plan to make your soup as soon as you buy the peas as they will begin to convert their sugar to starch soon after harvested.
Can I use frozen peas for this soup?
Yes, you can make this refreshing fresh pea soup from defrosted frozen peas if you don't have the fresh ones. Look for those small petit peas as they will be the sweetest.
Fresh peas are first blanched for several minutes before they are flash frozen so you will need to take that into consideration and adjust the cooking time. Overcooking the peas will transform the vibrant green color to a yellowish, off-color green.
In today's modern world fruits and vegetables are flash-frozen as soon as they are harvested and can happily sit in your freezer for months. You can enjoy this green pea soup in the middle of winter and it will taste as good as fresh pea soup in June.
While the fresh peas are in season why not take advantage of them. Make up a pot of Fresh Pea Soup St. Germain and imagine yourself in a Parisian café.
How to make Fresh Green Pea Soup with Mint:
Ohh…this is a quick and easy soup that will take all of thirty-minutes or less to prepare. Watch our short video to see how we do this. You may want to consider making a double batch of this soup as it will be even better after mellowing in the fridge.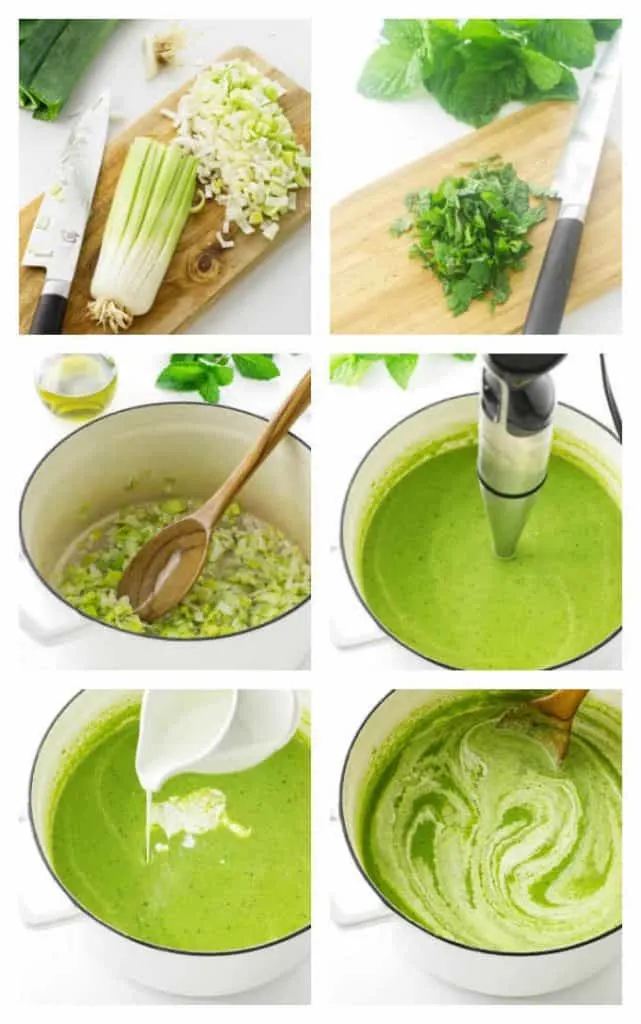 Trim, rinse and slice the leek, then sauté lightly in olive oil until softened.

Add the green peas, broth and the chopped mint.

Bring to a boil then immediately reduce the heat to low and simmer for seven to eight minutes.

If using fresh peas simmer only five to seven minutes if using frozen peas.

Remove the pot from the heat and purée with an immersion blender or standard kitchen blender.

In a small dish mix the yogurt and milk together to the consistency of heavy cream.

Swirl the yogurt mixture into the puréed soup and combine well.

Season to taste and squeeze in a little lemon juice

Reheat the soup gently, ladle into bowls and enjoy!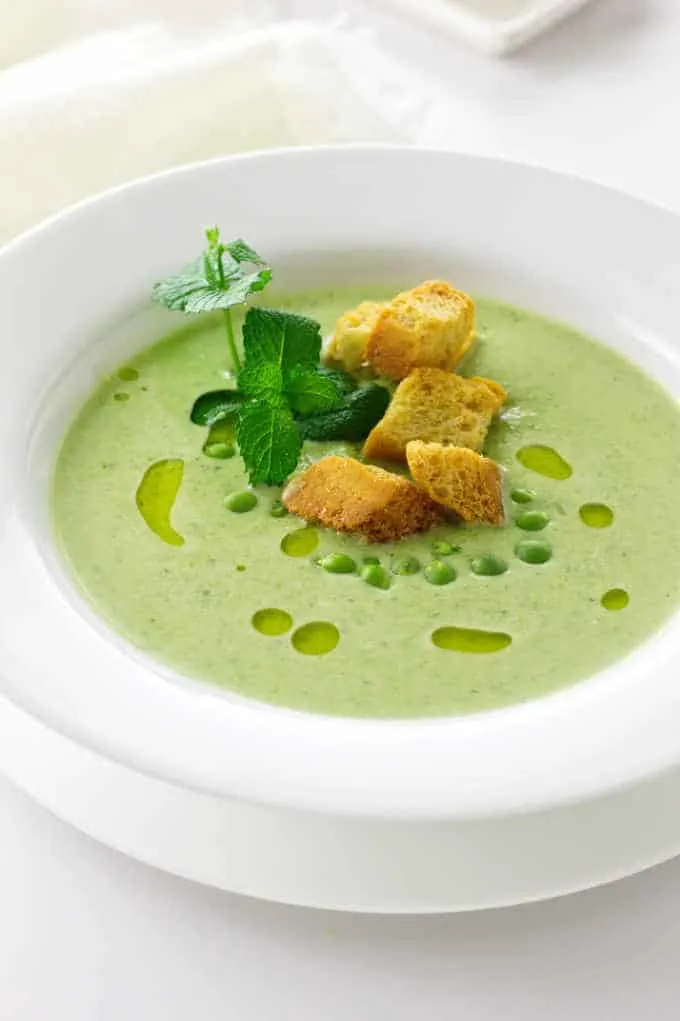 This is a wonderful soup to serve lightly chilled on a hot summer day. Make it a lunch with a couple of friends, a loaf of crusty garlic bread, a plate of creamy cheese and a bottle of crisp white wine. Works for me! ❤️
Weight Watchers and Slimming World Compatible recipe:
If you are following Weight Watchers or Slimming World then you will be happy to know that this recipe is low in points and Syns.
Weight Watchers SmartPoints= 3
Slimming World Syns = 2
SOME OTHER RECIPES WE ARE SURE YOU WILL LOVE:
Connect With Savor the Best:
Please follow us on our social media accounts
Facebook * Instagram * Pinterest * Youtube * Twitter
Did you make this recipe? We would love to hear from you. Drop us a comment below.
Check out our soup cookbook. It is filled with wholesome and hearty soups. Each soup recipe is from scratch with real ingredients and filling enough to be enjoyed as a main-course meal.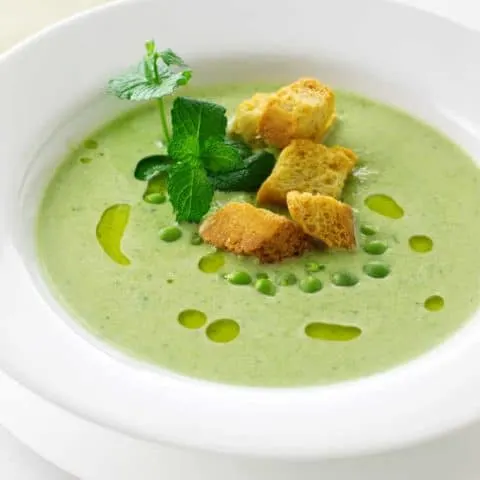 Fresh Green Pea soup with Mint
Peas and mint are perfect partners in this Fresh Green Pea Soup with Mint The cool taste of tiny bits of fresh mint adds a touch of elegance to this lovely springtime soup. Plain yogurt replaces heavy cream for a lighter fare and gives the soup a slight tangy flavor and a rich creaminess.
Ingredients
2 tablespoons olive oil
1 large leek, sliced, white and light green only
2 cups freshly shelled green peas or 16 ounces frozen peas, thawed
2-1/2 cups chicken broth, homemade or canned
3 tablespoons chopped fresh mint leaves
1 cup plain yogurt
1/4 cup whole milk
Salt and fresh ground black pepper (to taste)
1/4 cup freshly squeezed lemon juice
Croutons for garnish
Fresh mint sprigs for garnish
Olive oil drizzle for garnish
Instructions
Trim and discard the dark green portion of the leek leaving just the light green and white portions. Do not cut off the roots.
Slice the leek in half lengthwise. Fan the cut halves slightly and hold under cold running tap water to wash away any sand stuck in the layers.
Place one half of the leek on a cutting board cut side down. Beginning just above the root, slice the leek in 1/4-inch strips from the white part all the way to the top of the light green part. Then slice crosswise into a 1/4-inch dice all the way to the root. Discard the root. Repeat with the other half of the leek.
Set a Dutch oven or large pot over medium heat and add the olive oil. When the oil is hot, add the chopped leek, stirring to coat with the oil. Reduce the heat to low and cook the leek gently until softened, about 10-minutes. Do not allow the leek to turn golden or brown.
Add the peas, chicken broth, and mint. Increase the heat and bring to a boil, then reduce to low. Simmer for about 7 to 10 minutes for fresh peas, about 5 to 8 minutes if using frozen peas.
Remove from the heat and purée with an immersion blender or standard kitchen blender.
In a small dish combine the yogurt and the milk stirring to the thickness of heavy cream. Add the mixture to the pea soup and stir to combine.
Season to taste with salt and pepper. Stir in the lemon juice. Return the pot to medium-low and reheat the soup gently.
Ladle the soup into serving bowls and garnish with mint sprigs, croutons and a drizzle of olive oil.
Nutrition Information:
Yield:

4 Serving
Serving Size:

1-1/2 Cups
Amount Per Serving:
Calories:

107
Total Fat:

6g
Saturated Fat:

3g
Trans Fat:

0g
Unsaturated Fat:

10g
Cholesterol:

8mg
Sodium:

292mg
Carbohydrates:

7g
Fiber:

2g
Sugar:

5g
Protein:

5g
Nutrition information is a guideline only, is calculated automatically by third party software, and absolute accuracy is not guaranteed.