Sometimes you just need to finish dinner and relax without thinking about the dishes. Sheet pan dinners are so easy and they make cleaning up a breeze. You will save a bunch of time if you toss everything on one sheet pan and pop it in the oven.
We have gathered over 45 of the best sheet pan dinners to make your life a little easier. From chicken, pork, and beef to salmon, shrimp and vegetarian meals, we have covered all the bases. You can keep these recipes in your rotation for several month's worth of weeknight meals.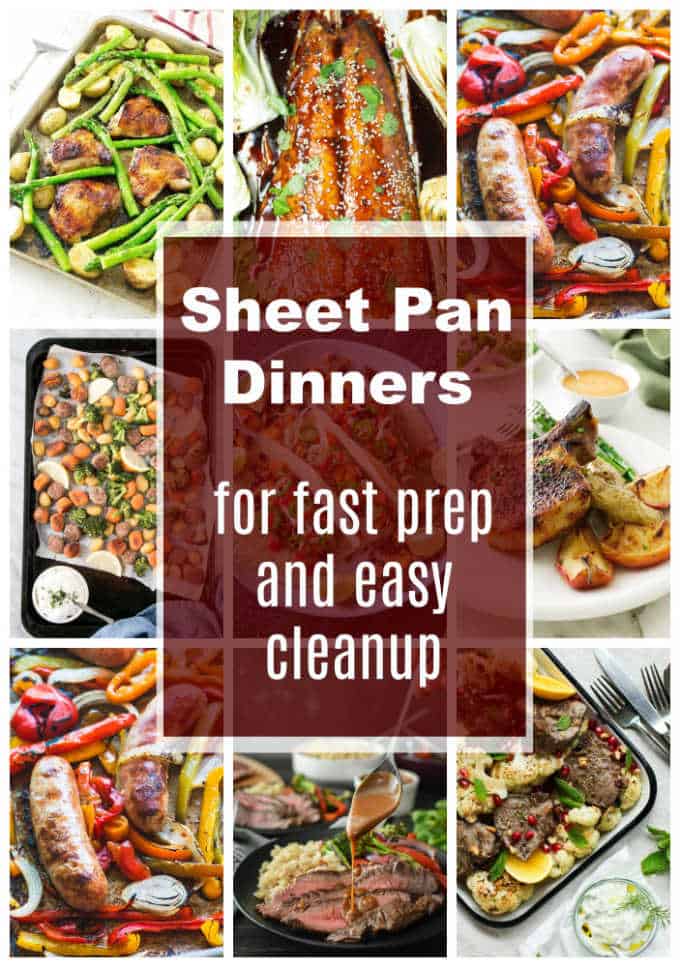 If you're new to sheet pan dinners then let me explain what they are. They are a busy, over-tasked persons best bet for a simple, satisfying dinner that leaves plenty of time for all the other things you need to do. Sheet pan dinners are a fast way to cook a full dinner in one pan. It leaves you with only one sheet pan to clean when the meal is finished cooking.
Now that's an easy dinner!
A bonus with sheet pan dinners is having all the flavors combine together while everything cooks. It creates a medley of deliciousness as the meal cooks.
Tips for the best sheet pan dinners.
Line the sheet pan with parchment paper or aluminum foil for even faster clean up.
Use the right size sheet pan. If you crowd everything on a small pan then your dinner will steam instead of bake. Doubling a recipe? Use two sheet pans.
Cut the vegetables consistently so they cook evenly.
Give some ingredients a head start. Bone-in meats and thicker cuts take longer to cook. So do dense vegetables like carrots, potatoes, and winter squash. Let these ingredients cook for a while before adding things that cook quickly.
Add a light layer of fat. Coat the ingredients with a fat like olive oil, coconut oil, leftover bacon grease or even butter (if melted). A light coating of fat will prevent the ingredients from drying out. It will also encourage a deeper caramelization of the food.
If you use a silicone mat for a sheet pan dinner, don't use the same mat for baking desserts like cookies. The silicone will absorb the savory flavors of your dinner. That will leave your cookies tasting like chipotle chicken and potatoes. ?
This collection of easy sheet pan dinners is sectioned by the type of protein for your convenience. The sections include:
Pork
Chicken
Beef and lamb
Seafood
Sausage and brats
Vegetarian
Scroll down to find inspiration for the best sheet pan dinner for tonight's meal.
SOME OTHER RECIPES WE ARE SURE YOU WILL LOVE:
CONNECT WITH SAVOR THE BEST!
Be sure to follow us on our social media accounts
Facebook * Instagram * Pinterest * Twitter * Youtube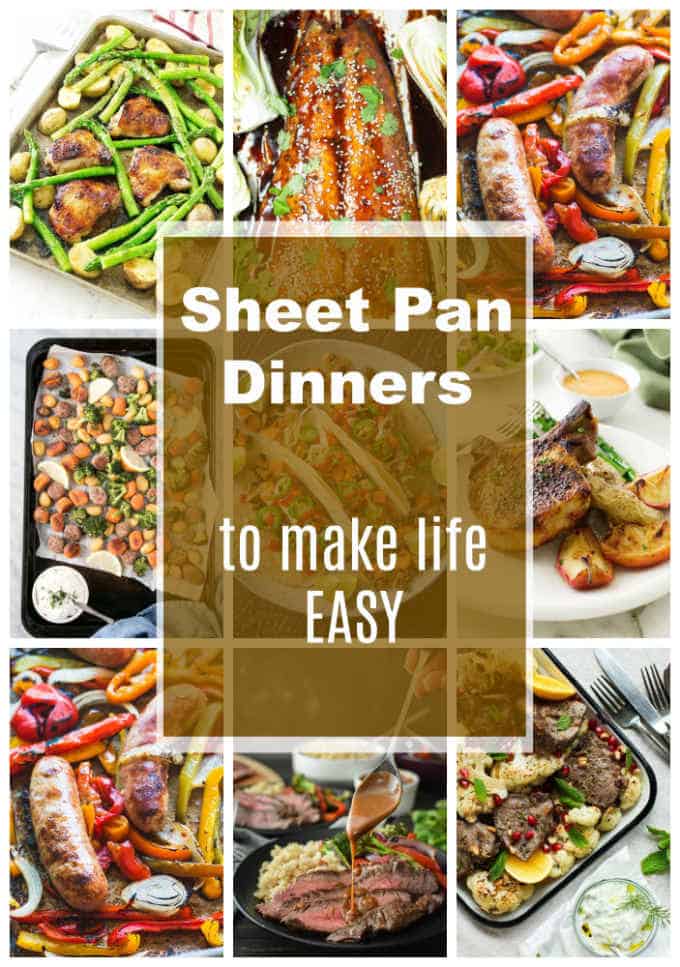 Did you make any of these sheet pan meals? We would love to hear from you. Drop us a comment below.