With the 4th of July just around the corner, picnics are on everyone's mind. And no picnic is ever complete without a perfect potato salad. We have gathered some amazing potato salad recipes from some of our favorite bloggers. You won't be disappointed with any of these selections. Scroll through our roundup and pick your favorites.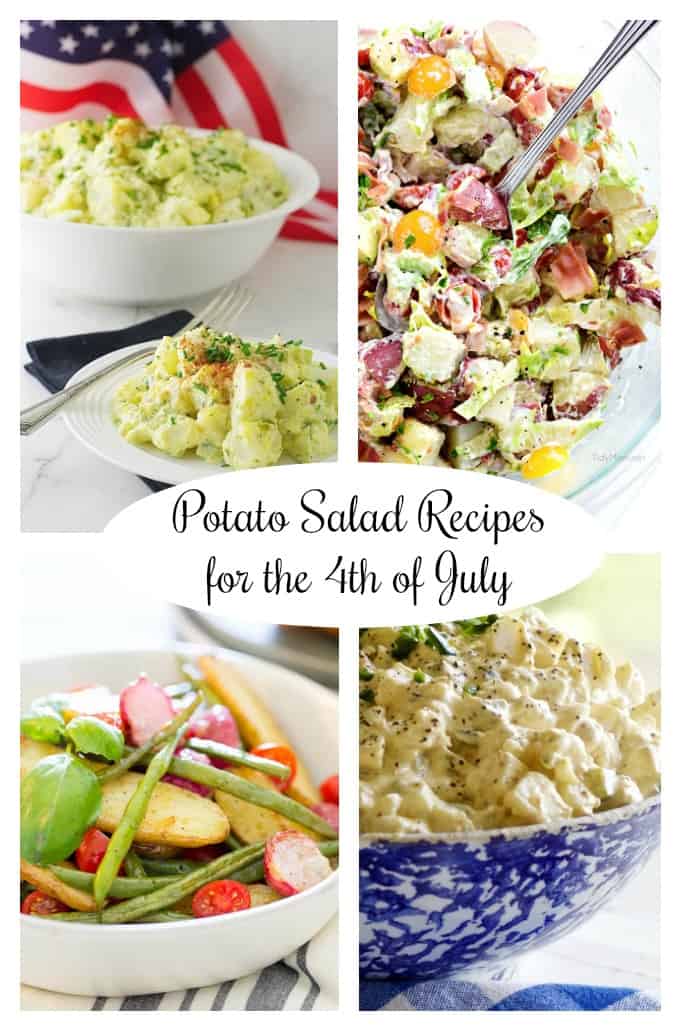 An old-fashioned chunky potato salad full of goodness with a creamy eggy dressing. This potato salad is just like the one grandma makes. The perfect picnic potato salad has large chunks of potatoes and a creamy egg dressing. It is a great vintage recipe that will never go out of style. Grandma would be proud.
What could go better with your grilled meat this 4th of July than this chimichurri potato salad? Chimichurri sauce is an oil-based condiment with fresh herbs and spices. It is usually paired with grilled meat but we think it is genius to toss it in a potato salad. Check out Natasha's site at the link above for this recipe.
Marianne knows how to make healthy look delicious. This healthy potato salad has fresh tomatoes, roasted green beans, radishes and tender fingerling potatoes. It is tossed in a delicious pesto sauce for a fresh, bright flavor. You don't have to tell the guests that it is healthy. Let them eat and be merry. Click the link above for Marianne's recipe.
BLT Red Potato Salad with Avocado from Tidy Mom
How can bacon, lettuce, and tomato get any better? How about tossing that trio with some red potatoes and avocados! This is a winning combination. Cheryl even has a video for this recipe. Click the link above for the recipe.
BLT Red Potato Salad with Avocado/ photo by Tidy Mom
What could be more American than red, white, and blue? This potato salad is celebrating the 4th of July with every bite! Lori has combined red, white, and blue potatoes with a dijon mustard vinaigrette and a whole lot of fresh herbs. Click the link above for the recipe.
There is a ton of character and flavor going on in this smashed potato salad. Kellie leaves the skin on these potatoes and smashes some of them for a balance of creamy and chunky texture. Click the link above for the recipe.
Oh boy! What a flavor twist. This creamy potato salad has a smoky flavor from sweet mesquite. Put this smoky potato salad next to your smoked ribs this 4th of July. You won't be sorry. Click the link above for Diane's recipe.
This dilly potato salad has big chunks of red potatoes, fresh dill, and tangy dill pickles. It is tossed in a creamy yogurt dressing that is balanced with a bright lemon flavor and some salty capers. Click the link above to check out Pat's dilly potato salad.
Will you make any of these amazing potato salad recipes for the 4th of July?
We would love to hear what your making for the 4th of July this year. Drop us a comment below.
If you make any of our recipes, connect with us on Instagram and Facebook. Hashtag us at #savorthebest.