What is not to love about this mixed greens, fresh mint and Satsuma Salad with Gorgonzola cheese? It is all dressed up with a honey-mustard vinaigrette that gives it a gourmet taste.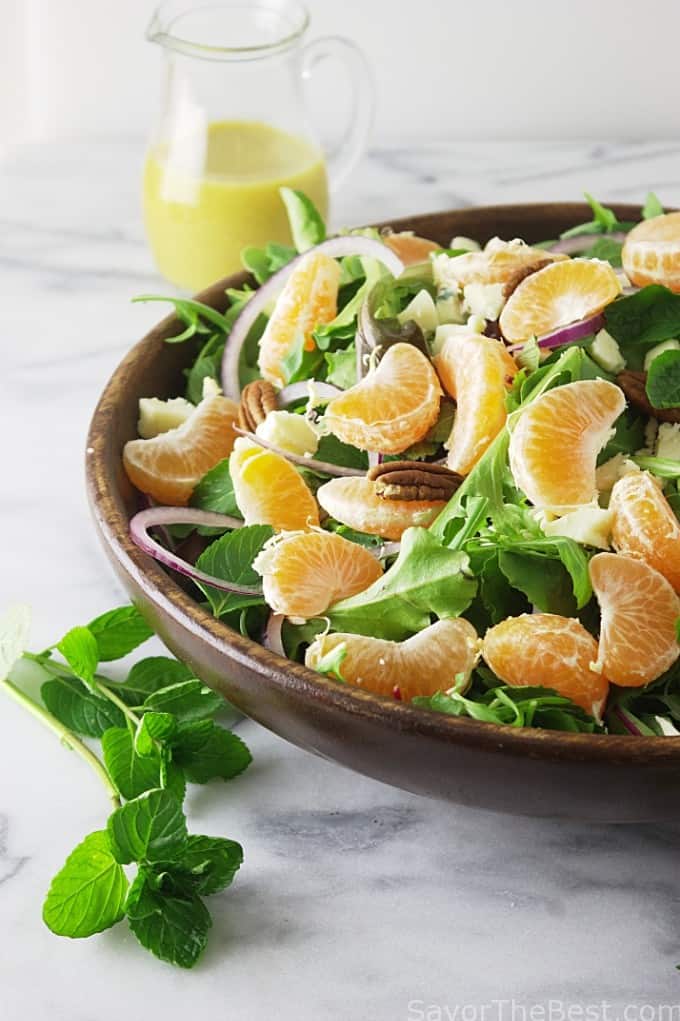 Satsumas are at the top of my winter fruit list and each year I watch for them to appear in the produce section. They are sweet, juicy, easy to peel and segment. Plus, there is the bonus of no seeds!
There seems to be some question as to whether this sweet citrus fruit originated in China or Japan, although they have acquired the name 'Satsuma' which is the name of a province in Japan. I don't care where they are from just as long as they get to my table!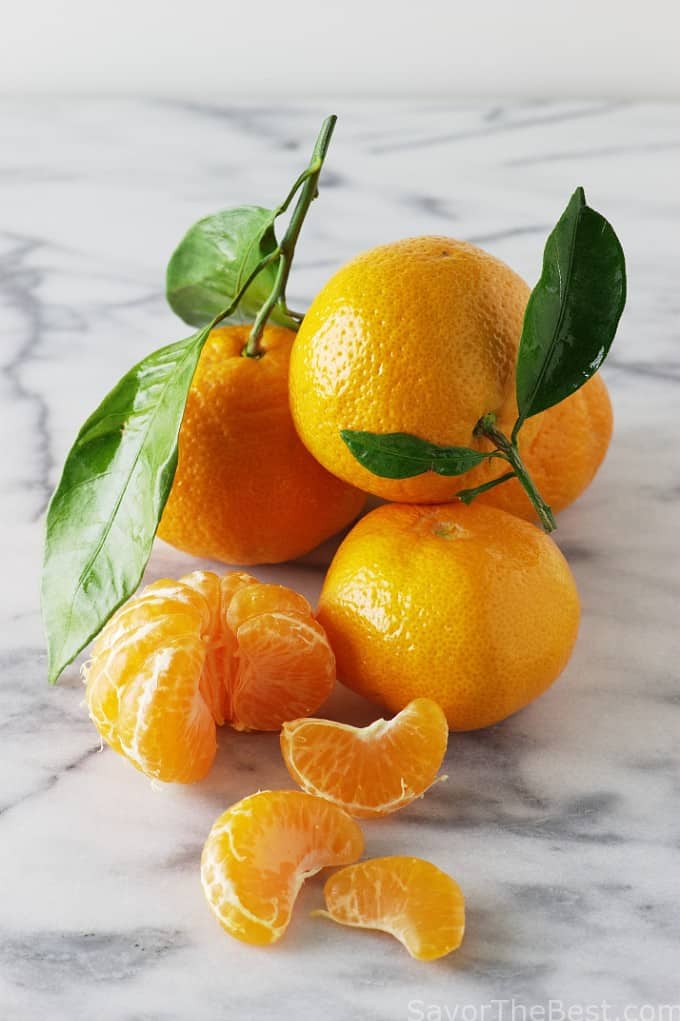 This salad combines the Satsuma segments with mixed greens and fresh mint.
The roasted pecans and spicy onion rings add a nice crunch. We chose to use Gorgonzola cheese for it's creamy goodness and mild taste.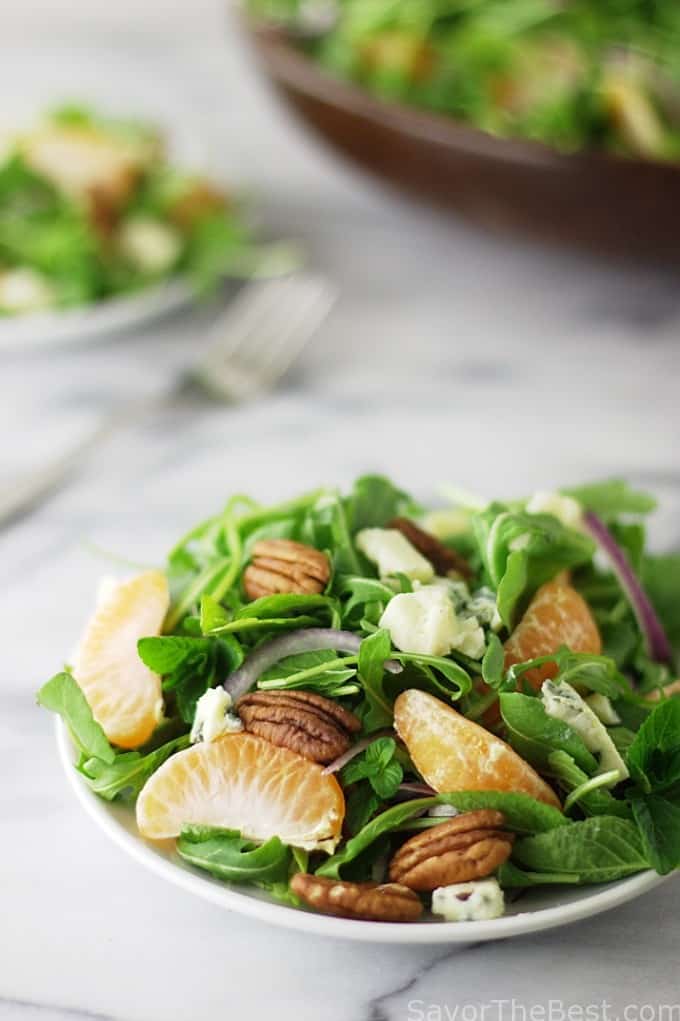 The smooth vinaigrette is the perfect accompaniment to this salad with the sweetness of the honey and tangy lemon juice. It is simple to prepare in a small mason jar with a lid.
Just add the ingredients, cover and shake. 🙂 Or you can use a mini food processor for an effortless process that will emulsify the ingredients into a thicker dressing.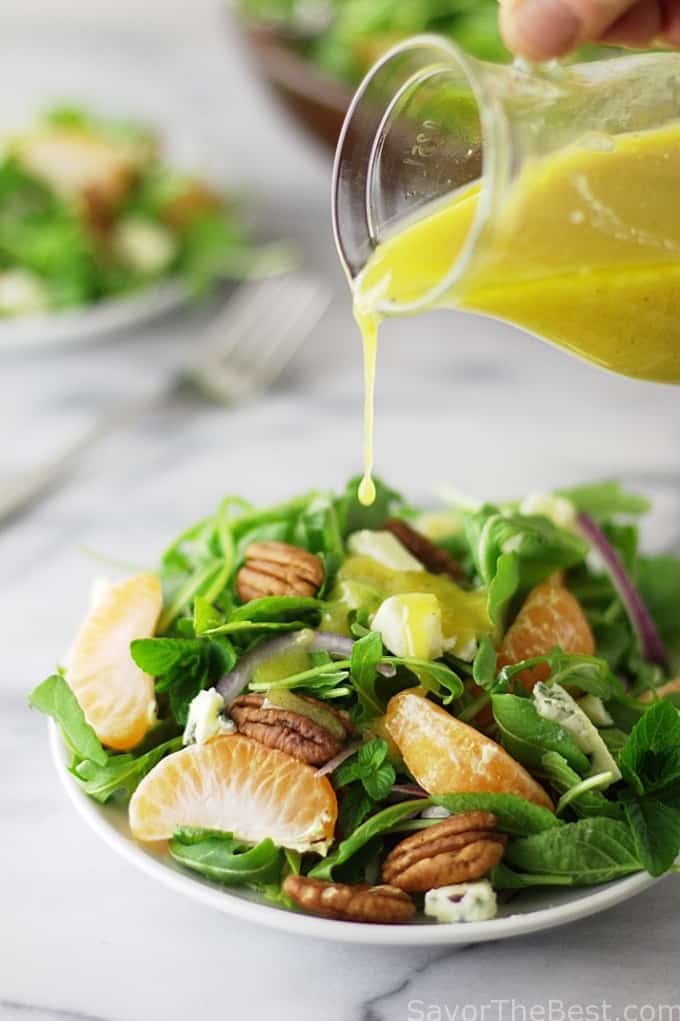 I hope you enjoy this Satsuma salad while this fruit is still in season.
More ideas for salads with fruit:
Baby Kale Salad with Blueberries and Blue Cheese
Couscous, Arugula Salad with Pomegranates
CONNECT WITH SAVOR THE BEST!
Be sure to follow us on our social media accounts
Facebook * Instagram * Pinterest * Twitter * Youtube
Did you make this recipe? We would love to hear from you. Drop us a comment below.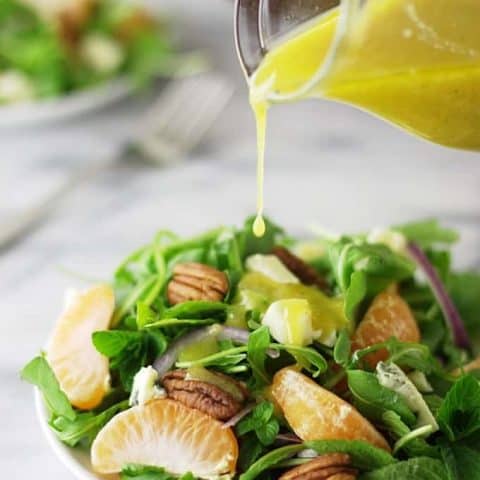 Mixed Greens, Fresh Mint and Satsuma Salad with Gorgonzola
Yield: 4 servings
Prep Time: 10 minutes
Total Time: 10 minutes
A salad with mixed greens and fresh mint combined with Satsumas and gorgonzola cheese and finished with a honey-mustard vinaigrette.
Ingredients
For the Salad:
5 ounce fresh mixed salad greens
2 ounces fresh mint leaves (about 1 cup, packed)
4-5 medium Satsuma tangerines, peeled and segmented
3/4 cup roasted pecans
1/2 medium red onion, sliced into rings
4 ounces gorgonzola cheese, crumbled
For the Honey-Mustard Vinaigrette:
1/4 cup freshly squeezed lemon juice
1 tablespoon Dijon mustard
1 garlic clove, chopped
2 tablespoon honey
1/4 teaspoon salt
Pinch of freshly ground white pepper
1/2 cup olive oil
Instructions
In a large shallow salad bowl, add the mixed greens and fresh mint leaves and toss to combine. Add the Satsuma segments, pecans, onion rings and crumbled gorgonzola.
For the Honey-Mustard Vinaigrette:
Add the lemon juice, Dijon mustard, garlic, honey, salt, pepper and oil to a pint jar put the lid on and shake it to combine. Drizzle the dressing over the top of the salad, toss to combine.
Alternatively, prepare the salad onto 4 salad plates and drizzle a tablespoon (or more) on each plate.
Notes
Using a mini-food processor is another option for preparing the vinaigrette dressing. It will be emulsified into a thicker dressing.
Nutrition Information:
Yield: 4
Serving Size: 1
Amount Per Serving:
Calories: 454
Total Fat: 36g
Saturated Fat: 9g
Trans Fat: 0g
Unsaturated Fat: 25g
Cholesterol: 21mg
Sodium: 582mg
Carbohydrates: 29g
Fiber: 4g
Sugar: 21g
Protein: 9g
Nutrition information is a guideline only, is calculated automatically by third-party software, and absolute accuracy is not guaranteed.