With its light and lovely floral flavor, this sweet lavender syrup adds an elegant touch to cakes, cocktails, and more. Drizzle it into drinks or onto a special dessert to quickly and easily elevate a recipe.
Our lavender simple syrup is made with only three ingredients and can be easily stored for whenever you'd like a touch of that sweet, earthy flavor!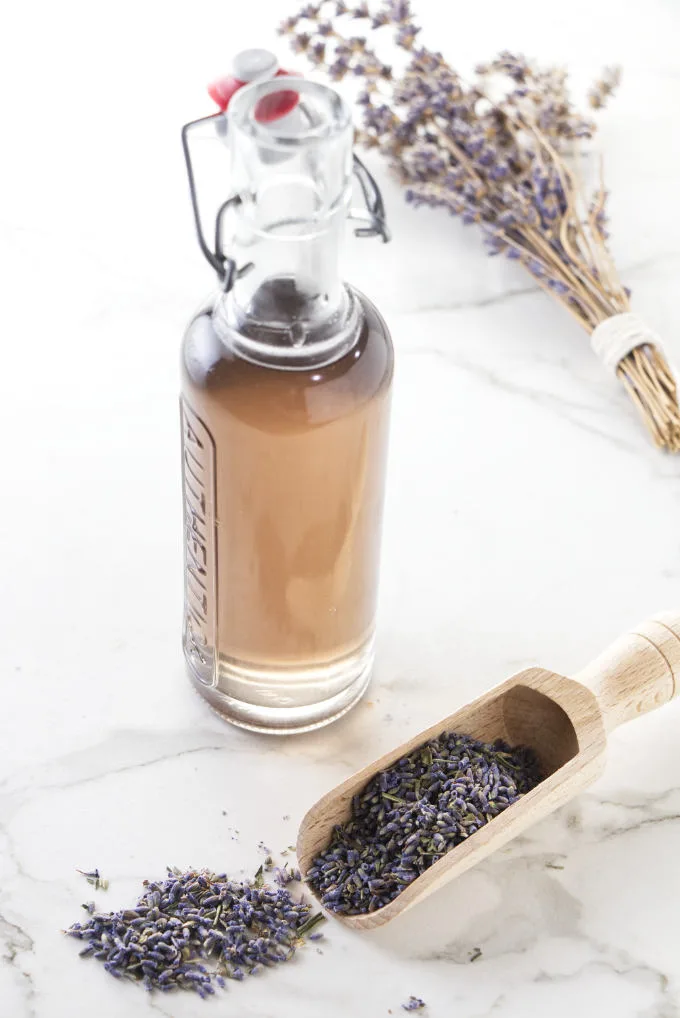 What Does Lavender Taste Like?
If you've never incorporated lavender into your cooking or baking, our lavender syrup recipe is a great place to start! Lavender has a lovely taste that is often described as floral, earthy, and sweet.
It's a nice addition to your flavor repertoire and works especially well with dessert recipes (although this Lavender Pistachio Crusted Rack of Lamb is also divine!).
We like to pair this lavender syrup with our Lemon Lavender Cake, but there are many other ways to enjoy it!
A few lavender recipes we love:
Let's Make Lavender Syrup:
Lavender's floral flavor pairs well when it's light and barely there, as opposed to a strong taste of lavender that can be quite intense.
The trick to using lavender (and making this lavender syrup), is to pay attention to how long the lavender buds steep in the syrup. If they steep too long, the lavender flavor will become too strong and will likely overpower your recipes.
Ingredients for lavender syrup:
This lavender syrup recipe is essentially a simple syrup infused with culinary lavender buds.
You will need:
Sugar
Water
Culinary lavender buds (dried)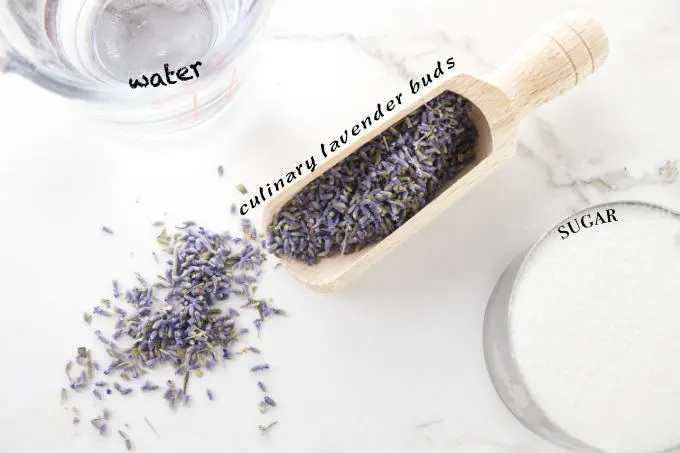 And that's it! The ingredient list for this lavender simple syrup is, well, simple. Even better, the process is quite easy, too.
Our lavender syrup recipe:
Bring ingredients to boil: Place the water, sugar, and lavender buds in a small saucepan, then bring to a boil over high heat. Reduce the heat to a simmer.
Simmer the simple syrup: Continue to simmer the mixture for 3 to 5 minutes, then remove the pan from the heat.
Let it sit: Place a lid on the pan and let the syrup sit for 10 to 15 minutes. The lavender buds infuse its flavor during this time.
Strain and store: Pour the syrup through a fine-mesh strainer to remove the lavender buds (discard). Store the syrup in the fridge.
Helpful tips:
Use dried lavender buds for this recipe.
Use edible, culinary lavender. Some varieties of lavender are better suited for cosmetic uses. Another consideration is that edible lavender does not get treated with chemicals.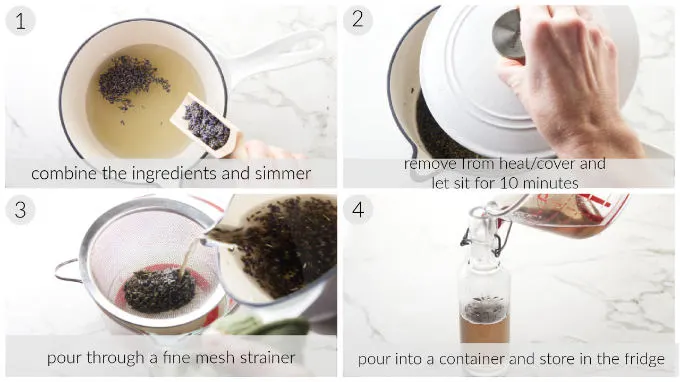 How to use lavender syrup
Ta-da! An easy lavender syrup recipe that you can use in so many ways! It adds a floral-y freshness that is reminiscent of summertime. And if you're in need of some inspiration, here are a few ways to make the most of this lavender simple syrup:
Notice a pattern here? Lemon and lavender are a match made in heaven and we can't get enough of it! We know you'll love it too. 🙂
p.s. If you love lavender as much as we do, here's a fun post we created about the Sequim Lavender Festival, which occurs at the beginning of lavender harvest. It's the largest lavender festival in the country and celebrates all things lavender! Check it out!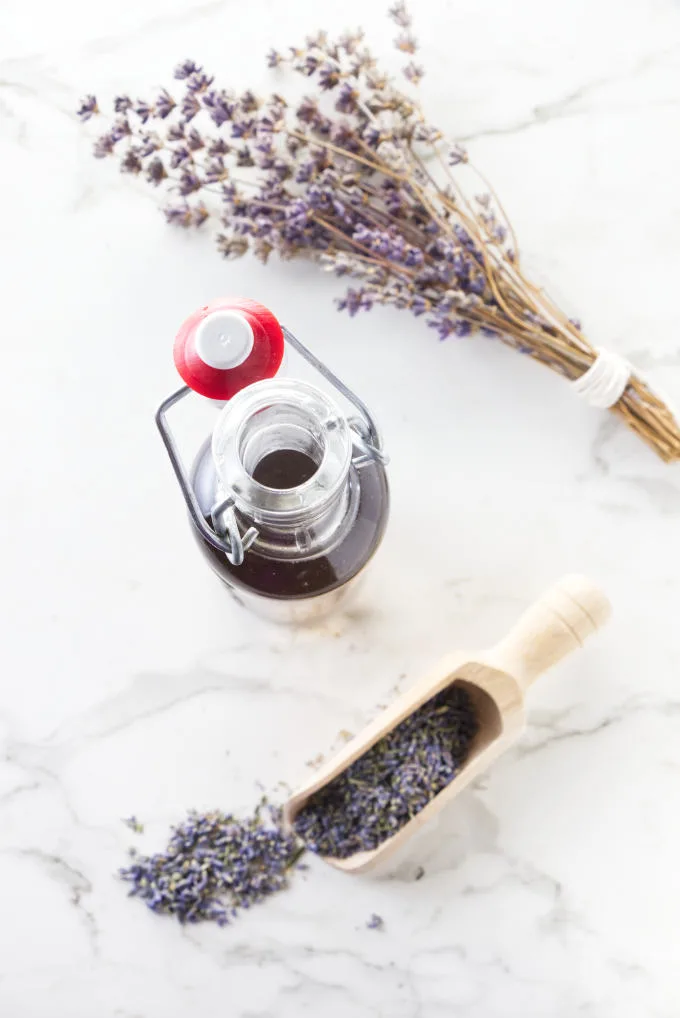 Helpful Tools
Some of the following links are affiliates. If you click on these links and purchase something, we may receive a small commission. You don't pay any extra but it will help us keep the lights on.
SOME OTHER RECIPES WE ARE SURE YOU WILL LOVE:
Connect With Savor the Best:
Please follow us on our social media accounts
Facebook * Instagram * Pinterest * Youtube * Twitter
Did you make this recipe? We would love to hear from you. Drop us a comment below.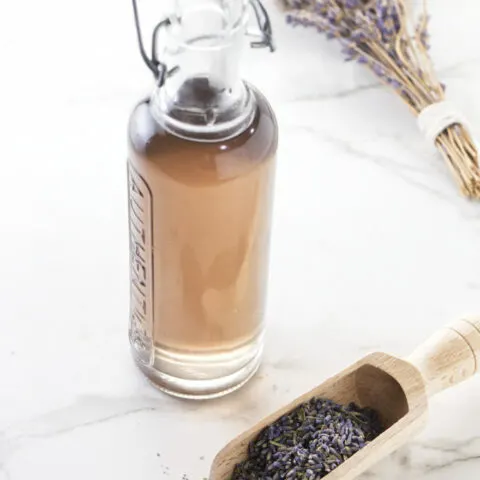 Lavender Syrup
Additional Time:
10 minutes
Lavender syrup is perfect for drizzling on cakes and in drinks. It leaves a lovely floral flavor and scent that elevates desserts and cocktails. The longer you steep the lavender buds in the syrup, the stronger the lavender flavor. Don't leave it steeping for too long or the lavender will over-power your recipes.
Ingredients
1 cup sugar
1 cup water
3 tablespoons dried culinary lavender buds
Instructions
Place the sugar, water, and lavender buds in a small saucepan. Bring to a boil over high heat then reduce the heat to a simmer. Stir once or twice to distribute the heat evenly then stop stirring. Simmer for 3 to 5 minutes then remove the pan from the heat.
Place a lid on the pot and let the syrup sit for 10 to 15 minutes to infuse the lavender flavor.
Pour the syrup through a fine-mesh strainer and toss the lavender buds out.
Store the lavender syrup in the fridge.
Recommended Products
As an Amazon Associate and member of other affiliate programs, I earn from qualifying purchases.
Dried French Lavender Flower Buds - A Culinary Food Grade Herb Perfect for Baking, Loose Leaf Tea, Potpourri Bags, & Bath Bombs (Gluten Free, Vegan, Raw)

Glass Swing Top Beer Bottles - 16 Ounce (6 Pack) Grolsch Bottles, with Flip-top Airtight Lid, for Carbonated Drinks, Kombucha, 2nd Fermentation, Water Kefir, Clear Brewing Bottle.
Nutrition Information:
Yield:

16
Serving Size:

1 tablespoon
Amount Per Serving:
Calories:

49
Total Fat:

0g
Saturated Fat:

0g
Trans Fat:

0g
Unsaturated Fat:

0g
Cholesterol:

0mg
Sodium:

1mg
Carbohydrates:

13g
Fiber:

0g
Sugar:

12g
Protein:

0g
Nutrition information is a guideline only, is calculated automatically by third-party software, and absolute accuracy is not guaranteed.