The instant pot has made cooking life so much easier and quicker! I love that I can whip up this instant pot white chicken chili in record time with pressure cooking. We are excited to share this recipe with you all so that you can enjoy a yummy white chicken chili that is fast enough to make for a busy weeknight dinner. This hearty chili is thick and filling and makes a complete meal for the whole family. You're going to love this chili.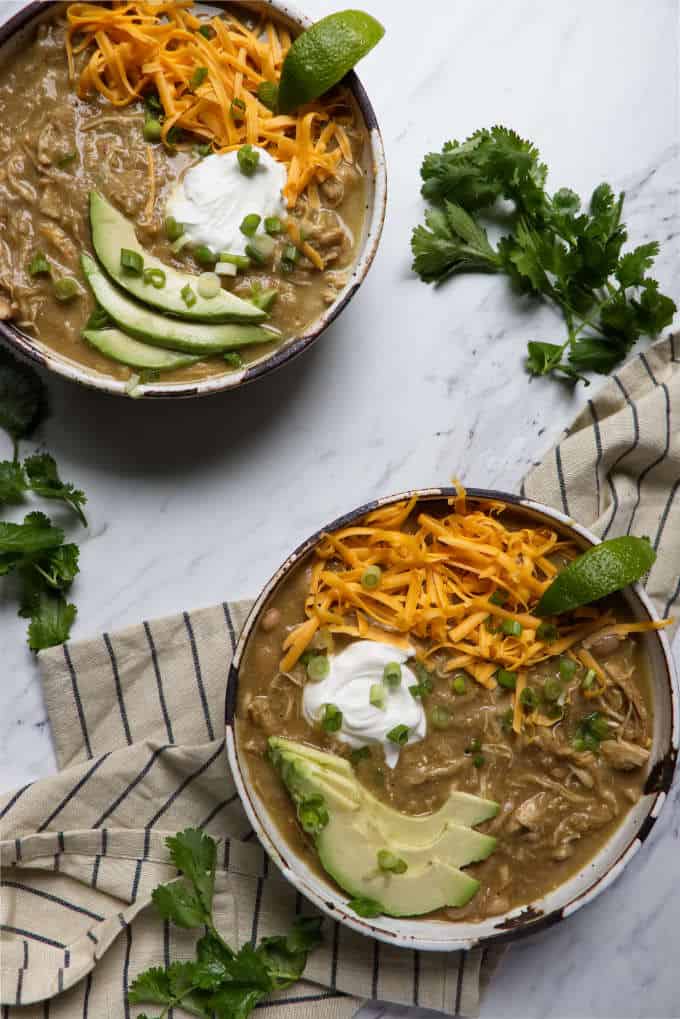 The ability to cook the chicken in your instant pot so quickly allows you to make this delicious white chicken chili for any night of the week. No more waiting until the weekend to make a delicious chili recipe, you can do this any day you choose.
Is chili a stew?
Chili is a stew mostly because of the way it is cooked as opposed to its actual appearance. A stew is a thick "soup-like" dish that is typically simmered in liquid over a long period of time.
The long-simmering process tenderizes tough meats and concentrates all the flavors. This recipe for instant pot chicken chili turns an all day process into a quick and easy meal in less than 40 minutes.
The instant pot uses pressure to speed the process up and concentrate the flavors. It makes weeknight dinners so much faster.
Grab up the ingredients below to start the process of getting this instant pot white chicken chili ready to serve to your loved ones.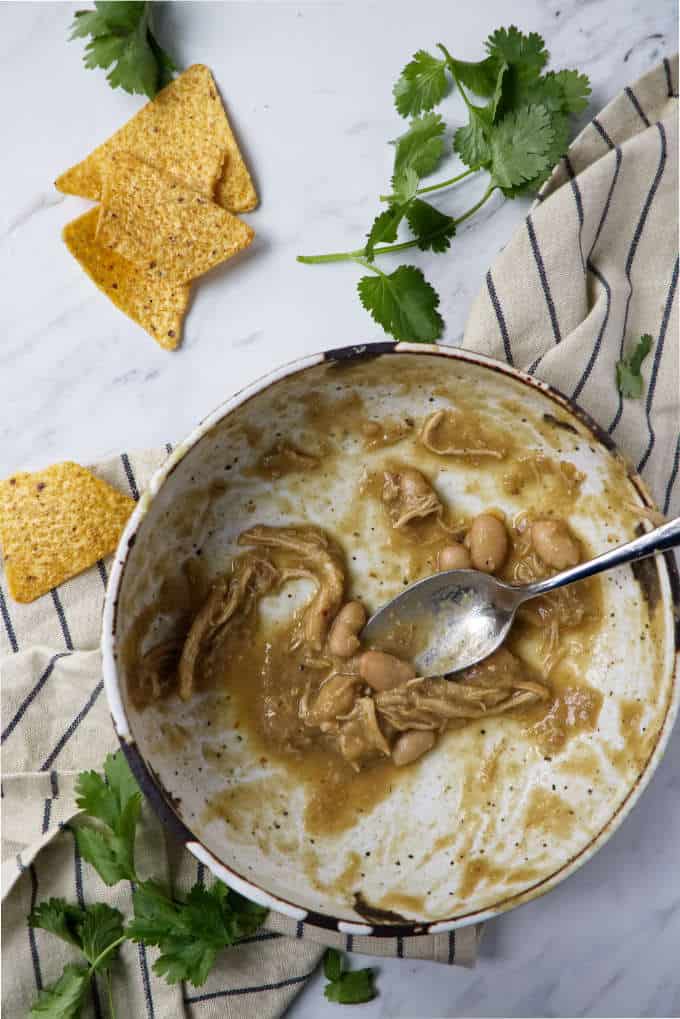 Is the Instant Pot also a Slow Cooker?
The instant pot is actually a multi-cooker with several different options to cook something. It has a setting to use as a slow cooker. It also has various settings that allow you to switch over to pressure cooking, steaming, sautéing or browning and steaming. It can also be used as a rice cooker, yogurt maker and food warmer.
Since it is so versatile, this machine is worth a purchase. So if you're looking for a slow cooker, yes! You can use the instant pot on slow cooker mode but keep in mind that some models don't offer that option. Check out the various options before you purchase your Instant Pot.
Safely Releasing Pressure from an Instant Pot
The safest way to release pressure from an instant pot is to allow the pressure to release naturally. That generally takes at least 30 minutes.
The instant pot has several safety features built into it but you still need to be careful when you release pressure manually from the pressure cooker. When you press the pressure release valve, keep your hands and face away from the steam.
When you cook thick soups and chili recipes like this one let the pressure release naturally. If you release the pressure manually, keep the lid on the pressure cooker for at least 20-30 minutes to make sure there is no "trapped pressure" at the bottom of the thick chili. Then before opening the lid, shake the pressure cooker a bit to make sure there are not any trapped air bubbles.
To be perfectly honest, we didn't wait to open the lid after manually releasing pressure for this instant pot white chicken chili recipe. The main reason we did not wait is that this chili does not actually get thick until after you puree the beans at the end of the cook time. For ultimate safety, our instructions in the recipe advise you to wait for the chili to cool a bit before opening the lid, or to let it release the pressure naturally.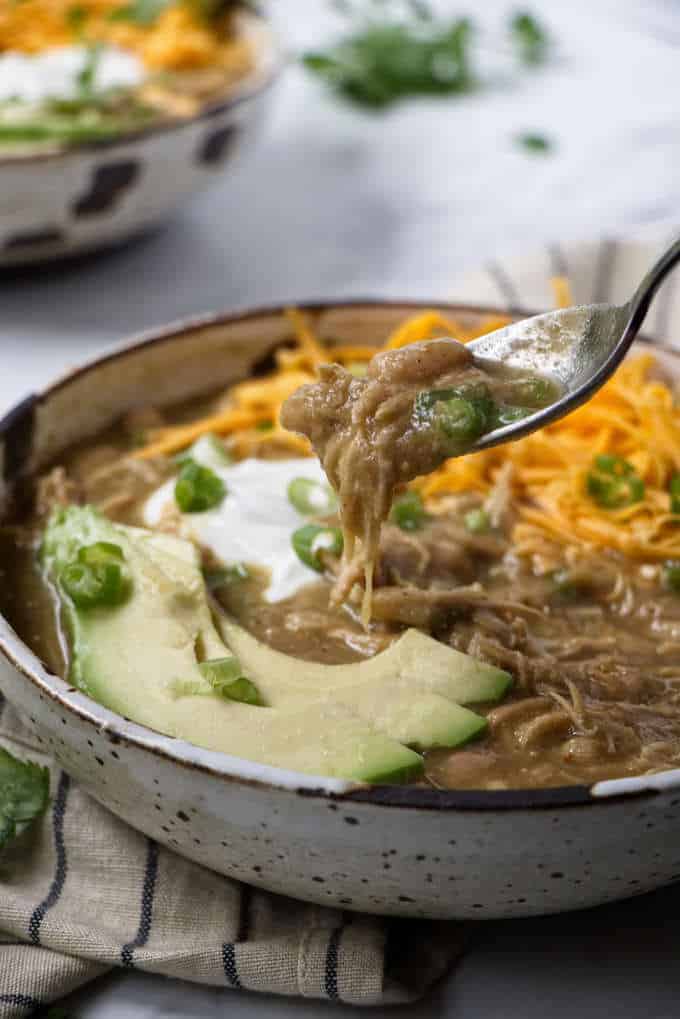 How long can
you keep white chicken chili?

Generally speaking, you can keep white chicken chili fresh in the refrigerator for 3-4 days if you store it properly. In order to last the full 3 to 4 days, store your instant pot white chicken chili in an airtight container.
Can You Freeze White Chicken Chili?
You can freeze this instant pot white chicken chili for up to 6 months if you store it properly. Make sure you allow it to cool completely before sticking it in the freezer.
You should store it in a freezer-proof container to protect the quality and flavor of the chili. We usually use heavy duty, re-sealable freezer bags but these freezer-proof storage containers are also very convenient. They are reusable, stackable, freezer, microwave, and dishwasher safe.
SOME OTHER RECIPES WE ARE SURE YOU WILL LOVE:
Pasta Salad with Grilled Chicken and Chipotle Dressing
CONNECT WITH SAVOR THE BEST!
Be sure to follow us on our social media accounts
Facebook * Instagram * Pinterest * Twitter * Youtube
Did you make this recipe? We would love to hear from you. Drop us a comment below.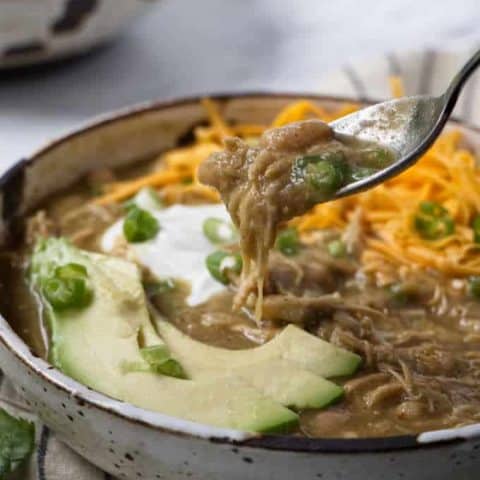 Instant Pot White Chicken Chili
Instant pot white chicken chili is an easy weeknight meal. It cooks in under twenty minutes and has all the flavor of a soup that simmered all day.
Ingredients
1 tablespoon vegetable oil
2 medium onions, diced
5 to 6 garlic cloves, minced (1-1/2 tablespoons)
2 pounds boneless, skinless chicken breast
1 can diced green chilies
1 jar (15-ounce) salsa verde
1-1/2 tablespoon ground cumin
1/2 teaspoon salt
3 (15-ounce) cans cannellini beans, drained (reserve 1 can for later)
1-1/2 cups chicken broth
3 tablespoons fresh lime juice
FOR THE TOPPINGS:
1 cup shredded cheddar cheese
1/4 cup chopped cilantro
3 to 4 scallions, chopped
1-2 avocados, sliced
1-2 limes, sliced
sour cream
Instructions
Set the instant pot to sauté and heat the oil then add the diced onions. Cook and stir the onions until they are tender (about 3 to 4 minutes) then add the garlic and cook for another minute.
Add the remaining ingredients (except for 1 can of beans) to the pot and set to high pressure for 12 minutes.
Either allow the pressure to release naturally or press the pressure release button to release the pressure manually. If you release it manually, allow it to sit and cool down for at least 20 minutes before opening the lid.
Open the lid and remove the chicken breasts. Shred the chicken with a couple of forks.
Use an immersion blender to puree the bean mixture then place the shredded chicken back into the pot.
Add the extra can of beans.
Set the pressure cooker to sauté and cook until the chili is re-heated.
Serve with the toppings.
Notes
To plan your time: It will take about 15 minutes for the instant pot to come up to pressure.
The pureed beans will thicken the chili.
If you don't have an immersion blender then scoop batches of the bean mixture into a blender and puree, then return it to the instant pot.
It only takes 6 to 7 minutes for the chicken to cook on the high setting but by letting the chili cook for 12 minutes, the chicken will become very tender and easy to shred.
Always follow the manufacture's safety instructions that goes with your pressure cooker.
Recommended Products
As an Amazon Associate and member of other affiliate programs, I earn from qualifying purchases.
Nutrition Information:
Yield:

8
Serving Size:

1
Amount Per Serving:
Calories:

273
Total Fat:

5g
Cholesterol:

73mg
Sodium:

725mg
Carbohydrates:

22g
Fiber:

8g
Sugar:

3g
Protein:

32g