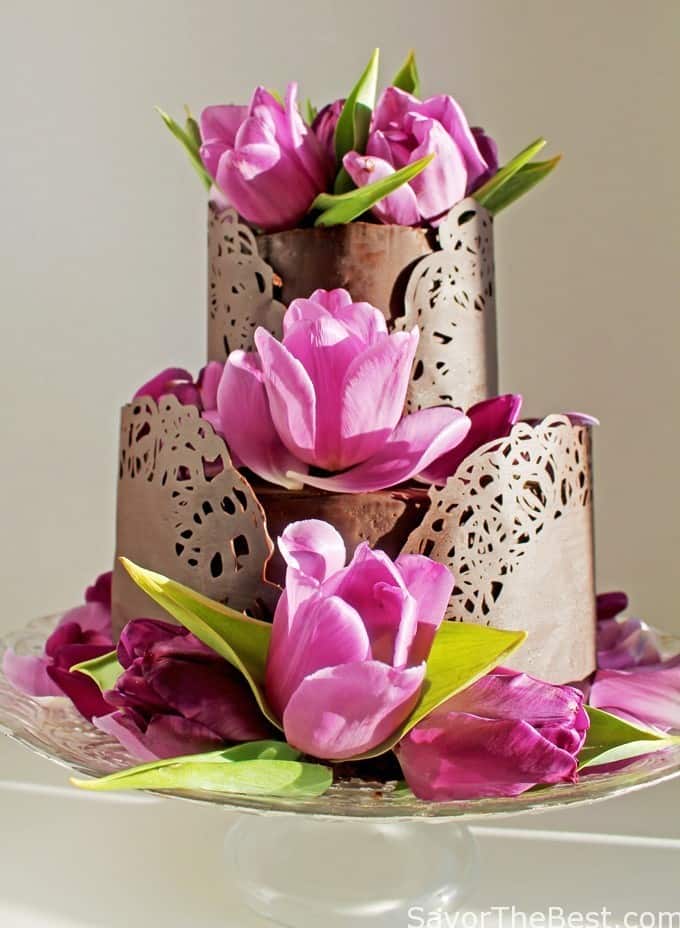 My son, Josh just threw a surprise birthday party for his girlfriend, Sara. The party was just for the "young" crowd and the parents and grandparents have plans to celebrate her birthday this weekend. The surprise party, however, seemed like the best time to have her birthday cake so I made her cake and had Jon sneak it up to Seattle for Josh to hide until the party. Sara is a girl after my own heart when it comes to chocolate. As a matter of fact, if there were a Richter scale that measured a persons love of chocolate, Sara would top that scale.
I decided to make a Chocolate Bourbon Mud Cake with a Bourbon Cream filling and a Dark Chocolate Ganache frosting. For the decoration, I wrapped the cake in a band of chocolate and tried to make the band look like it had a lace border on top. I got the idea from Kanya Hunt's website. Kanya is a true artist and her cakes look amazing. I always fall short when I try to imitate another designer's work and I wish I had just drawn inspiration from the design and taken it in my own direction. Instead, when I finished the band of chocolate, I compared mine with the talented Kanya and felt a bit disappointed at first. Eventually, I decided the cake was just fine as long as I didn't compare it with the work of a professional.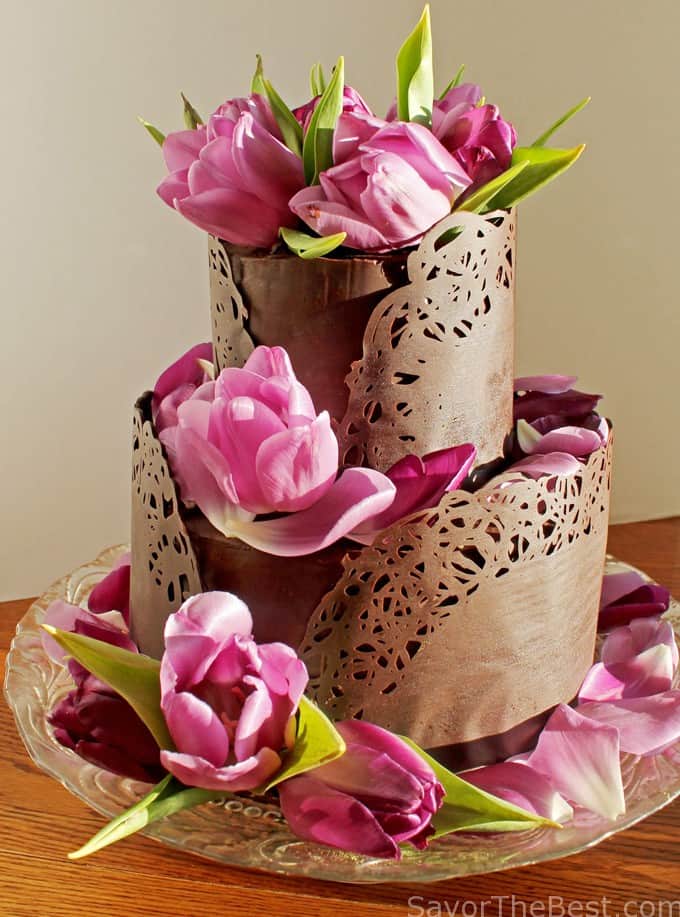 Working with chocolate like this is not easy to do. I learned how to do it from The Cake Bible by Rose Levy Beranbaum. I spread the tempered chocolate onto a strip of parchment paper (on the top half of the parchment strip, I pipped swirls of chocolate to make it look like lace) then I let it set up long enough to be firm but still pliable. Once it was at that stage, I wrapped the strip of chocolate around the cake and peeled off the parchment paper…. Then I stopped holding my breath.
Since this cake was for a truly discerning chocolate lover, I wanted to use good couverture chocolate. A higher cocoa butter content gives chocolate a creamy, luscious taste and just melts in your mouth. I used Valhrona cocoa powder in the cake batter and Valhrona Manjari 64% in the cake batter as well as the chocolate ganache and the band around the cake. The 64% Manjari chocolate was the perfect choice for this cake. It is not too sweet and not too bitter. For people that find dark chocolate a bit too overwhelming, this is a great one to try. I wasn't sure how I would finish the cake until I saw the tulips in the garden. I was immediately reminded of my trip with Josh and Sara to the Skagit Valley Tulip Festival last Spring and these tulips just had to be picked.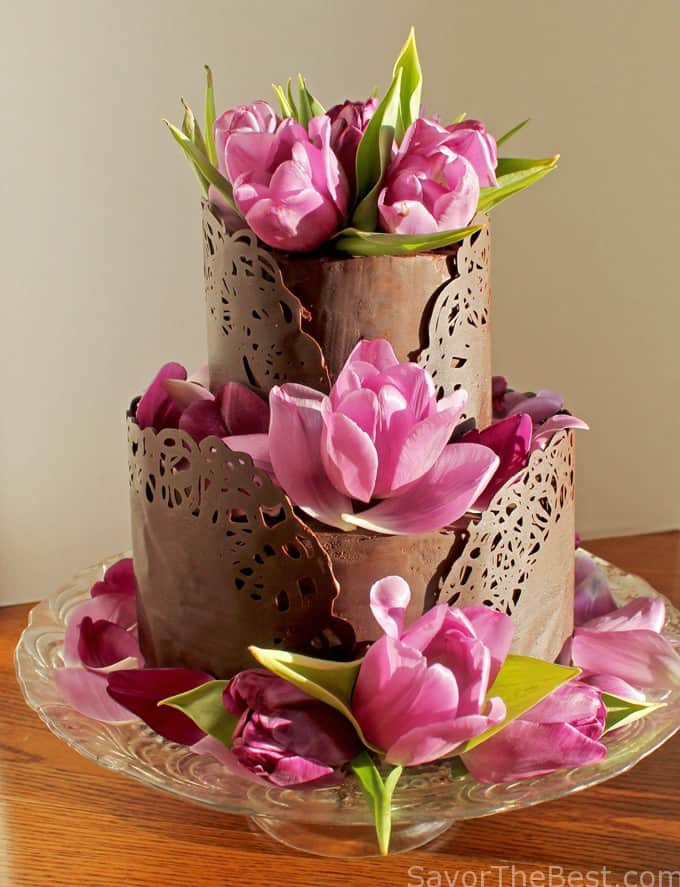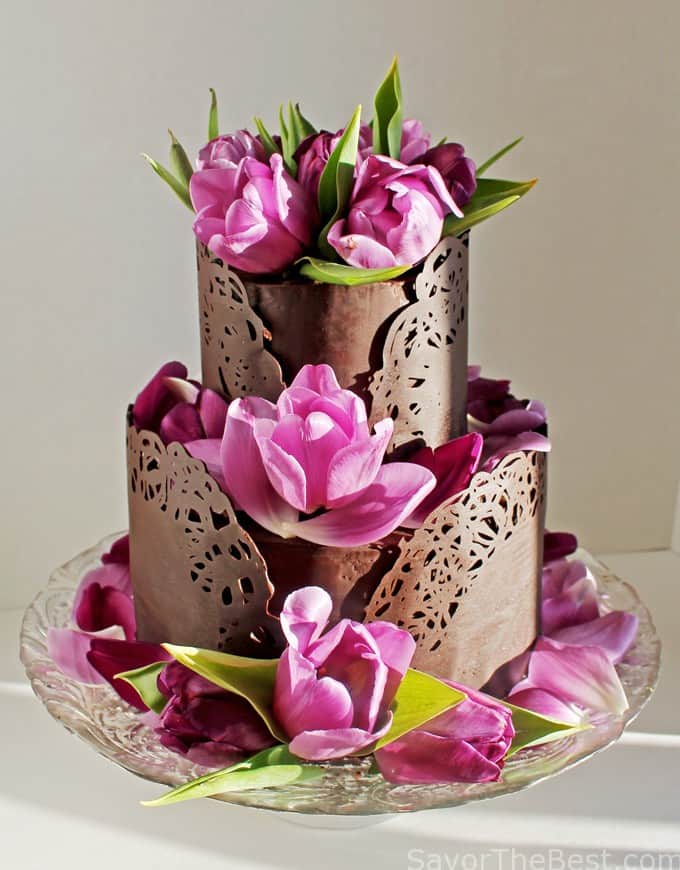 CONNECT WITH SAVOR THE BEST!
Be sure to follow us on our social media accounts
Facebook * Instagram * Pinterest * Twitter * Youtube
Did you make this recipe? We would love to hear from you. Drop us a comment below.