What do you do with your leftover Christmas turkey? This Baked Turkey Burrito Casserole is easy, nutritious and makes enough for a crowd. No mushroom soup here, I made a pepper jack cheese sauce that adds flavors throughout the casserole.
As much as I love Thanksgiving and Christmas with family and friends, it is nice that it is over. The tree is out the door, the wreaths are down and the holiday glitz and glamor all packed away for another year.
After our big Christmas dinner, I bagged up the turkey bones and stashed them in the freezer along with the remaining turkey pieces. This turkey burrito casserole is the first project. A turkey soup will take care of those bones, but that will be another post on another day.
How to Make Baked Turkey Burrito Casserole:
You probably have most of the ingredients for this casserole. If not, this recipe adapts well to substitutions. I chopped and sautéed the onions in a large skillet, added the beans, corn, chiles, olives, and turkey. Sprinkled the seasoning over the top and tossed it all together. I was happy that I had planned ahead and purchased the canned chiles though, as they really add flavor to the casserole.
The Cheese Sauce:
I made a cheese sauce because I didn't have any mushroom soup. I can't remember the last time I bought a can of mushroom soup. To make a cheese sauce you begin with a is basic béchamel sauce, also known as a white sauce.
After cooking the roux and adding the milk and seasoning to the sauce, stir it to a smooth consistency. Then whisk the shredded cheese into the sauce.
Putting it All Together:
This recipe will fill a standard 9×13 casserole dish and it is enough for dinner and lunches. It is put together in layers like a lasagna, topped with shredded cheese and baked. I served this with a zesty salsa, lime and avocado slices.
SOME OTHER RECIPES WE ARE SURE YOU WILL LOVE:
Malfatti in Tomato Garlic Sauce
CONNECT WITH SAVOR THE BEST!
Be sure to follow us on our social media accounts
Facebook | Twitter | Youtube | Pinterest | Instagram
This is such a great way to use up your leftover turkey and it's something that everyone will enjoy.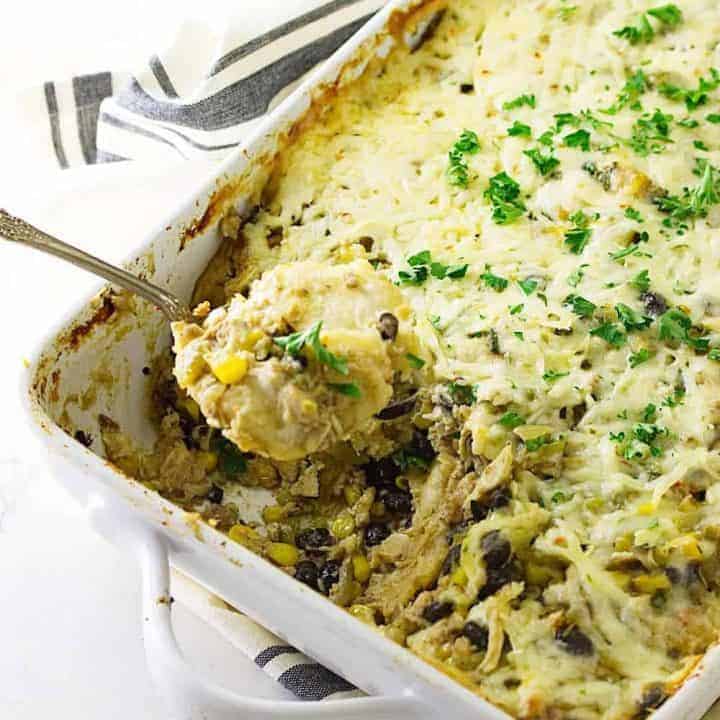 Baked Turkey Burrito Casserole
Total Time:
1 hour
5 minutes
Baked Turkey Burrito Casserole, made with left over turkey, vegetables and a creamy pepper jack cheese sauce.
Ingredients
For the Baked Turkey Burrito Casserole:
2 tablespoon olive oil
1 medium onion, chopped
2 cups cooked black beans, or 1 can (14.5 oz.) black beans
1 bag (16 oz.) frozen whole kernel corn, defrosted
2 cans (7 oz. each) chopped green poblano chilies
1 can (7 oz.) sliced black olives, drained
4 cups cooked turkey, chopped
1/2 cup chopped fresh cilantro
2 tablespoon cumin powder
1 teaspoon sea salt
1/4 teaspoon ground black pepper
4 cups pepper jack cheese (16 oz.) reserve 1 cup for the top
10 flour tortillas (I used the 10-inch size)
2 tablespoons chopped fresh cilantro for garnish
Cheese Sauce: (This will make about 3 cups of sauce)
3 tablespoons butter
3 tablespoons all-purpose flour
1/2 teaspoon salt
1/4 teaspoon dry mustard
1/8 teaspoon ground black (or white pepper)
2 cups milk
1 cup shredded pepper jack cheese (4 oz.)
Instructions
For the Baked Turkey Casserole:
Preheat oven to 350 degrees
Coat a 9x13x2-inch oven proof casserole dish with oil spray
In a large skillet, heat the olive oil and add the onion. Cook just until translucent, then add the black beans, corn, chilies, olives, turkey, cilantro, cumin, salt and pepper. Heat through then remove from the heat and reserve while making the cheese sauce.
For The Cheese Sauce:
In a medium size saucepan set over medium-low heat; add the butter and when it has melted stir in the flour, salt, dry mustard, and pepper. Cook and stir for 1 minute and slowly add the milk, stirring to blend. Cook, stirring continually, until slightly thick and smooth. Reduce heat to low and simmer, stirring, for 3-4 minutes.
Remove from the heat and add cheese stirring, until the cheese has melted and the sauce is blended, smooth and creamy.
Assemble the Casserole:
Spread about 1/4 cup of the cheese sauce to the bottom of the prepared casserole dish. Tear about 3 tortillas into pieces and cover with 1/2 cup of the cheese sauce.
Add 1/3 of the turkey mixture, spreading evenly, then add 1/3 of the grated cheese.
Repeat the layering 2x and top with the 1 cup reserved cheese.
Spray one side of a sheet of foil and cover the dish. Transfer the dish to the oven and bake for 30 minutes. Remove the foil and bake for an additional 15 minutes. Serve with salsa, lime wedges and avocado slices.
Notes
If you don't have any left over turkey you can substitute chicken for this recipe.
There will be about 3 cups of cheese sauce
Cheddar cheese or Monterey Jack cheese are less spicy options
Spray one side of the foil with oil spray to prevent cheese from sticking to the cheese.
Nutrition Information:
Yield:

12
Serving Size:

1
Amount Per Serving:
Calories:

516
Total Fat:

22g
Saturated Fat:

10g
Cholesterol:

74mg
Sodium:

661mg
Carbohydrates:

63g
Fiber:

10g
Sugar:

9g
Protein:

34g