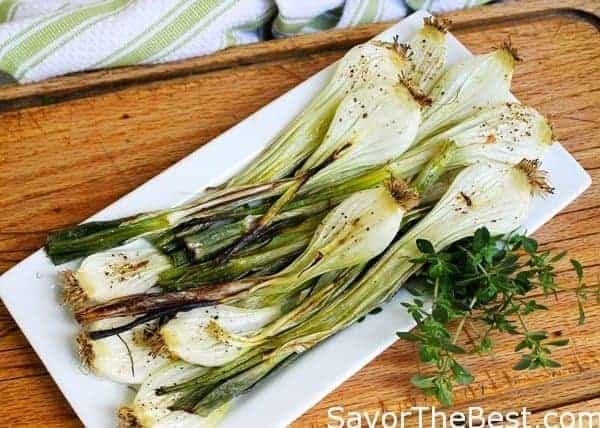 Most of us Washingtonians, as well as Oregonians, know of the famous Walla Walla onions that are named after their hometown, Walla Walla, Washington. Their home town even has an annual onion festival which this year will be in late June. These onions are known for their sweet taste, mild onion flavor, and their juiciness.
They have only a 3-6 week shelf life and at maturity, I am told, can weigh up to an impressive two pounds! The huge, colossal onions are great grilled on the BBQ, sliced and used in hamburgers, sandwiches or salads. At the beginning of the season they are much smaller and resemble a giant scallion.
Recently, I spotted some very large scallion-type onions in my favorite produce market, I didn't pay enough attention to them to even check the label to see what exactly they were.
I did note that they were definitely not leeks. It was only a few days later that our son, Burl, mentioned in conversation that the family had visited friends in Eastern Washington and they had served baby sweet Walla Walla onions grilled on the BBQ. He was very impressed with their flavor and sweetness. It occurred to me that that was what I had spotted in the produce market.
I made a special trip back to the market and bought a couple bunches of these little sweeties. When I roasted them they really did taste sweet, juicy and delicious. I also made a wonderful quiche with some of them and you can find the recipe listed in our index as Sweet Baby Walla Walla Onions and Tomato Quiche.
If you have never tasted these baby onions I hope you have a chance to buy some while they are in season. The onion season is short and will run from June through August. Happy grilling!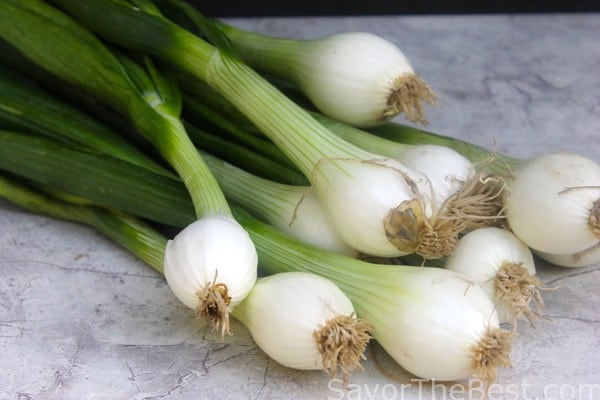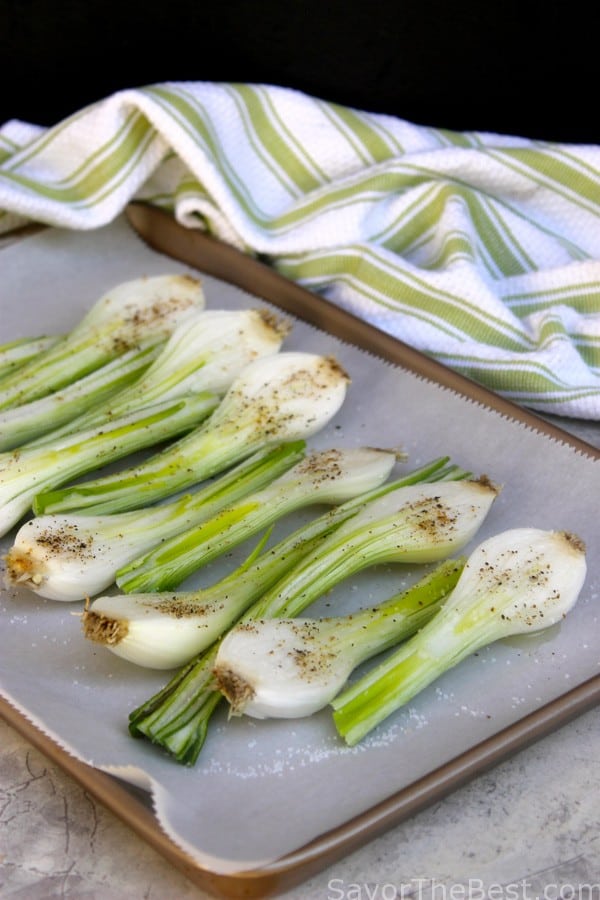 CONNECT WITH SAVOR THE BEST!
Be sure to follow us on our social media accounts
Facebook * Instagram * Pinterest * Twitter * Youtube
Did you make this recipe? We would love to hear from you. Drop us a comment below.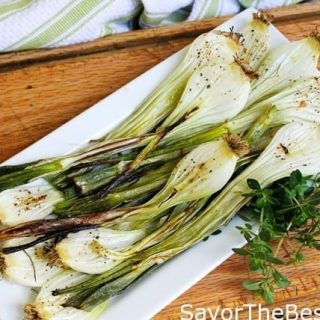 Roasted Sweet Baby Walla Walla Onions
Delicious, mild, baby onions with a sweet flavor that are perfect roasted or grilled.
Ingredients
2-3 bunches of baby Walla Walla onions
2 tablespoons olive oil
salt and pepper
Instructions
Preheat the oven to 425°F
Line a baking sheet with parchment paper
Wash the onions under cold water to remove any soil, trim the tops to three or four inches above the bulb. Leave the root end attached to keep the onion from separating during roasting. Carefully slice the onions lengthwise and arrange on the prepared baking pan.
Brush the olive oil on the cut side of the onions, sprinkle with salt and pepper. Transfer the pan of onions to the oven and roast them for 20 minutes.
Notes
The roasting time will need to be adjusted for the larger baby onions.