Mushy Peas! No, this is not baby food, it is British food! And good food it is! Mushy peas are the perfect accompaniment for fish and chips! You would be hard pressed to find a fish pub in London, or anywhere in the UK for that matter, that did not offer mushy peas with their fish and chips.
Mushy peas are also favored heaped on top of a beef pie or shaped into a ball and cooked as a fritter. This classic British dish is made from dried Marrowfat peas. By the way….November 9th, 2019 is International Mushy Pea Day! Woohoo! ?
These are not your garden variety of sweet green peas. Marrowfat peas grow from a starchy, large-seeded variety of pea.
Instead of harvesting them when they are small, young and tender they remain on the vine to mature and dry out in the field
.
When the peas have dried, they
are harvested
, shelled and packaged for marketing. In their dry form, they resemble grayish-green chickpeas.
Where do you buy dried Marrowfat peas in America?
Some large international supermarkets will stock foods from the UK. They should have both tined Marrowfat peas and the dried Marrowfat peas. They may also have tins of prepared mushy peas.
Dried Marrowfat peas are also available online.
An online
purchase
may be more convenient than to scout the city for an international supermarket
. I received my supply in
just
two days!
Can you make mushy peas with frozen peas?
Yes, you can use the large-size frozen peas but I have to tell you there is a huge difference in taste! I prepared them both for a side-by-side taste test.
For the test I first rehydrated the dried peas overnight. I placed both the soaked peas and the frozen peas in separate saucepans and cooked them until tender. Then I mashed and seasoned them exactly the same.
The dish made with the frozen peas was a brighter green than the dish with the dried Marrowfat peas which was a little more yellow-green
.
I had the help of our British-traveled son as my tester. He was familiar with the taste of authentic mushy peas so he was an excellent tester in a mushy pea blind-test. His verdict was that he could definitely tell the difference in flavor, texture and taste between the two versions. He commented that this recipe made with the dried Marrowfat peas tasted like London!
How do you make Mushy Peas?
When I received my 2-pack supply of Marrowfat peas I opened one package to find two tablets of baking soda with the peas. Each tablet was about the size and thickness of an Alka Seltzer tablet and it dissolves easily. The baking soda will help soften and tenderize the peas.
Place the peas and the baking soda tablets in a large bowl or pot and pour boiling water over them. Let them soak for 12-hours or overnight.

The next day the peas will have swelled up to twice their size and have turned greener than when dry. Drain the water off the peas, rinse them twice with cold water. This is an important step as the baking soda can leave an 'off' flavor to the peas if not rinsed well.
Place the rinsed peas in a saucepan, cover with cold water and bring them to a boil. Reduce the heat to low and simmer for about 30 minutes until they are tender.
Give the peas a brief mash with a potato masher or pastry blender. Seasoned them up to taste with butter, salt, pepper, chopped mint and a squeeze of lemon.
Mushy peas should be a little chunky and not a thin purée or soupy. We are happy with a soft mounding consistency that we can dip a chip into. I would suggest that you drain the peas after they are tender and reserve some of the water. Then mash them adding some of the reserved water to achieve your desired consistency.
SOME OTHER RECIPES WE ARE SURE YOU WILL LOVE:
Roasted Asparagus with Curry Sauce A side dish that takes a quick 5-minute roast in a hot oven. The low-fat creamy curry sauce is made with Greek yogurt and tastes like a lot of calories. The dish is topped off with curry dusted cashews.
Butternut Squash Risotto Warm, creamy, earthy and delicious! Made with bacon, white wine, fresh herbs, aromatics and pureed butternut squash.
Sautéed Rosemary-Lemon Beets A bright side dish of sautéed beets with garlic, lemon, and rosemary.
CONNECT WITH SAVOR THE BEST!
Be sure to follow us on our social media accounts
Facebook * Instagram * Pinterest * Twitter * Youtube
Did you make this recipe? We would love to hear from you. Drop us a comment below.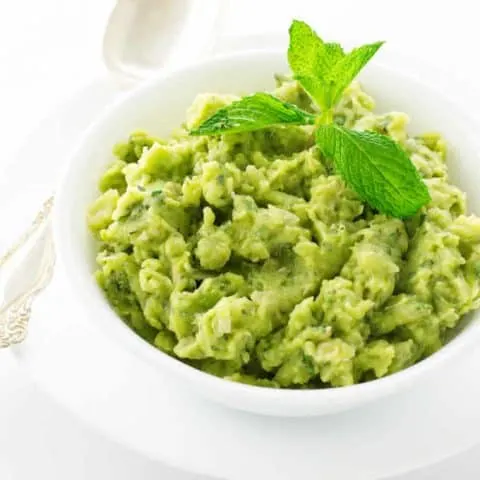 Mushy Peas
Mushy peas are the perfect accompaniment for fish and chips! This classic British dish is made from dried marrowfat peas.
Ingredients
8 ounces dried Marrowfat peas
2 tablespoon baking soda (if not included in package of peas)
2 tablespoons butter
1-2 tablespoons chopped fresh mint (optional)
Salt/pepper-to taste
Instructions
Place the peas in a large bowl or pan, add the baking soda and cover with 2 cups of boiling water. Stir well to dissolve the baking soda and allow the peas to soak 12-hours or overnight.
Drain the peas and rinse under cold water. Repeat for a second rinse.
Place the rinsed peas in a saucepan and cover with cold water. Over medium-high heat bring the peas to a boil, then reduce the heat to low and simmer for 25-30 minutes until soft, tender and mushy. (See Note #2)
Stir the peas or mash to desired texture, then stir in the butter and mint if using.
Add salt and pepper to taste.
Notes
If using frozen green peas we recommend selecting the larger, starchier peas and not the petit peas
To control the consistency of the mushy peas, drain the cooked peas reserving the liquid. Stir or mash the peas adding enough of the reserved liquid to achieve the desired consistency.
Recommended Products
As an Amazon Associate and member of other affiliate programs, I earn from qualifying purchases.
Nutrition Information:
Yield:

6
Serving Size:

1/2 Cup
Amount Per Serving:
Calories:

66
Total Fat:

4g
Saturated Fat:

2g
Trans Fat:

0g
Unsaturated Fat:

1g
Cholesterol:

10mg
Sodium:

1290mg
Carbohydrates:

6g
Fiber:

2g
Sugar:

2g
Protein:

2g
Nutrition information is a guideline only, is calculated automatically by third party software, and absolute accuracy is not guaranteed.