This rich classic French Onion Soup is a blend of caramelized onions, chicken broth, white wine, and Gruyere cheese.
When we lived in the Philippines in 1975, we would take a little trip, as often as possible, to the Northern part of the island Luzon to a mountain resort area named Baguio City. One of the best restaurants in that little hamlet was a small French restaurant that we loved to go to and they served the most wonderful French Onion Soup.
Baguio was a very popular place for the Americans to visit as there was a U.S. Air Force base there called Camp John Hay and members of the U.S. military and civilian DoD personnel were allowed to use their lodgings.
It was so refreshing to get out of the heat and humidity and to be in the cool of the mountains with tall pine trees and lush green forests. We would see a variety of orchids that just grew wild on the trees…. and then there was the poinsettias! They grew on huge bushes that actually were trees. I am not kidding you, they could be as tall as trees and blooming like crazy. Somewhere, in all my packed-away boxes I have some photographs of both the orchids and the poinsettias.
So, back to my French restaurant. I don't remember the name and I doubt if it is still there as the area was hit with a violent earthquake. The earthquake did tremendous damage to the city. ?
The owner of this quaint restaurant was a nice German lady and we would always need to make reservations ahead of time as it was so popular. It was only a small place but they really did some grand cooking.
French Onion Soup:
She also served a watercress salad with a vinaigrette dressing that was awesome. Her French onion soup was thick with caramelized onions and she used chicken stock rather than beef stock and a little white wine. It was topped off with a drizzle of cognac, toasted french bread and gruyere cheese.
On one of our visits I finally got up enough courage to ask for the recipe and she reluctantly, wrote it down on a small piece of paper. She just wrote ingredients and brief instructions on a small scrap of paper and it took some experimenting to get it to taste like hers.
I have been keeping that scrap of paper in my recipe 'treasure box' for almost 40 years now. This is the only French Onion Soup recipe I ever make. It is soooo good!
You might also like these soups: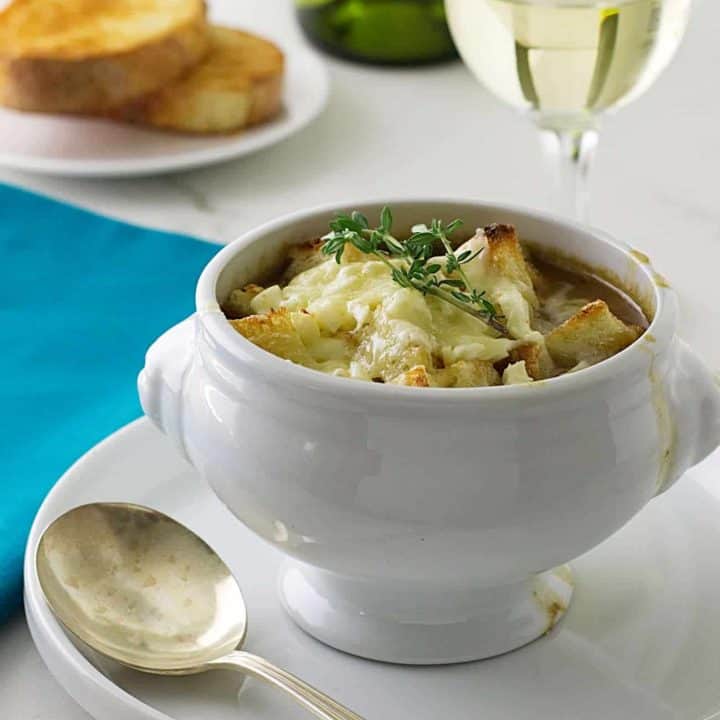 French Onion Soup
This rich French onion soup is a thick blend of caramelized onions, chicken broth, white wine, and gruyere cheese.
Ingredients
2 tablespoons olive oil
2 tablespoons butter
3 pounds of yellow onions, rough chopped
1 teaspoon sugar
1 cup dry white wine
2 tablespoons all-purpose flour
4 cans (14.5 oz. each) low-sodium chicken broth
2 tablespoons finely chopped thyme
salt and pepper to taste
6 tablespoons cognac (optional)
6 slices French bread, toasted
3 cups grated gruyere cheese
Instructions
In a heavy bottomed pot or Dutch oven, over medium-low heat, add the olive oil and butter. When the butter has melted, add and sauté the chopped onions with the sugar to help with the carmalizing, stirring frequently. Do not put a lid on the pot as it will cause the onions to 'steam' and create liquid in the pan. As the onions begin to color they may begin sticking to the bottom of the pan. Add a couple tablespoons of the wine to loosen up the bits and continue the sautéing process. This is a slow process and could take as long as one-hour.
When the onions are a nice rich golden-brown color, add any remaining wine, scraping the bottom to remove the onion bits. Sprinkle and stir the flour over the onions and cook for another two or three minutes. Add the chicken broth, thyme, salt and pepper and bring the pot to a boil. Reduce the heat to simmer and cook for another 15 minutes.
Serve the soup in individual oven-proof bowls with a tablespoon of cognac (if using) drizzled over the top. Add a slice of toasted French bread to each bowl, add one-half cup grated cheese to each slice of toast and set the bowls on a baking sheet. With the oven set on broil, heat the bowls of soup until the cheese is brown and bubbly.
Nutrition Information:
Yield:

6
Serving Size:

1
Amount Per Serving:
Calories:

563
Total Fat:

30g
Saturated Fat:

15g
Trans Fat:

0g
Unsaturated Fat:

13g
Cholesterol:

77mg
Sodium:

646mg
Carbohydrates:

40g
Fiber:

4g
Sugar:

13g
Protein:

24g
Nutrition information is a guideline only, is calculated automatically by third party software, and absolute accuracy is not guaranteed.