With a creamy almond filling, sweet fig jam and a delicious fresh fig topping, a slice of our Frangipane Fig Tart is a dreamy treat.
This classic French dessert is simple to make and will transport your taste buds to a quaint French café! Frangipane's sweet almond flavor balances well with the delightful texture and flavor of fresh figs.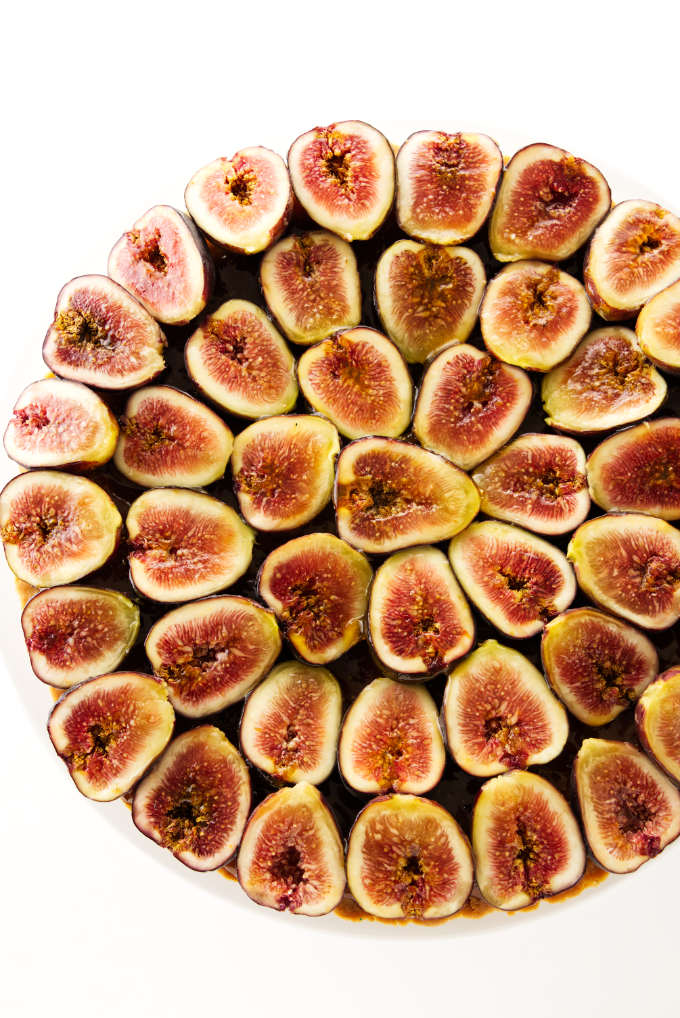 What is Frangipane?
It might sound fancy and complicated, but frangipane is actually pretty simple. Butter, eggs, ground almonds and sugar make the base of a basic frangipane recipe, which turns into a creamy, spreadable custard-like mix with a flavor that resembles marzipan.
Frangipane's light, delicate almond flavor pairs beautifully with autumn fruits like apples and pears (and we have an Apple Frangipane Tart and a Pear Frangipane Tart recipe for you to enjoy!).
Is Almond Paste the Same As Marzipan and Frangipane?
While the three have a similar almond flavor they are not the same and each has a specific purpose. Almond paste is used for baking and can be purchased ready-made in the baking aisle of most grocery stores. It is thick, with a softer, coarser texture than marzipan. Marzipan is a sweet, stiff, confection that is also purchased ready-made, colored with food dye, molded or rolled and cut into shapes. Bakers use marzipan for decorative purposes and not for baking. Almond paste and marzipan are definitely not interchangeable. Frangipane is a soft, fluffy, filling that is used in pastries and pies. It is made with ground almonds, sugar, eggs, butter and flour. Frangipane is not available pre-made but must be freshly made. Almond paste can be used to make a soft, fluffy frangipane filling.
Why You'll Love This Frangipane Fig Tart:
Frangipane and figs are such a treat together and this tart is quite special. We use our fig jam recipe to make it, but you can also use a store-bought fig jam.
Our frangipane fig tart is:
Deliciously rich and packed with almond flavor
A beautiful showstopper of a dessert
An elegant yet easy fig tart recipe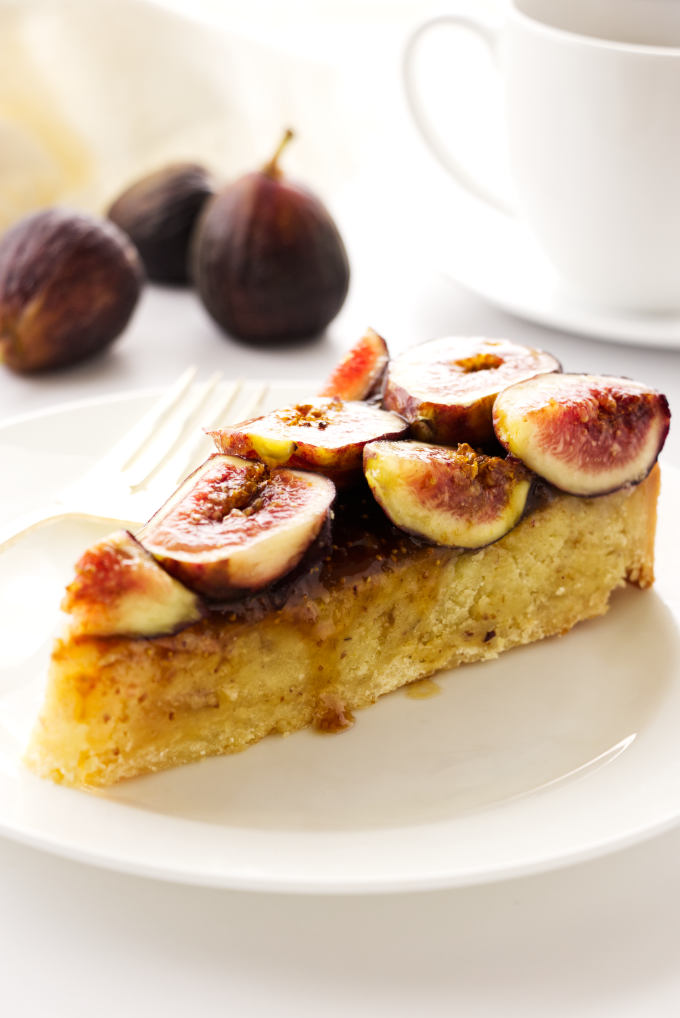 The Ingredient List:
This French fig tart recipe has a buttery shortbread pastry crust, a creamy frangipane filling, and a two-layer fig topping that includes fig jam and fresh, juicy figs.
Here's what you'll need for this frangipane fig tart:
Flour
Powdered sugar
Salt
Cold butter
Eggs and egg yolks
Cream
Vanilla
Almond paste
Toasted and ground almonds
Pure almond extract
Fig jam
Fresh figs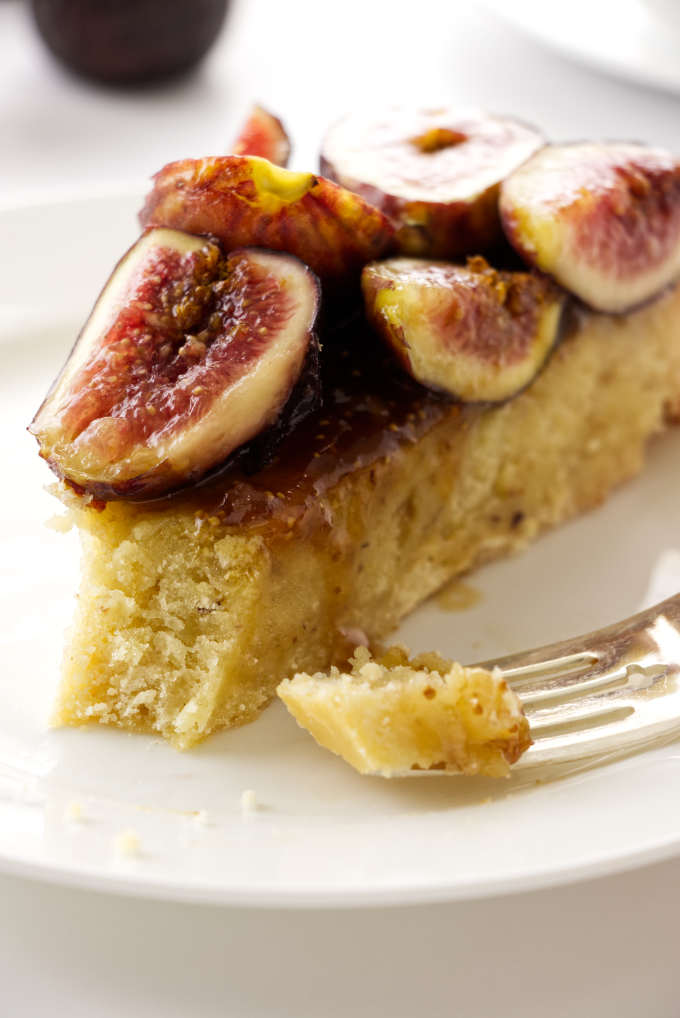 How to Make Our Frangipane Fig Tart:
There are four steps to making this fig tart and they're each pretty simple.
Make the shortbread pastry crust: After you blend the pastry, place it in the freezer for 30 minutes.

Bake the pastry crust: Place the tart pan on a rimmed baking sheet and transfer it to the oven.

Prepare the frangipane filling: Mix the filling then spread it into the pastry crust and bake.

Top the fig tart: Top with the fig jam and sliced figs.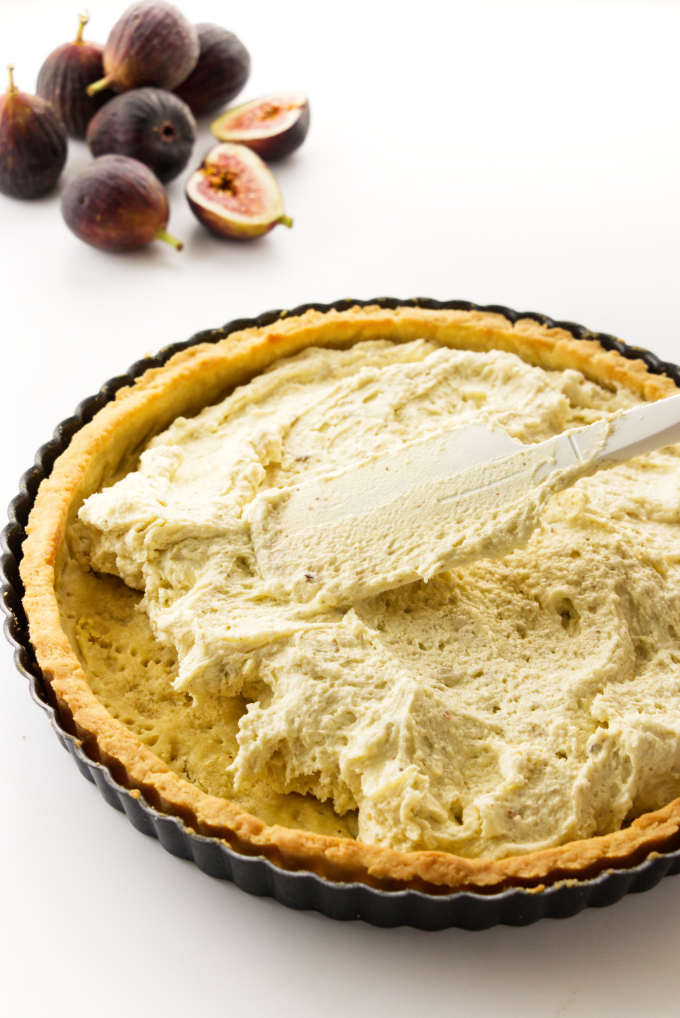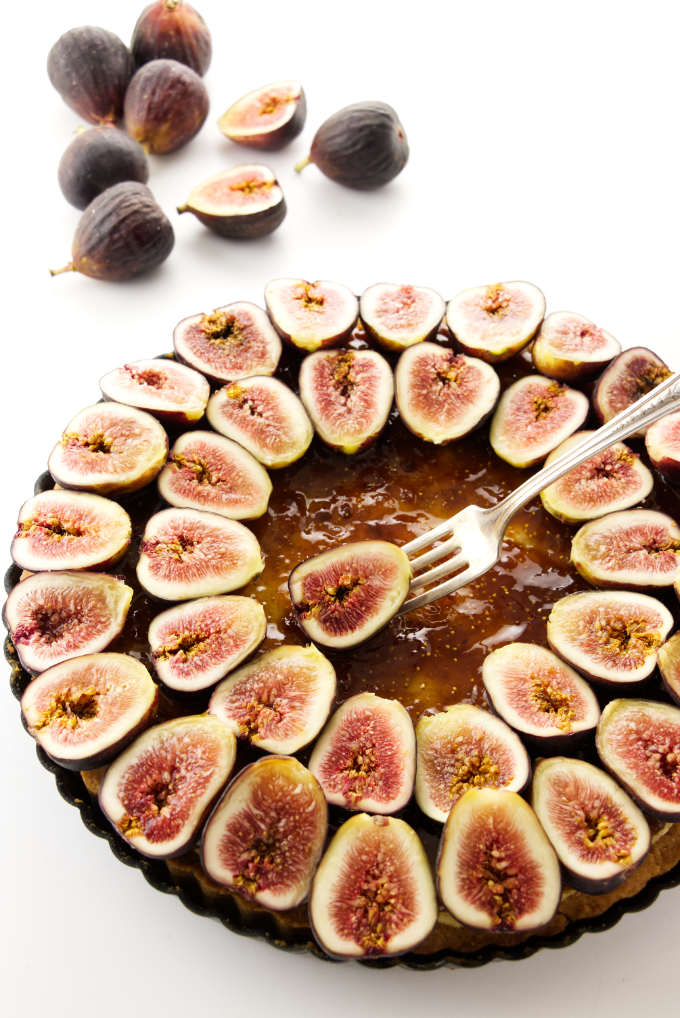 Tips for the Best Results:
For this frangipane fig tart recipe, we use an 11-inch tart pan with a removable bottom.

You can find almond paste at most major supermarkets in the baking aisle. It's a baking ingredient that's soft and spreadable with a higher percentage of almonds than marzipan (i.e. it is not the same thing as marzipan).

Tips for buying fresh figs: Look for fresh figs that are ripe but not soft or bruised. Wiggle the stem- if it wiggles too much, that's a sign that the fig is overly ripe.

If you'd like to start prep for this frangipane fig tart ahead of time, you certainly can. Make and bake the shortbread crust and the frangipane filling up to two days in advance and keep them in the refrigerator. Add the jam and the figs when ready to serve.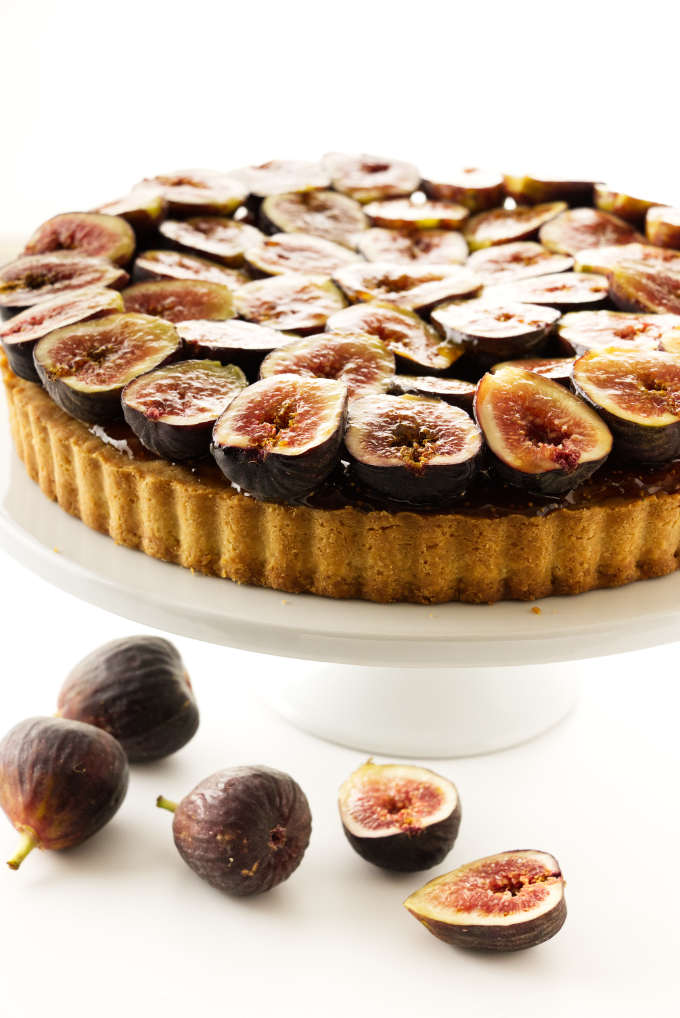 This fig tart recipe is ultra-delicious and a really easy one, too! Fresh, juicy figs and a creamy, fluffy, almond filling in a shortbread pastry guarantees melt-in-your-mouth goodness.
Grab all the fresh figs you can and enjoy this dreamy dessert!
Some Other Recipes We Are Sure You Will Love:
A rich and decadent Chocolate Caramel Tart that will WOW! your dinner guests! A tender, easy-to-make shortbread crust filled with a creamy, truffle-like chocolate filling and a layer of gooey caramel. And….we topped it off with a rich, ganache glaze and sprinkled with flaky salt! Don't miss out on this one!
This savory summery Heirloom Tomato Tart is a must-try! A flaky pastry crust, a filling of creamy ricotta, herbs, and mozzarella, and a drizzle of homemade basil pesto Finished with a vibrant array of heirloom tomato slices.
Our Creamy Whole Lemon Tart is a lemon lover's dream! An easy shortbread crust filled with a luscious lemon concoction made entirely in the blender. It's the cream cheese that adds a creamy texture to this lovely tart.
Connect With Savor the Best:
Please follow us on our social media accounts
Facebook * Instagram * Pinterest * Youtube * Twitter
Did you make this recipe? We would love to hear from you. Drop us a comment below.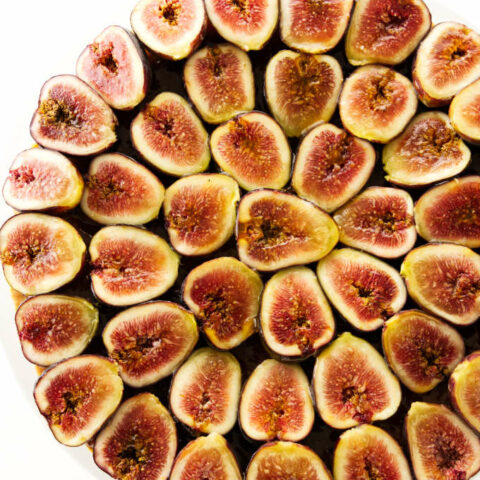 Frangipane Fig Tart
Total Time:
2 hours
55 minutes
A frangipani tart is a classic French dessert with a easy shortbread crust and a creamy almond flavored filling. The tart is baked and cooled then topped with fig jam and fresh figs.
Ingredients
For the Shortbread Pastry Crust:
2 cups (240 grams) flour
1/2 cup (60 grams) powdered sugar
1/4 teaspoon table salt
3/4 cup (169 grams/12 tablespoons) cold butter, cut into pieces
2 egg yolks
1 tablespoon cream
1 teaspoon pure vanilla
For the Frangipane Filling:
8 oz. almond paste (see notes)
1 cube (8 tablespoons) butter, room temperature
1/2 cup confectioners' sugar
1/3 cup all-purpose flour
1/4 cup toasted and ground almonds
1 teaspoon pure almond extract
2 large eggs
For the Fig Topping:
8 oz. fig jam
2 pints fresh figs, about 20-25 figs
Instructions
For the Shortbread Pastry Crust:
Reserve an 11-inch tart pan with removable bottom.
Place the flour, sugar and salt in the bowl of a food processor, pulse to combine.
Distribute the butter pieces over the flour mixture and process the mixture until it looks like fine sand.
In a small dish, whisk the egg yolks, cream and vanilla together. Pulse the machine while pouring the egg mixture into the cover-opening. Pulse just until combined and the mixture is crumbly.
Tip the pastry mixture into the tart pan. With your fingers or the back of a tablespoon, press dough up the sides of the pan. Use the bottom of a flat-bottomed measuring cup to press the mixture firmly and evenly over the bottom of the tart pan.
Prick the dough with a fork and place the tart pan on a baking sheet then set it into the freezer for 30-minutes to firm up.

Bake the Pastry Crust:
Preheat the oven to 350°F
Remove the frozen pastry tart from the freezer.
Rip off a large piece of aluminum foil and coat one side with non-stick oil spray and place it oil-side-down, over the pastry. Press the foil tightly against the frozen pastry, molding it to the pastry and over the edge. There is no need for pie weights.
Place the tart pan on a rimmed baking sheet and transfer to the oven. Bake for 15 minutes, then remove from the oven, place on a cooling rack and remove and discard the foil. Allow the pastry crust to cool completely before adding the filling.
For the Frangipane Filling:
Preheat the oven to 325°F
On medium-high speed, using the paddle attachment, beat the almond paste, butter, sugar, flour, ground almonds and almond extract together until smooth and creamy, about 5 minutes. Reduce the speed to low and add the eggs, one at a time, mixing well after each addition.
Spread the filling into the baked pastry crust, set the pan on a rimmed baking sheet and transfer to the oven. Bake for 38-40 minutes, until a knife inserted into the center comes out clean.
Transfer to a wire rack and cool completely.
For the Fig Topping:
While the tart is cooling, rinse the figs under cold tap water, pat dry with a paper towel and remove their stems. Slice each fig in half lengthwise.
Spread the fig jam over the top of the cooled tart filling and arrange the figs, cut side up, in concentric circles, starting at the rim and working toward the center.
Refrigerate until ready to serve, then remove from the pan, place on a serving plate and if desired, dust with confectioners' sugar.
Notes
Almond paste is available at most major supermarkets in the baking supply aisle.
Almond paste is a baking ingredient that is soft and spreadable with a higher percentage of almonds marzipan. Marzipan is a sweet, ready-to-eat confection and it is not the same as almond paste.
When buying figs, the should be ripe but not soft or bruised, wiggle the stem and if it wiggles it is too ripe. Try to buy figs of the same size.
The shortbread crust and the frangipane filling can be made up to 2 days in advance and refrigerated. Add the jam and figs when ready to serve.
Recommended Products
As an Amazon Associate and member of other affiliate programs, I earn from qualifying purchases.
Nutrition Information:
Yield:

16
Serving Size:

1
Amount Per Serving:
Calories:

307
Total Fat:

11g
Saturated Fat:

2g
Trans Fat:

0g
Unsaturated Fat:

9g
Cholesterol:

49mg
Sodium:

98mg
Carbohydrates:

51g
Fiber:

6g
Sugar:

38g
Protein:

6g
Nutrition information is a guideline only, is calculated automatically by third-party software, and absolute accuracy is not guaranteed.