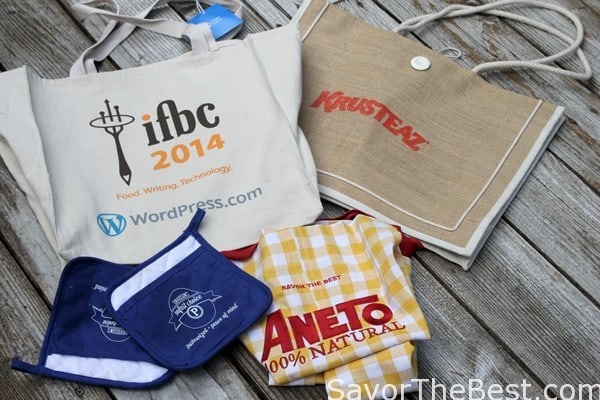 On September 19, 20 and 21st. Dahn and I attended The Food Bloggers Conference in Seattle, WA. What a weekend that was! The International Food Bloggers Conference of 2014 is the first conference that we have attended as we are new to the blogging world and we were just blown away with the entire three-day event.
The International Food Bloggers Conference was organized by Foodista and Zephyr Adventures and it was the sixth annual food bloggers conference to be held in Seattle. This year the venue was at the Westin Hotel in downtown Seattle and it was just fabulous with over 400 food bloggers attending as well as nearly fifty sponsors with their products.
Dahn and I walked from the ferry landing, past Pike Place Market and on to the downtown area to the Westin hotel. After checking into our room we stopped by the lobby to take a look at the posted agenda. It appeared that the first evening was a welcome and a social get-together with a little wine tasting session with Accolade Wines and some wonderfully tasty delights from Bristol Bay Seafoods, Theo Chocolates of Seattle and Cupcake Royal of Seattle as well as many other sponsors. It was really quite impressive.
While munching our food samples and sipping our wine, Dahn and I notice that in an adjoining room the bloggers were all lined up for something so we went off to investigate. The room was huge and it was filled with long tables along the walls and across the room, each table was filled with a sponsors' product give-aways. But the very first table was piled with canvas shopping bags that they were giving away so we could put all our goodies into from those tables.
As we strolled along through the tables we collected all kinds of food items: crackers from Raincoast Crisps, coconut cookies from Nutiva, packages of olives from Lindsay Olives, and bags of nuts from, Sahale Snacks. I mention only a few as there were so many that to list them all would be overwhelming. As we worked our way around the tables and towards the exit door my two bags were overflowing with goodies. When we arrived at the Krusteaz table, we picked up some pancake and flatbread mixes and, thankfully, they had another large canvas shopping bag give-away. Just in time!
When we stopped at the Aneto Natural table it was filled with yellow and white checkered aprons and there was two aprons with our blog name embroidered in red stitching. That was a really nice touch. We collected an apron from them along with a quart package of their natural chicken stock. That will go into my onion soup soon. At Davidson's, they had nice blue pot holders for us…..I'm glad they didn't give eggs as I really needed those pot holders.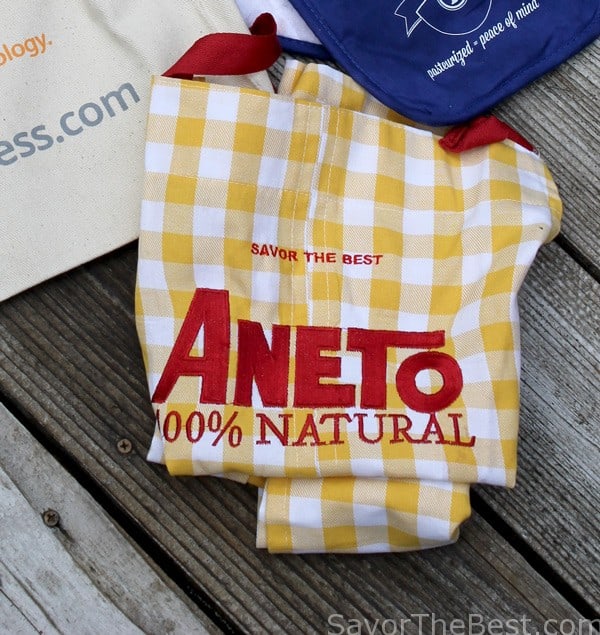 As we walked through the exit doors on our way to our room we were exhausted from packing our loaded bags on our shoulders and I really did feel like a trick-or-treater on a halloween night.
That was the first night of our adventure at the food blogger's conference! We checked the agenda for the next day and it was a full day's schedule. We will be ready for the excitement!